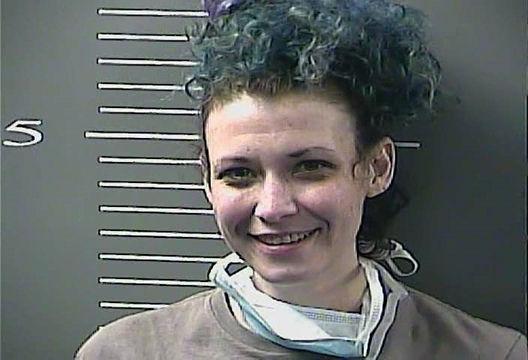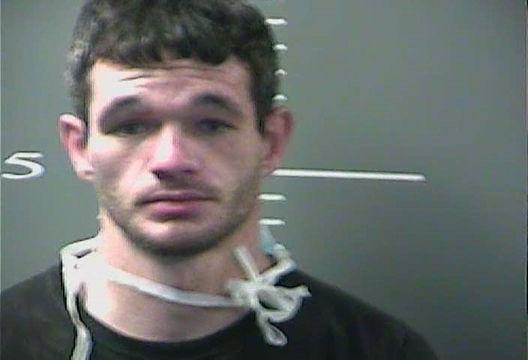 Two Johnson County residents were arrested Thursday, May 14, following a high-speed chase that stretched from Johnson to Floyd County, with multiple law enforcement agencies joining the pursuit.
Larry Dalton Bartley, also known as Dalton Johnson, 26, whose address is listing in court filings as both Main Street, Paintsville and Louisville, and Diana Gatewood, 29, of Court Street, Paintsville, were arrested on multiple charges after allegedly leading police on this pursuit that began, according to documents filed in both counties, with a stolen vehicle in Johnson County.
Johnson County Sheriff Deputy Chad Penix reports in a citation that he was parked at a gas station in Little Mud Lick on Ky. 40 when he spotted a vehicle matching the description of one that had been reported stolen.
He reported that he attempted to pull the vehicle over in Cross Creek, but the driver, Bartley, allegedly fled at a high rate of speed. Penix reported that Bartley passed another car in a no-passing zone, driving over 65 mph, that Bartley's vehicle passed vehicles on U.S. 23 while driving on the shoulder of the road and that he continued driving at speeds of over 100 mph.
Penix reported that the Bartley crossed the Floyd County line at about 10:50 a.m., after which the Johnson County Sheriff's Department requested help from Floyd County law enforcement. In Floyd County, Penix said Bartley ran a red light on U.S. 23 "without hesitation for human life," and that he reached speeds of over 120 mph during the pursuit.
"As we approached Allen red light, there was heavy congestion of traffic and (Bartley) didn't show any due regard for public life," Penix wrote. He reported the vehicle exceeded speeds of 80 mph during the chase on Ky. 1428 and Ky. 122 in Allen and Martin.
Bartley and Gatewood were arrested just off Ky. 122 in Garth Hollow.
The pursuit lasted more than an hour, with the Floyd County Sheriff, Johnson County Sheriff, Kentucky State Police and others assisting. The Floyd County Sheriff's Department reported that the pursuit was halted temporarily when it became too dangerous to continue on Ky. 122, a curvy road. The pursuit resumed after community members reported seeing the vehicle turn onto Garth Hollow and not come back out.
"We had lost visual on the vehicle prior to them turning onto Garth Hollow in Martin, Ky.," Floyd County Sheriff Deputy Kevin Johnson wrote in a citation. "We received a phone calls stating that the vehicle had went up there and never exited the hollow. We then attempted to locate the vehicle on that roadway and found the vehicle abandoned off the side of the road."
The Floyd County Sheriff's Department deployed K9 Lita to help track the scent from the vehicle on a strip mine. Deputies also used a drone during the search.
"The track went down a dirt road approximately a mile from the vehicle then made an immediate right turn over a hill side," Johnson reported. "Lita then proceeded to track down the hill and was able to locate the two subjects."
Penix reported that the mountainous terrain made the search difficult.
"The location was high up on a mountain top and had a lot of hazards to cause injury by falling or tripping over the hill to get them," he wrote. "Floyd County was able to flush them out of hiding and Deputy (Darrin) Lawson witnessed (Gatewood) try to eat some of the drugs that was hiding on her person. He was able to retrieve a round small container with two white pills and a little zip lock baggie that Gatewood states its heroin and Gabapentin."
Bartley told deputies he was driving the vehicle and that he fled because he "didn't want to get in trouble," according to the citations.
"Once he got to the Big Sandy Regional Detention Center, I overheard him speaking to one of the officers and he stated he fled because he was in a stolen car and was going to be going to jail anyways and just ran," Penix wrote.
Bartley was charged with first- and second-degree fleeing/evading police in Floyd County. In Johnson County, he was charged with speeding 26mph or greater over the limit, 10 counts of first-degree wanton endangerment of a police officer, seven additional counts of first-degree wanton endangerment, failure to maintain insurance, driving on a suspended license, two counts of first-degree fleeing/evading police, disregarding traffic control device and receiving stolen property.
Gatewood was charged with tampering with physical evidence for allegedly trying to eat the drugs, and second-degree fleeing/evading police in Floyd County. In Johnson County, she was charged with second-degree fleeing/evading police, first- and second-degree possession of a controlled substance, receiving stolen property and 10 counts of second-degree wanton endangerment of a police officer.
Bartley and Gatewood are scheduled to be arraigned in Floyd County on July 8 and have a preliminary hearing in Johnson County on May 20.