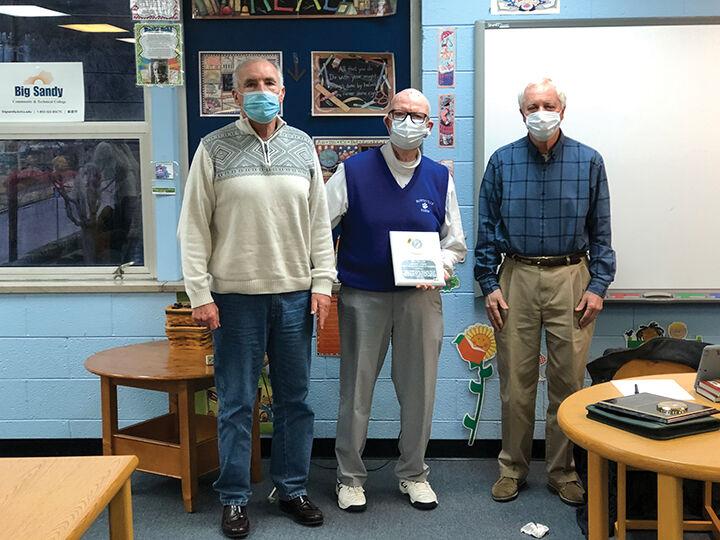 At the Paintsville Independent Schools Board of Education's regular meeting on Monday, Jan. 11, the board selected its new chair and vice chair for 2021, in Mike Short and Kay Hall, respectively, as well as presenting retiring board member and former chairman Ken Fuller with a plaque for his service, as well as presenting him a new award bearing his name.
"Second thing tonight, and pardon me if I get a little bit emotional, as many of you know, last month, Mr. Fuller, a long time board member, announced his retirement from serving as a member of the Paintsville Board of Education," said Superintendent David Gibson. "While it's going to be something impossible to fill his shoes on this board and even more in this community, we want to extend our heartfelt gratitude to him and tonight we have two recognitions for him."
Gibson said that Fuller, as of this month, has served on the board for 22 years, before asking Fuller to show a plaque to the rest of the board.
"Before Mr. Fuller came in tonight, we were talking about the circumstances of our district, financially, when (Fuller), (Butch Walker) and (Joe Porter) came on to the board and how we've turned a corner and how we're thriving now, financially, but from the bottom of my heart, not only as a superintendent, but as a friend and mentor that you've been to me, I want to thank you for your 22 years, and we've got an award we want to give to you to honor that," Gibson said, before moving on to another award.
"The next item that we want to present Mr. Fuller with is something that our world desperately needs more of, and this is where I'm going to get emotional," Gibson said through tears. "To be a leader, of any capacity, you have to have special attributes. Just because you're in a leadership position doesn't mean people will follow you. Mr. Fuller has been able to lead in a way that people follow. Mr. Fuller exemplifies what it means to be a true servant leader, selfless and compassionate and always putting others before himself."
Gibson then announced the award, titled the Ken Fuller Servant Leader Award, before reading an excerpt of scripture that, he said, perfectly exemplifies who Fuller is as a man.
"It has a scripture on there, Mr. Fuller, that I think, more than anything that I've ever read, really identifies who you are as a man. It's from Acts 20:35 – 'I have shown you all things, how that, so laboring, you ought to support the weak and to remember the words of the Lord Jesus, how he said, it is more blessed to give than to receive,'" Gibson said. "You exemplify that scripture, and you're going to be sorely missed, but I'm still going to call you and get my weekly advice and counseling sessions from you and from the bottom of my heart, thank you so much … you exemplify what that award truly is all about."
Fuller accepted the award, but requested that Walker and Porter stand with him as he did so.
"I'll tell you what, I'm going to take this, but I'd like Mr. Walker and Mr. Porter to come up and stand with me because we have been together," Fuller said. "These are great people to work with, right here. Thank you, sir."