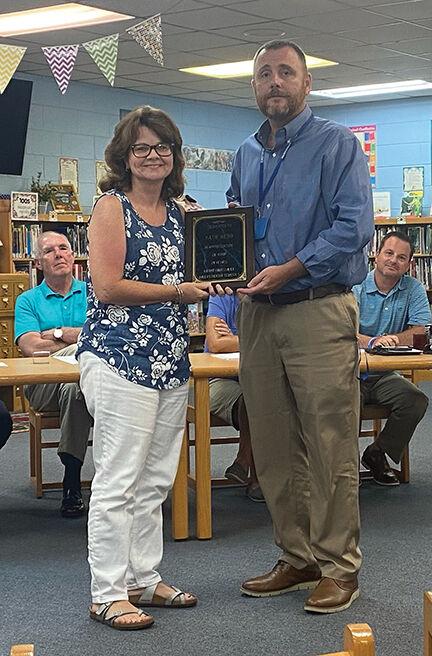 Saying goodbye to a long-time member of the district, the Paintsville Independent Schools Board of Education announced the transition of careers for current Paintsville Elementary School Principal Katie Webb and welcomed aboard the next principal for the school, Kristy Frazier.
"Mrs. Webb, before you sit down, I know that you are transitioning to another phase in your career, with another district, and I just want to take a moment to say a couple of things," said Superintendent David Gibson. "First off, I want to thank you for the friendship that has grown between you and I -- you've become a very close friend and a confidant and to say that we go through the ringer, you, me and (Tiffany) Austin, on a weekly basis, sometimes
daily basis, sometimes hourly basis, is an understatement. I will say this in front of anybody, I'm so thankful to have you as a friend first, but as a colleague as well. The last four years working with you have been some of the best times in my career."
Gibson said that he had spoken with Lawrence County Schools Superintendent Robbie Fletcher and joked that, though he had tried, he couldn't think of a reason to dissuade Fletcher from hiring Webb.
"More than anything, we want you to know how much we appreciate your time," Gibson said.
Webb offered thanks as well, for the community, her colleagues and as a parent of two Paintsville High School graduates.
"I appreciate it from the bottom of my heart ... I can't thank the community enough, the teachers I've had an opportunity to work with over the years, the kids that I've been blessed to be a part of their lives ... most of all, as a parent, thank you for what my girls left here with -- it laid a great foundation for them," Webb said.
Gibson then presented Webb with a plaque dedicated to her for her 21 years of service at the district.
According to a statement from Webb, she will begin serving in her role as Chief Academic Officer for Lawrence County Schools on July 1.
"This is one of the toughest letters I have ever had to write. But, as John F. Kennedy wisely put it, 'Change is the law of life. Those who look only to the past or present are certain to miss the future,'" With that being said, I am excited to share that I have been selected to serve as Chief Academic Officer for Lawrence County Schools," Webb said in the statement. "My 21 years at Paintsville Independent have been a blessing.  My daughters have received a tremendous education, and I have had the opportunity to work with some of the finest educators I have ever known. I have also gotten to work with great students, phenomenal families, and supportive alumni and community members. Paintsville Independent is a special place. Thank you for welcoming my family into the Tiger Family. As we boldly begin this new chapter, I will always look back on my time in Paintsville with fond memories. But, as a Lawrence County graduate and Louisa native, it's simply time to go home."