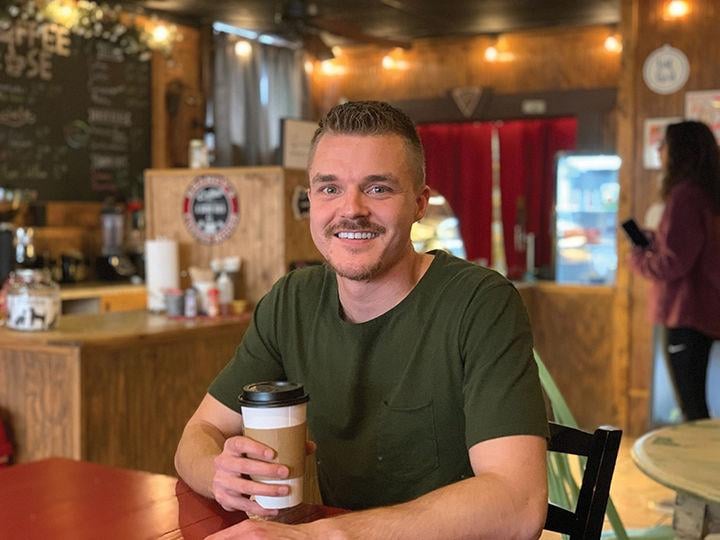 Downtown Paintsville's The CoffeeHouse has a new owner.
Kyle Melvin, 26, of Johnson County, has recently made his dreams come true and purchased the community staple.
A 2012 graduate of Paintsville High School, Melvin has spent his years since high school in Knoxville, Tennessee, acquiring a degree in Biblical Studies and traveling the world.
"I've been to Peru 10 times, I've been to Ireland twice and Scotland," he said. "I've traveled a lot in the states. I did an internship in Texas, I've been out to California a couple of times for short term business work, so I've done a lot of traveling. I'm a very adventurous spirit."
After his explorations, Melvin returned to Paintsville and began working at Lowe's. He is currently nearing the end of his position as a Shift Manager for cashiers.
Melvin said it has been his dream for years to own and operate a coffee shop.
"I told Brandy (Bentley, the original owner of The Coffee House) a year and a half ago, 'I'm going to buy this coffee shop from you one day' and I went to Lowe's and talked to the store manager and I said, 'Listen, I need a job until I can buy this coffee shop downtown, '" he said. "I thought it might be 10 years down the road. I really wasn't sure. She (Bentley) just said she knew that it would be a possibility that one day her husband would have to relocate (for work) and they'd have to probably sell. I got my current job with the stipulation that I was going to buy this coffee shop, I just needed income (until I could)."
Melvin expressed that coffee and the culture that surrounds it have long been passions of his.
"It's been my dream to own a coffee shop for years," he said. "I love coffee. I've drank coffee for years. It's not just that I love drinking it, I love how many drinks there are. I love how you make them. I love making someone their drink and seeing them taste it and the smile on their face. Everything about coffee culture, I love."
He said little will change about the business the community has come to know.
"The town has fallen in love with what the shop is. It's my intention to keep it pretty much the same. I'm doing it for the community."
While the drinks and food at The CoffeeHouse will generally remain the same, Melvin does intend to add his personality to the mix.
"I'm a big 'people person,'" he said. "I love making people happy and putting smiles on people's faces. I'm a very high energy, enthusiastic person and I'm excited to put that behind this counter."
The operations switch officially kicks off Jan. 25. Melvin will be at The CoffeeHouse, located on Main Street, from 6 p.m. to 8 p.m. to meet and greet with customers and will be offering 20 percent off beverages. There will also be free pastries and music for attendees to enjoy.