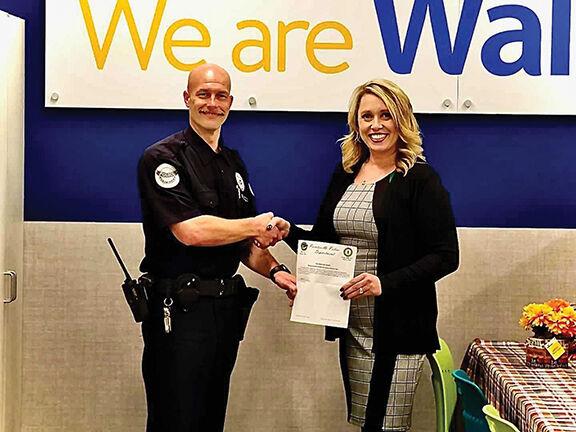 On Sept. 29, members of the Paintsville Police Department gathered at Paintsville's Walmart and were honored for their service to the community by receiving a monetary donation from grant funding from the company.
PPD Officer Brian Runyon stated he greatly appreciated the donation.
"Through this helpful donation from our great Paintsville Walmart, our department was able to purchase a crucial piece of equipment," Runyon said. "The software on our department's oldest computer is outdated. With the donation we were able to purchase a new computer. "The fast growing pace of the technology in our world is once again up to par at the Paintsville Police Department."
Runyon stated that PPD Chief Mike Roe and Assistant Chief Danny Smith were excited to hear of the donation. "I would like to thank both of them for their positivity and supporting me through the process, just as they do for all the officers on their force," he said.
Runyon also thanked Paintsville Walmart's Assets Protection Manager Juanita Auxier and General Manager Greg Salyer for their work in obtaining the grant funding.
Auxier said, "We are just thankful for the opportunity to help the police department and are grateful for all they do for us and our community."