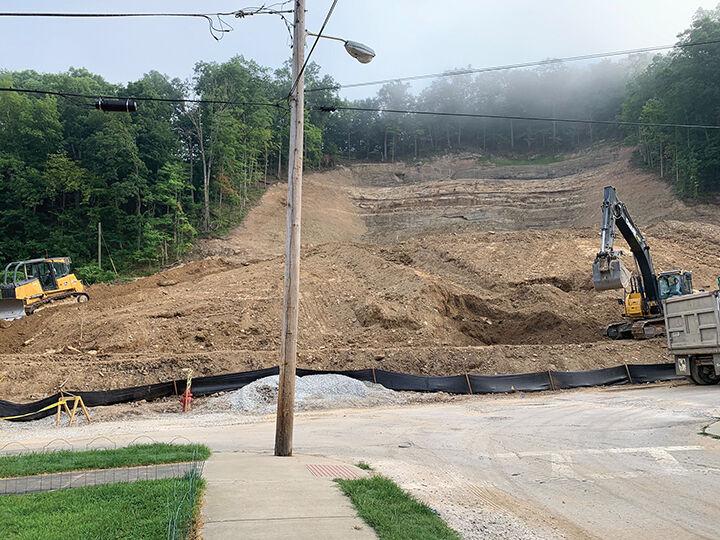 The Paintsville City Council met for a special called meeting on Tuesday,  14 to discuss several agenda items, including the progress being made on the Carter Lane project in downtown Paintsville.
The project, which was initially addressed during the term of former Paintsville Mayor Bob Porter, began as a means to find a solution for properties on the hillside at Carter Lane, which, according to Paintsville Mayor Bill Mike Runyon, were sliding off the hillside at an average of 4 to 6 inches every six months.
Runyon stated that the city reached out to the Federal Emergency Management Agency (FEMA) in 2018 to help with funding for the project. Matching the FEMA funding at 13 percent., the City of Paintsville has been able to kick-start the $749,000 project, which began with purchasing nine properties at the Carter Lane site. The eight homes amongst those properties have been demolished and construction work at the site is well underway.
Although the projected finish date for the project has been set for Sept. 12 of this year, Mayor Runyon noted in Tuesday evening's special called meeting that he anticipates the project to be completed well before the deadline.
Runyon also announced during the meeting that Community Development Coordinator and grant writer Regina McClure had been hard at work acquiring and seeking grants for the city.
"Thank goodness for our grant writer, Mrs. McClure," said Runyon. "We have received a 9-1-1 grant totaling $28,134 and some odd cents for local mapping data. Also, she and our rec director are working on a grant for the (city) pool, which they will have to submit August first and they said that is looking good."
Next Runyon once again thanked former City Council Member Sarah Kimbler for her service to the city. He read her resignation letter to the crowd. He then recommended local lawyer Brandon May to take Kimbler's seat on the council, finishing her term. The council voted to approve May as a member.