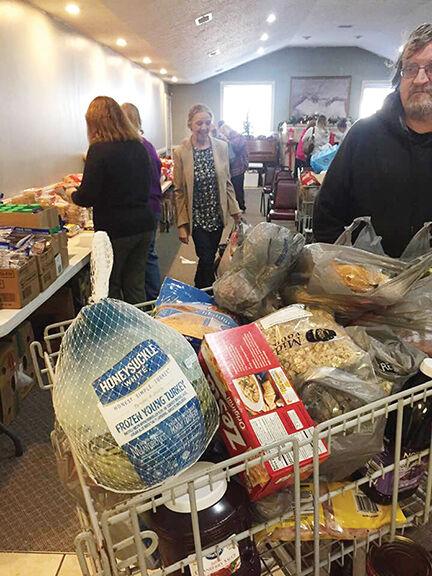 Although their need is great year-round, community food pantries are especially hard-pressed to supply the turkeys and hams that the average family expects to be able to prepare for holiday dinners during the Thanksgiving and Christmas seasons — which is why the Paintsville First Church of God is already hard at work distributing turkeys and preparing to gather hams, as well as looking for volunteers to begin fundraising for next year.
According to Pastor Dan Heaberlin, Twelve Baskets Food Pantry has seen the need from community members wane throughout the year from the pantry's usual 350 or so families a month to around 200 during the time that food benefits were increased due to COVID-19, but now, as the increases to those benefits have expired, the number of families served by the pandemic has begun to increase back towards that usual baseline.
"There's always a need, especially, it's coming back now, that they've cut the extra food stamps out. For a little while there, during COVID, we dropped down from about 350 families to around 200, because when they were getting that $900 per month, they didn't need us too bad," Heaberlin said. "They still get their regular benefits but they don't get the double per month for children."
According to Heaberlin, since the pantry was opened in 2003, he estimates the pantry has supplied approximately $12 million worth of food, the vast majority of which has gone to Johnson County residents.
"We opened in October of 2003, and we've probably given away almost $12 million worth, by now. It's a lot of beans and potatoes, I'll tell you that," Heaberlin said. "They're almost all Johnson County people. Every once in a while, we'll get somebody just passing through and we'll give them some stuff that they can eat that they don't have to put in a stove, or sometimes the ministerial association will put somebody up for a couple nights, and, generally, we'll give enough food for a couple of days there."
Heaberlin said the pantry's expenses are about 19 cents per pound on the food that they purchase to give out, and it costs about $3,000 per month to run the charity — with one month, approximately, paid for yearly by the Federal Emergency Management Agency.
"I think we got $3,000 last year from FEMA, and we can run it for about that a month," Heaberlin said. "It helps, every little bit helps. Most of the food we buy is 19 cents per pound, and you never know what it is, but for that price, we'll take whatever it is.
"We'll take more turkeys or hams right now, we've still got two more weeks of giving out turkeys. We prefer hams right now, but either one is good," Heaberlin said, adding that the cost of turkeys has been increasing steadily lately. "I think turkeys are going up more than ham."
According to Heaberlin, the rest of the year's funds are raised through donations and fundraising activities, according to Heaberlin, who added the church was already looking toward new fundraising opportunities and could use volunteers in the near future to help collect donations at Walmart and Lowe's.
"We're talking about maybe, you know how people stand out in front of Lowe's and Walmart and collect money, we're talking about doing that if we can get enough volunteers," Heaberlin said. "We usually do it from about 10 a.m. to 2 p.m. on a Friday and a Saturday, so if we can get some volunteers who say they'll stand out there for two hours, that would be great."
With the holidays approaching, with Thanksgiving this week and Christmas only a month away, Heaberlin encouraged anyone who was able to help to do so.
"'Tis the season to help your neighbor out, because they need it and they need it now," Heaberlin said.
If you are interested in making a donation or to reach out to offer your time for fundraising efforts, contact the Paintsville First Church of God by phone at, (606) 789-3995, or visit the church at 205 Eighth Street in Paintsville.