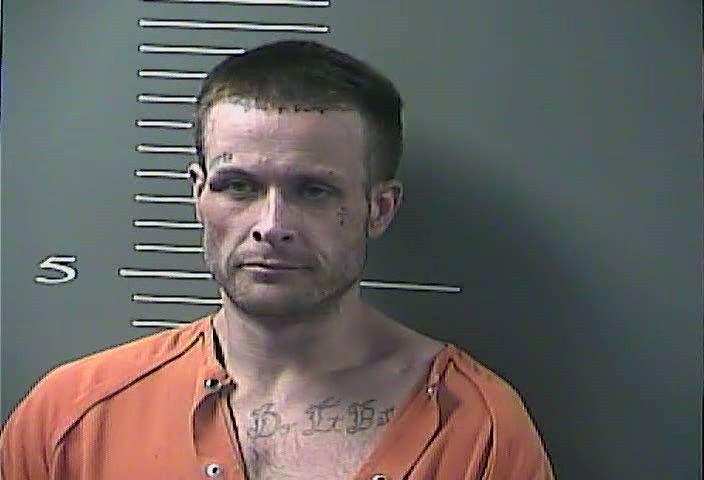 A Liberty man was arrested this week on several charges after, police said, he stole a vehicle and then fought the arresting officers after "injecting crack cocaine all day."
A statement released by Johnson County Sheriff Doug Saylor detailed events leading to the arrest of Shawn R. Gayheart, 31 of Liberty, on April 6.
According to the statement from the sheriff's office, dispatchers received a call from a man at Storm Creek Trailer Park in Staffordsville who stated that a male subject had stolen his pickup truck and that the subject left the area traveling toward Paintsville on Ky. 40. JCSO deputies located the vehicle at a gas station US 23 near Turner Branch Hill just after 6 p.m., police said.
 "When approached by deputies, Mr. Gayheart attempted to flee on foot but was quickly stopped at which time he began fighting with the deputies," the statement said. "During the altercation, several deputies were assaulted before he was subdued and taken into custody. Upon searching Mr. Gayheart, he was found to be in possession of a hypodermic syringe. Mr. Gayheart stated he had been injecting crack cocaine all day."
Saylor noted that four deputies responded to the pursuit — Bryan Childers, Jeff Castle, Jason Arms and Michael Scott.
Castle arrested Gayheart and transported him Paul B Hall Medical Center. After he was medically cleared, he was lodged in the Big Sandy Regional Detention Center on charges of auto theft, fourth or greater offense DUI, driving on a DUI-suspended license, second-degree fleeing or evading police (on foot), resisting arrest, third-degree assault, second-degree disorderly conduct and possession of drug paraphernalia.
Court records show Gayheart was released from the jail on April 8.