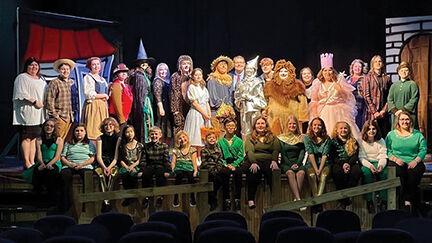 Follow the Yellow Brick Road with the students of Main Street Players in their production of the classic fantasy, The Wizard of Oz, Nov. 19 and 20, at the Historic SIPP Theatre.
"At Main Street Players, we work to improve the educational and artistic opportunities for the students of our region. This show is sure to do just that," said MSP Director, Jeremiah Parsons. "With limited access to the arts in our area, we seek to teach the fundamentals of theatre, support individual development, and produce quality community theatre."
One of America's best-known stories in American pop culture, The Wizard of Oz follows the adventures of Dorothy Gale after she is swept away from her Kansas farm by a cyclone. After landing in the magical land of Oz, Dorothy embarks on a thrilling journey alongside the Scarecrow, Tin Man and Cowardly Lion. Tickets may be purchased in advance at, www.Paintsvillemainstreetplayers.com, or on the Main Street Players' Facebook page or at the door day of performance. Ticket cost is $10 Adult and $8 Youth (18 & under).
The cast of approximately 30 members has been rehearsing the show for the past three months and are excited to return to the stage after a long break due to COVID-19.  The Youth company is comprised of members from across the area and span ages 7-18.
Main Street Players is a nonprofit community theatre with a mission to produce quality theatre, educate area youth and support the arts. The theatre produces shows in the Spring and Fall, holds a theatre camp in the summer, dinner theatre shows and is expanding to serve the community. For more information about MSP, please visit, www.Paintsvillemainstreetplayers.com.