PRESTONSBURG — A local club based out of Prestonsburg recently held its largest event of the year, in hopes of giving its members and others in the community an outdoor hobby, filled with fun, food, fellowship and remote control aircrafts.
Stonecrest RC Flyers, formerly known as the Jenny Wiley Flyers, are a local AMA (Academy of Model Aeronautics) chartered club based out of Prestonsburg that gives its members, as well as others in the community an opportunity to come out and learn the ins-and-outs and even how to operate radio controlled airplanes, helicopters and multi-rotors, all in what Flyers chairman Joe Meade said is "a good clean fun" environment.
"We've had this club here for about 18 years," Meade said. "I've been president of the group for the last six years now and was vice president before that, so I've been active with this group for almost nine years."
According to Meade, the club began as a way to give people in the community and surrounding areas an alternative outdoor hobby, as opposed to the social events in which most people may associate.
"Some people enjoy hiking, golfing and plenty of other things that you can do outdoors," Meade said. "Personally a lot of those things aren't for me and it just so happens that I was lucky enough to find people who were passionate about something I am."
Meade said the Flyers have grown throughout the years, as word began to leak out about a local club that flew remote control aircrafts up on Stonecrest, which the club has turned into its own facility.
"We've got a shelter that we've been able to add on over the years," Meade said. "We're lucky to have plenty of space up here. We've got a good-size grass runway and even have space for people to camp out up here."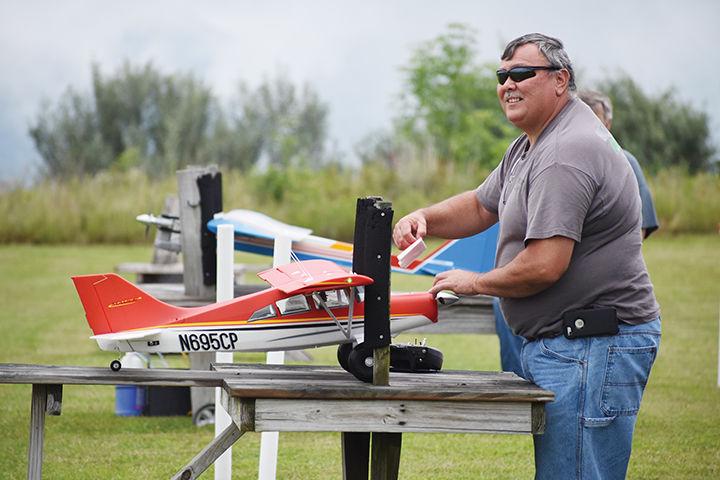 Camping out in anticipation for the Flyers events is almost a regular occurrence, according to Meade, who said people come from all over to participate or spectate the fun.
"We have a ton of people come up here and camp," Meade said. "Some of the people up here today have been camping out since yesterday, so we try to have plenty of space and storage available for them."
Charles Brooks, of Nicholasville, has been an avid remote aircraft flyer for over 25 years and said that he and his family have been making the two-and-a-half hour drive for a number of years now, so that he can share his passion with them.
"I was a little shocked that Prestonsburg had a flying club due to all the hills," Brooks said. "I have been coming for several years now and my wife is from the area, so it makes it easy coming in and seeing everybody."
According to Brooks, once he heard of others sharing his passion in his wife's hometown, he had to be a part of it, which was easy, he said because of all the love and hospitality from the club.
"The club members go above and beyond to make sure everyone has a great time," Brooks said. "From day one they made me feel as if I was a member of the club and we love coming in the night before, so we can do some night flying or just sitting around talking about the hobby with everyone."
Brooks said the involvement with Flyers has helped his daughter develop that same passion that he has long carried, as he has begun teaching her how to build and fly planes, in hopes, that she can join the club he adores so much.
"As with all clubs, we need to get the youth involved in the hobby," Brooks said. "They're the future and they will get to carry on the things we love, once we no longer can."
Spreading that passion, not only to the youth, but anyone interested is something the Flyers always try to do, according to Meade. He said the club makes an effort to include the community as much as it can, and has an open invitation for anyone interested in joining, or even just spectating all the fun.
"You don't even have to have your own equipment," Meade said. "You can roll up here, ask us to try it out. We'll break out the trainer plane and 'buddy-box' you until you're comfortable enough to handle it."
"Buddy-box," Meade said, is a term they use for helping new or beginning aircraft flyers operate the club's trainer plane.
"We purchased the trainer plane just for people new that were interested in trying all this out," Meade said. "It's easy to use and has radios bound to it, so we can control it until you're comfortable enough to handle it on your own."
According to Meade, many people think that flying remote control aircrafts is an "extremely expensive" hobby to keep up with, but that's not the case.
"You can spend a lot of money in this hobby, as with a lot of hobbies," he said. "But just like with others, it can be cost-friendly. It's all about the person and how much they want to spend.
"It doesn't have to be expensive, there are definitely cheap avenues that allow you to enjoy the fun we have," he added.
The club recently held its annual "Fun Fly" event, after which Meade said the club took a portion of the funds generated and donated it to the local veterans group in Prestonsburg. It is the club's largest event every year, but said that there are many smaller events held throughout the year.
Anyone interested in finding out more information about Stonecrest RC Flyers, or interested in joining, call: (606) 205-6950, or visit the club's Facebook page.