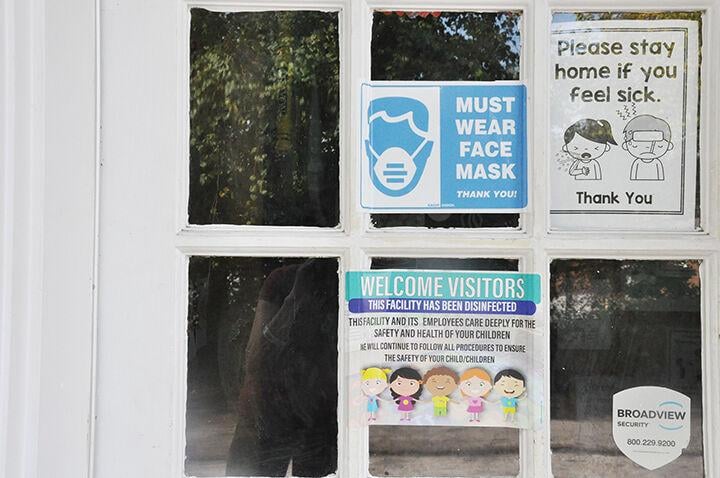 Child care centers are undergoing numerous efforts in navigating new regulations and transforming to meet statewide health and safety standards, as they reopen and continue operation through the COVID-19 pandemic.
Jennifer Mollett, owner of Once Upon A Child Learning Center in Paintsville, said her center is licensed to have a capacity of 58 children but is currently caring for only 25 to 28 children per day. She stated that the number of parents who have become unemployed since the crisis began has much to do with these low numbers.
"Right now I'm not struggling, but there are so many centers that have closed already," she said. "If things don't pick up, I'm fearful that this could make or break the daycare."
Mollett said the facility must be sanitized throughout the day and there are a large number of new health and safety precautions imposed on staff, children and parents.
"Anyone that enters the building must have a mask, including kids age six and older," she said.
Noting that the cleaning process is rigorous, she stated,  "I'm talking like all day, everything. There's a special bleach and water combination that we use to sanitize any hard surfaces. We wear gloves throughout the day. We perform temperature checks three times a day on children — when they enter, when they leave, and throughout the day."
Mollett then referenced a substantially-sized document released by Gov. Andy Beshear and the Cabinet for Health and Family Services, deemed an emergency administrative regulation to licensed child care centers and certified family child care homes, that lists several guidelines for preventing the spread of COVID-19.
According to the document, centers like Mollett's must limit class sizes to no more than 10 children per group and each child must remain within the same group throughout the day without interacting with children in other groups. Furthermore, centers may use temporary walls to divide classroom space in order to comply with the maximum group size established.
According to the document, the only individuals approved to be inside the facilities are staff, children enrolled in the facility, parents and legal guardians, figures of authority such as cabinet staff and first responders, necessary utility workers, professionals providing medical or therapeutic services for special needs children and any family member who lives in the home of a family child care home.
The childcare providers have also been instructed to reduce the number of staff each group of children interact with daily and to create a schedule in which the same staff work with the same children each day.
The regulations go on to state that playground time must be staggered amongst groups and that a centralized drop-off and pick-up location must be utilized in order to eliminate unnecessary traffic of parents and guardians to classrooms. For Once Upon A Childcare, this means parents and guardians depart from and pick up their children in the foyer of the building each day, never seeing beyond the entrance to the center.
Social distancing is also enforced in this area, with no more than two families allowed in the foyer at a time, remaining six feet apart.
The document also outlines strenuous cleaning and sanitizing requirements for child care providers. According to Mollett, staff are constantly sanitizing hard surfaces, have eliminated any soft, machine washable toys and infants and toddlers cannot share toys. Bedding is also washed weekly.
For the children, hand sanitizer and hand washing are constantly enforced, Mollett said.
"We're trying to keep them apart, yet let them mingle at the same time," Mollett said of social distancing efforts. "It's hard. I feel the older kids understand it more, you know, to stay apart due to germs."
She also said school-aged children are practicing social distancing as they are participating in remote learning while at the childcare center.
"They're already 6 feet apart in the class area and they've each got their desk set up for their work and they started that process recently," she said. "It's going good so far."
When asked how younger children have responded to not being able to see the face of employees behind their masks, Mollett stated, "They've adjusted. At first, it was different because they can't see us smile. They can hear our voice, but they can't see our reactions through that mask. They're okay with it now. It took a long time."
For Mollett, the biggest challenge has been keeping everyone safe.
"I feel like this is on our back," she said. "But deep down, when you do this, the safety of the children and the staff is important. The worry is constant. We have an employee that's in her 70s that still wants to be here."
Fortunately, no employee has been laid off since the pandemic hit the state.
"I've been able to use everyone and make sure they've kept their position here," she said.
She also noted that, so far, no child or employee has been exposed to the virus.
"I'm sure we're going to run into it, just not right now," she said. "I am concerned. I get up in the morning and wonder, and we all do, that when we get in and we check that temp, is it going to be the one? And where did it come from? We won't know."
Mollett said that, overall, things are going well.
"We're doing it," she said. "We're making it. This isn't easy, but I am feeling hopeful. I feel like eventually we'll be at full capacity. I don't know when, but we're going to keep pushing until then.
"The day we closed, March 20, we were all still willing to be here," she continued. "Even through all of it. We opened the doors July 6 and once again we were ready to get back here. This is what we know. This is part of us. This is what makes us complete. This is what we do and this is all I know. A big part of my heart left when we shut down and I worried daily if we would ever open again."