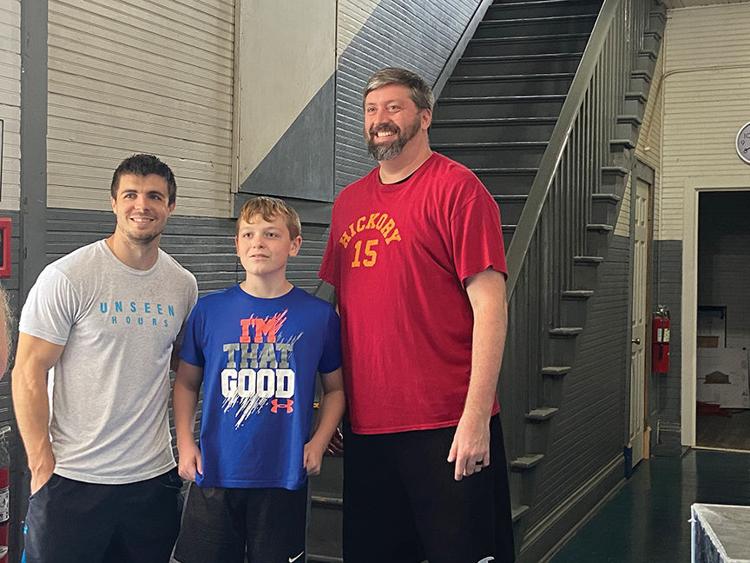 People from Eastern Kentucky are known for giving back to their communities. Whether you were to run out of gas beside the road or teaching children a sport, the hospitality of mountain people is unmatched anywhere.
J.R. VanHoose, who, was voted the state's Mr. Basketball player in 1998 is all about giving back, not only in his community of Paintsville, but to coal camps and small towns throughout our region. VanHoose, who helped lead Paintsville to the 1996 Sweet Sixteen crown, also had a stellar career at Marshall where he was inducted into The Thundering Herd's Hall of Fame.
A short time ago, the 6 foot 10 gentle giant started a camp for post players and big men. Little did he know that he would receive a phone call from one of his friends and that the big man school would blossom into an academy where they give back to the community and help young players from across the mountains.
That friend who called VanHoose, was 2010 Mr. Basketball Elisha Justice.
"Elisha called and said he would like to do something, and asked if I'd be interested in working together," VanHoose said.
Justice, who led Shelby Valley to a state title in 2010, went on to play at Louisville before returning to the University of Pikeville to finish his career.
Once (Elisha) Justice got the green light from VanHoose, he got in contact with another mutual friend, 2015 Mr. Basketball Cameron Justice, to create the Legends Skills Academy.
(Cameron) Justice played at Knott County Central and took his talents to Vanderbilt in Nashville, before finishing his career at Western Kentucky after a stint at Indiana University and Purdue University Indianapolis (IUPUI).
The three Mr. Basketballs created the academy and have been going strong every evening in the home gym of another former Mr. Basketball and the state's first, "King" Kelly Coleman and the Wayland gymnasium.
"Elisha (Justice) said this will be great, but we don't have a gym," recalled VanHoose.
"I told him I've got a gym."
VanHoose is the curator of the Mountain Sports Hall of Fame which is housed in the confines of Coleman and his Wayland Wasps.
It is a wonderful opportunity for kids of any skill level to learn from three of the state's greatest. And what better place to put on the academy than where it all started; in Wayland.
"You look at the three of us and you have 10 plus years of Division I basketball," said VanHoose.
However, its more than just basketball. The Wayland gym, built in 1937 still has the original floor and a lot of the bleachers from the time of Coleman. There's history not only in the gymnasium, but just down the street at the community center, it's like stepping back in time. The relics from what seem like a century ago are set up in rooms throughout the center such as, a room showing artifacts from the coal industry along with items from schools in the Hall of Fame room.
 "It's great that you can bring the classrooms to life and the kids can actually see and touch the history in this place," said VanHoose.
VanHoose is known as an historian and he is like a seasoned tour guide as he takes you through the center, and he throughly enjoys being in that element.
It is an all around experience and a must stop for anyone who loves the history or wants to learn more about life from decades past.
One thing unique to the Legends Skills Academy is it's not everyday that three Mr. Basketballs are in the same gym teaching kids the game and giving back. VanHoose works with post players, while (Elisha) Justice works on ball handling and decision making. (Cameron) Justice works on shooting and creating shots in his station.
The three believe that kids from our region are as talented as kids from anywhere, and often times just need work in areas that will help young basketball players possibly get to the next level.
Many exciting things are happening in Wayland. As they are always working to remodel the old gym, a neat life-size statue of Kentucky's first Mr. Basketball (Coleman) is in the works as well. When complete, it will not only be something for the citizens of Wayland to be proud of, but Eastern Kentucky as a whole. If interested in the Legend Skills Academy, you can reach them on their Facebook page.