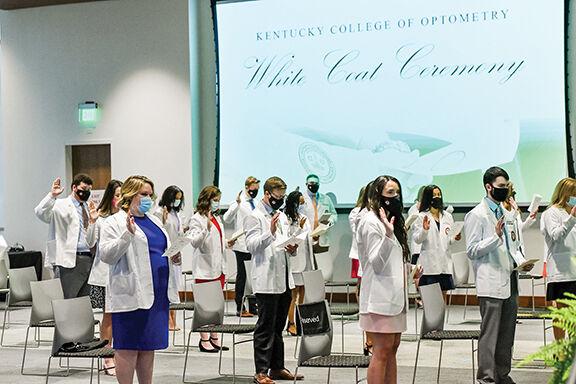 The University of Pikeville-Kentucky College of Optometry (KYCO) held its White Coat Ceremony for the class of 2023 on Saturday, April 10, 2021, via livestream. Due to COVID-19 restrictions, the event was closed to the public.
The White Coat Ceremony is symbolic within the health professions, reflecting a commitment to patient care. After two years of a rigorous classroom and procedure lab curriculum, the class of 2023 will apply their knowledge in the clinical setting.
Second-year students at KYCO were "coated" in the presence of their peers and KYCO faculty by Cliff Caudill, O.D., FAAO, KYCO assistant dean of clinical affairs and associate professor of optometry, and Donald Egan, O.D., FAAO, DPNAP, associate dean for academic affairs and professor of optometry.
Dean Michael Bacigalupi, O.D., M.S., FAAO, FNAP, welcomed viewers from across the country through livestream and praised students for rising to meet the challenges of being educated during a pandemic.
"This class, the class of 2023, is tough. We navigated the changing tides of the pandemic forces into many difficult decisions," explained Bacigalupi. "This class adjusted and through it all, persevered. They demonstrated their toughness, their strength and their grit. They engaged in learning in all types of formats we threw at them and they stayed on track to reach this point today. We are incredibly proud of them for protecting themselves and each other. Their efforts have allowed them to progress towards their goal of becoming leaders in the optometric profession."
UPike President Burton J. Webb, Ph.D., and Provost Lori Werth, Ph.D., congratulated students on this significant occasion. Egan also spoke to students about the history and the significance that the white coat holds.
Delivering the keynote address for the ceremony was R. Max Raynor, O.D., president of SECO International, also known as the Southern Council of Optometrists, the largest educational meeting for primary eye care doctors in the world. Dedicating his 30-year career to providing the
ultimate in preventative primary eye care, he is an active member of the North Carolina State Optometric Society, serving as president in 2007.
Raynor spoke to KYCO's class of 2023 about continuing to grow and meet challenges in life and use this profession to have an impact in service to others.
"The white coat symbolizes your commitment to serving humanity for the rest of your lives and you should use the opportunity given to you to make a difference in the world," said Raynor. "I'm sure you realize your learning doesn't end once you move into the clinic, it doesn't end once you graduate, nor does it end once you pass the state boards and begin practice. You are committing to a lifetime of learning."
The ceremony was followed by a socially-distanced reception to honor KYCO's class of 2023.