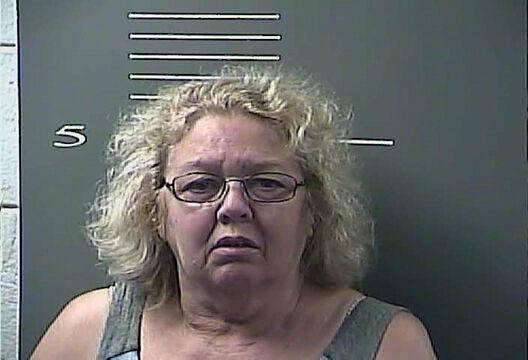 A Johnson County woman was arrested recently after, police said, she lied about her car being stolen in an attempt to protect her son, who allegedly fled from police in her vehicle.
According to court documents, Janie Smith, 65, of North Clay Avenue, West Van Lear, was arrested Sept. 14 on charges of falsely reporting an incident and hindering prosecution or apprehension following an investigation sparked by an alleged chase.
Kentucky State Police Trooper Ryan Hale wrote in the arrest citation that, at approximately 8:20 p.m. Sept. 13, the Johnson County Sheriff's Office received a complaint from Smith reporting that, on Sept. 13, she had returned home to find her 2001 Chevrolet Blazer missing.
Hale wrote that, at approximately 2 a.m., Sept. 13, the Blazer had fled from Hale and Martin County Sheriff's Deputy David Adams at Johnson Bottom Road in Martin County. The officers, the citation said, had attempted to stop the vehicle, but the driver had fled into a wooded area before sustaining damage and getting stuck. The occupants, Hale wrote, fled into the woods.
During the course of the investigation, the trooper wrote, it was discovered that a male subject had emerged from the woods and used a phone at a residence on Rockcastle Road directly across from where the vehicle had been abandoned.
During the course of the investigation, Hale wrote, officers discovered that the man had called a number belonging to Janie Smith, and was picked up from the Rockcastle Road residence by a man and woman in a silver SUV.
Hale wrote that he contacted Smith, who told him she did not know who had taken her vehicle and that she had the only key.
"When I informed her that it had been involved in a pursuit in Martin County, she tried to act surprised and angry about it, claiming she had no knowledge of this," Hale wrote.
After further investigation, Hale wrote, he confronted Smith with the information that he had discovered that her son, Robert Smith, was the operator of the vehicle at the time of the chase. Janie Smith, the citation said, admitted that she had seen Robert Smith leave her residence in the vehicle and that he was the primary operator of the vehicle.
Janie Smith, the citation said, admitted that Robert Smith had called her on Sept. 13 and told her that he had fled from the police and that the vehicle was damaged and stuck. Janie Smith, the citation said, admitted that she and her husband had picked Robert Smith up, brought him back to their residence, then dropped him off in Paintsville.
Janie Smith was lodged in the Big Sandy Regional Detention Center, from which she was then released a few hours later.