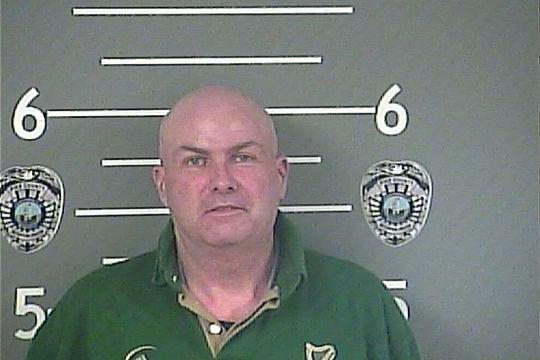 A Johnson County man is facing numerous felony charges after an incident which allegedly occurred just before Christmas in Pike County.
On Jan. 15, court documents show, a Pike grand jury indicted Gary W. Chitwood, 47, of Lucy Castle Hollow, River, on charges of receiving stolen property, first-degree wanton endangerment (two counts), first-degree fleeing or evading police, theft, second-degree fleeing or evading police and DUI, related to a Dec. 21 incident in Pikeville.
According to an arrest citation by Pikeville Police Officer J. Slone, on Dec. 21, Chitwood drove off from a gas station on U.S. 23 in Pikeville without paying for the gas.
While en route to the gas station, Slone wrote, he was notified by dispatch that an employee of the gas station saw the vehicle pull into the nearby Hatfield and McCoy Lodge. Slone responded and spoke with individuals at the scene, the citation said, who told him that the Chitwood had driven the vehicle away from the motel with a flat tire.
Slone traveled to the nearby South Lanks Branch and located the vehicle on a side road where it led to a dead end.
As Slone began to exit his cruiser, the citation said, Chitwood's vehicle went into reverse and he rammed the patrol car, then put the vehicle in drive, pulled forward, then rammed the officer's vehicle again, ignoring the officer's commands to stop.
Slone wrote that Chitwood placed his vehicle back in drive and proceeded to drive off the road and onto the hillside, toward U.S. 23 before crashing into a ditch and immobilizing his vehicle. Chitwood, the citation said, then exited his vehicle and fled on foot, crossing the highway.
Slone wrote that he exited his vehicle and pursued Chitwood on foot, eventually catching up with him a "significant distance" away from the crash site. Slone wrote that he placed Chitwood under arrest without further incident, at which time he apologized for ramming the cruiser.
Chitwood, the citation said, was taken to Pikeville Medical Center for blood testing, but a breath test performed at the scene showed that Chitwood had a blood alcohol level of .109, nearly twice the limit at which someone is considered to be driving under the influence in the state of Kentucky.
After placing Chitwood under arrest, Slone wrote, officers found that Chitwood was wanted by the state of Michigan.
Court documents show Chitwood was lodged in the Pike County Detention Center after the incident and released on Jan. 2.