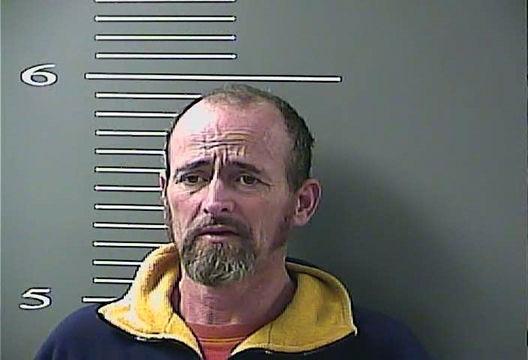 A Wittensville man was free from jail for just over an hour Thursday before being arrested a second time, court records show.
According to court documents, Robert Meade, 47, of Dogwood Lane, was arrested for the first time Wednesday afternoon after an incident at Nippa.
According to the citation in the case, written by Johnson County Sheriff's Deputy J. Castle, at approximately 3 p.m., Wednesday, he stopped at the Quick Mart on U.S. 23 at Hill Top Road for gas, when he saw Meade run across the parking lot to the edge of the road.
Castle wrote that Meade began running up and down the side of the road and made gestures indicating he was looking for someone.
"I approached Meade and asked him if he was alright," Castle wrote "Meade advised me that there were three men trying to kill him, but he said I could not see them because they were in spirit."
Meade, Castle wrote, was having trouble answering questions and was acting nervous.
Meade admitted to drinking and smoking marijuana, the citation said, and told the officer that he had been "doing meth" a couple of days before.
While Castle was walking Meade to his cruiser, the citation said, Mead told the deputy that the spirits were going to kill him and there was one in the vehicle.
Meade was lodged in the Big Sandy Regional Detention Center on a charge of public intoxication and, court documents show, he was released at approximately 12:40 a.m. Thursday morning.
Less than an hour later, court documents show, Paintsville Police Police Officer Jeremy Shepherd was dispatched to an area near the McDonald's on Ky. 321, from which the agency had received a call reporting that a man was stopping cars and asking for rides.
Shepherd wrote that when he arrived at the scene, he contacted Meade, who had a young female stopped who was crying and very frightened.
The citation said the officer attempted to talk to Meade, who became "very aggressive," and clenched his fists, showing an aggressive demeanor. Meade, the citation said, became loud and belligerent and was placed under arrest.
Shepherd wrote that he placed Meade under arrest, at which time Meade broke free from the officer and began running along K.y 321, before Shepherd was able to subdue him and place him under arrest.
Meade was lodged in the Big Sandy Detention Center on charges of second-degree disorderly conduct, second-degree fleeing or evading police, resisting arrest and menacing.