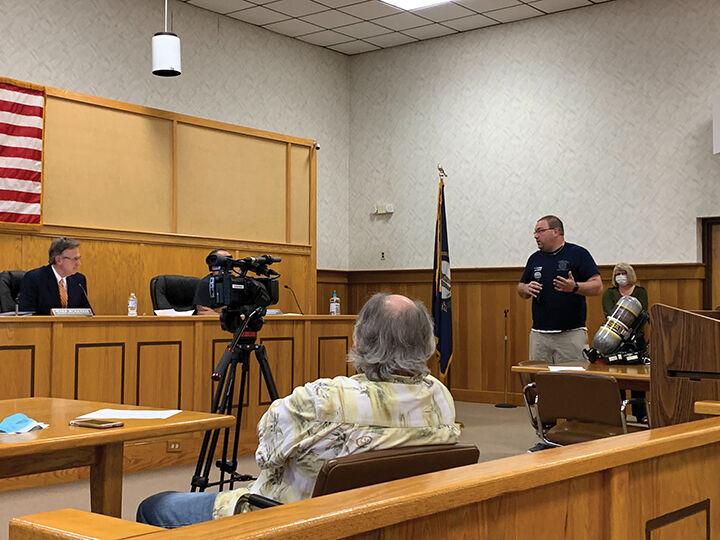 During the regular meeting of the Johnson County Fiscal Court on Sept. 15, Community Development Coordinator Regina McClure announced that eight Johnson County fire departments have received a substantial, highly-competitive federal grant for equipment.
McClure addressed fiscal court members, stating that Oil Springs Fire Department, Red Bush Volunteer Fire Department, Thelma Volunteer Fire Department, Thealka Volunteer Fire Department, Williamsport Volunteer Fire Department, River Volunteer Fire Department, Rockhouse Fire Department and Paintsville Fire Department are receiving a share of a total of $757,714 in federal funding to replace aging self-contained breathing apparatuses (SCBA), also known as air packs, that are indispensable for the safety and effectiveness of firefighters.
To emphasize the importance of the equipment, McClure called upon Ryan Barker, both the deputy fire chief at Thelma Volunteer Fire Department and a firefighter at Paintsville Fire Department, to display the old equipment and explain what the upgrades would mean for local firefighters.
"This is basically our front line of respiratory defense," explained Barker.
Johnson County Judge-Executive Mark McKenzie called the award a very important opportunity for the community.
In a statement elaborating on how the funding will be spent, McClure said, "92 of the SCBA replaced through this award were purchased prior to 2007, which exceeds the operational life expectancy of this equipment and 25 SCBA will be purchased for firefighters that have none at all. The 117 new unites will include a harness or backpack, one face piece and two cylinders."
According to McClure, the average cost of the new pieces of equipment is $6,800 each.
"As a condition of the grant," she explained, "The fire departments must contribute a non-federal funds local match equal to or greater than 5 percent of the total federal award or $37,886. The participating departments will provide the required match based on the number of units they receive."
McKenzie commented, stating, "I want to congratulate the fire departments and their leadership for joining together to apply for this very competitive grant to ensure that our firefighters have the equipment they need to protect themselves when responding to incidents."
McClure said that the firefighters should have the new equipment in their inventories by early next year and that Rockhouse Fire Department, the host for the grant project, will work with representatives from each department to administer the funding and complete the procurement process.