Tana Wells, a 16-year-old Johnson Central High student from Paintsville, has begun raising a wild horse for the 2020 Extreme Mustang Makeover competition.
The competition, first held in 2007 by the Mustang Heritage Foundation, invites young teens across the nation to take on one wild horse to train from wild to mild for cash and prizes, and in hopes that the horses will find a suitable adopter or purchaser after the competition.
The Mustang Heritage Foundation states that they created the Extreme Mustang Makeover event in order, "to recognize and highlight the value of mustangs through a national training competition that showcases the beauty, versatility and trainability of the rugged horses."
Trainers accepted for the competition compete in preliminary classes that include evaluating the horse's ability to maneuver through patterns and trail courses, highlighting the abilities of the Mustang to qualify for the Top 10 freestyle finals.
As Tana's mother Anna Wells stated, the application process to be accepted was thorough.
"She had to apply and be accepted to be a youth trainer, which required an extensive application process and references," Anna said. "Once accepted, she was given the opportunity to receive a randomly
selected untouched mustang from the Bureau of Land Management (BLM). She was given a two-year-old bay mustang from the Ravendale, California mustang range."
Tana, who received the mustang in Springfield, Ohio earlier this month, has been given 100 days to gentle, halter break and saddle train, build trust and develop a relationship with her horse before the official competition currently set to begin June 25 in Lexington.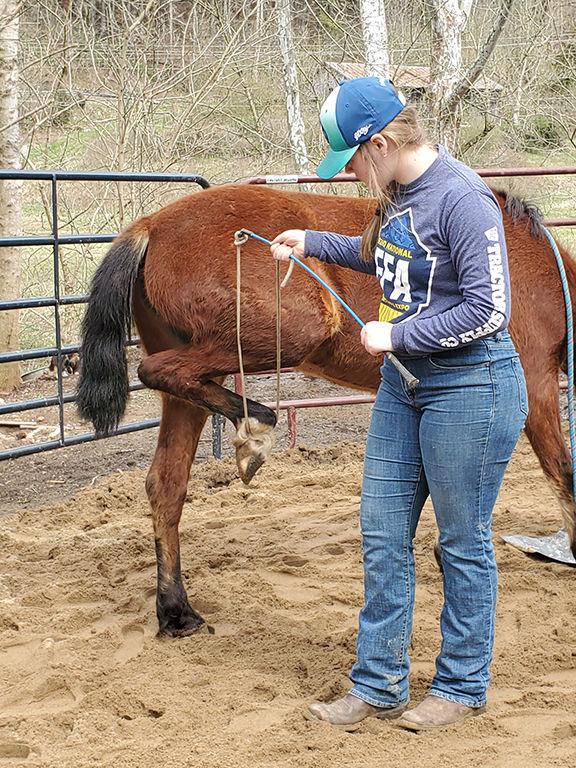 "I have named her Witchy Woman," Tana said. "I like names from songs. Her barn name is Ro. Ro is short for the character Rowena Ravenclaw from Harry Potter since she was a witch and my horse is from Ravendale, California."
It's a challenge for which Tana has been preparing her entire young life.
Tana, who Anna proudly explained has been riding since she was three and has been showing Rocky Mountain Horses since she was nine, has already been collecting accolades prior to being accepted for the Extreme Mustang Makeover, winning the Kentucky Mountain World Grand Championship as an 11-year-old and was named Youth of the Year the last two years by the Rocky Mountain Horse Association. Where other trainers accepted come from Southern California, Texas or Maine, Tana was the only youth selected in Eastern Kentucky for this competition and has been documenting her journey with Witchy Woman on her Mustang Ridge Horsemanship Facebook page.
Once accepted for the competition, several logistical hurdles also had to be cleared prior to bringing Ro home.
"We had to have the required facilities to house a wild mustang as required by the BLM," Tana said. "We were required to have a particular height of fencing and required to provide a run in so she can get out of the weather. We set up her area the week before we picked her up.
"Bringing Ro home was thrilling, but nerve-wracking too because you have no idea what kind of horse you are going to get," she said. "You don't know what it will look like or where they are from. I couldn't wait to get there so we could get her tag number and we could find her in the holding pens."
While Tana has been around horses most of her life, she explained that the challenges faced with training an untouched horse have given her a new respect for the animal.
"Dealing with a wild mustang has many challenges," Tana said. "You have to build trust because these animals have never been handled. They only know their instinct of flight or fight. You have to teach them to trust you but also respect you. This balance has to be made or it can be a very dangerous situation. So far we have done very well working together and she is letting me touch her. I removed her BLM tag number from her neck after only 24 hours."
When asked how Ro has adjusted to her new life so far, Tana stated that her horse is adapting very quickly to her new environment.
"She has adjusted very well. She seems to be very trusting and very understanding," Tana said. "She has let me do a lot considering how long she has been here."
With less than three months to go before competition, and recent uncertainty surrounding the wide cancellation of such events, Tana is continuing to care for and train Ro as the two continue to learn from each other every day.
"So far this had taught me patience and to take things slow," Tana said. "This isn't a race. You have to adjust to the horse and not compare your progress to other people. Building trust with an animal that was once completely wild and becoming a partner with the horse and seeing her learn, that's been the most rewarding aspect."
While her relationship with Ro will culminate in June, the equine world will only be getting a glimpse of Tana's future this summer.
"I'm considering going to college to pursue a degree in the field of equine management and nutrition," Tana said. "I will be applying for several equine related scholarships next year when I'm a senior. For now I plan to continue showing and training my own horses for the up coming show season and enjoying my new mustang."