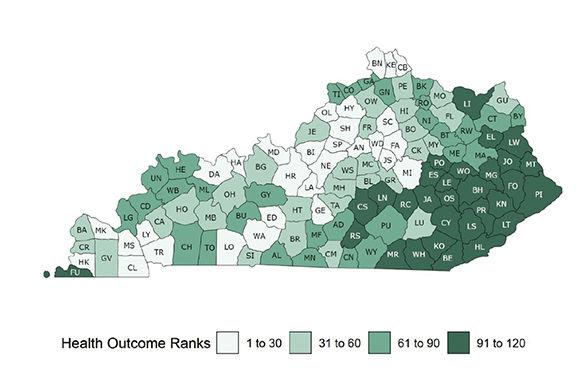 A recent report from the Robert Wood Johnson Foundation and the University of Wisconsin Population Health Institute has ranked the 120 counties in Kentucky on health outcomes, and, according to the report, Johnson County ranked 94th out of 120 counties in the state for health outcomes and 75 out of 120 for health factors.
Data points examined in making the rankings include: Length and quality of life, and health factors such as tobacco use, diet and exercise, alcohol and drug use, sexual activity, access to care, quality of care, education, employment, income, family and social support, community safety, air and water quality, and housing and transit.
Julie Bush, director of Public Health for the Johnson County Health Department, said the data shows there's work to be done in improving the health of Johnson County's residents.
"As far as the rankings go for our region, Johnson County may be ranked a bit higher than other counties, but we still have a long way to go and I would like to see us move up even further year-to-year," she said. "A large part of the rankings is based on health behaviors, and I know Johnson County Health Department works very hard to improve the health of our citizens through community education and health education in the schools. JCHD has traditionally always had a strong health educator on staff who advocates for community health and promotes healthy behaviors. We teach various health education programs within the local school systems to teach students about different aspects of health in all grades, especially in the early years when it is so important to learn those good habits and make good choices."
Bush also noted that the results of the study in Johnson County can be explained by socioeconomic factors such as the rate of poverty and unemployment.
"I think when we look at these health rankings, we need to realize that counties in our region normally have similar issues," she said. "They have similar environments and share the same struggles. A couple of things that we find in many Eastern Kentucky counties is a high rate of poverty and a high unemployment rate and we know there are many factors that affect the health of a population besides just health care coverage and access to care. In Johnson County, for instance, we have a higher rate of high school graduation and some college education, but we also have a high unemployment rate and many people move out of the area to find a job."
Bush stated that the JCHD, along with other community partners, has and will continue to make efforts that will improve the county's future health ranking, including leading the Johnson County Health Coalition, a group made up of several local agencies and organizations.
"They all work together so well and do such great work to address some of these socioeconomic concerns and promote health in our area," Bush said. "I couldn't ask for a better group to work with and it does my heart good to continually see such a high level of collaboration and teamwork from our coalition."
All of the efforts, she said, are cause for hope.
"I believe in Johnson County," Bush said. "Folks here feel a strong sense of community and I have seen so many different people, groups, and agencies pull together and work towards a common goal. The health department is the agency that historically has pulled these groups together for collaborative work and we will continue to do so. We will always advocate for the public's health and safety and hopefully, over the next few years, we will see Johnson County's health ranking continue to improve."