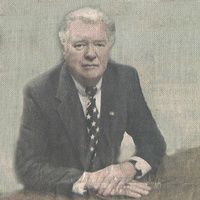 Many Johnson County agencies and nonprofits are still standing strong this week, despite having lost an upstanding pillar in the passing of James "Jim" Kelly on Friday.
Kelly touched many lives in his time since graduating Van Lear High School and serving as a U.S. Army Military Policeman. He worked as a teacher in Johnson County and later worked with the Social Security Administration all across the eastern U.S., before serving as Eastern Kentucky Social Security District Director.
Kelly was involved with the East Kentucky Leadership Board, presided over the Big Sandy Council on Aging, chaired the Sandy Valley Transportation board and served on the Kentucky State Police Personnel Board, the Johnson County Senior Citizens Board and the Big Sandy Regional Detention Center Board. He was also deeply involved with veterans' affairs, the Johnson County Chamber of Commerce and the Van Lear Historical Society. 
Van Lear Historical Society Vice President and Coal Miner's Museum Director Tina Webb said Jim Kelly may have worked in at least eight other states in his tenure with the Social Security Administration, but his return to serve his home community made a lasting impact.
"He's going to be greatly missed, that's for sure," Webb said. "He cared for the community. He wrote stories for 'The Bankmule.' He was born and raised just right there by the museum."
Sandy Valley Transportation Services Director Joyce Hinkle called Kelly a "dear friend," and said he supported their organization from the beginning.
"He was wonderful to us. Anything he could ever do to help us, he was there to do it," Hinkle said. "He was a wonderful friend to all of Sandy Valley. He always had our best interests at heart. We'll miss him terribly."
According to his obituary, Kelly was the last surviving sibling of 10 children, and is survived by his wife of 56 years, Mary Jo Kelly of Paintsville, and son, Marc Anthony Kelly of Morehead. The family has requested donations instead of flowers, to either the Van Lear Historical Society or Johnson County Animal Shelter.
Funeral services will be 1 p.m. Thursday, July 12, with burial to follow in the Highland Memorial Park in Staffordsville.