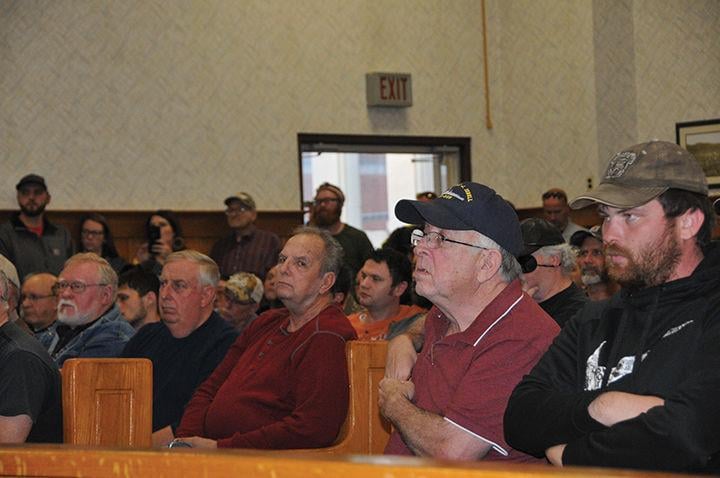 There was loud applause and a few "Amens" in the Johnson County Fiscal Courtroom on Monday, as county leaders approved a resolution declaring the county as a "Second Amendment Sanctuary."
The unanimous vote adopting the resolution was largely symbolic, as explained by Judge-Executive Mark McKenzie prior to the vote.
"Let me also say this, that this is a consideration of a resolution that shows the support of the Johnson County Fiscal Court for the Second Amendment of our nation''s Constitution. It's that simple. That's what this resolution does," McKenzie said. "It shows support for the Second Amendment of our Constitution."
"Amen," an audience member said.
McKenzie continued, explaining that county governments cannot pass laws that conflict with state or federal laws.
"A resolution shows support for a particular issue, but understand it does not create, nor does it amend existing laws, okay," he said. "It will show support, if it passes, it will show support for a particular issue, this being, obviously, the Second Amendment. A resolution is not an ordinance, nor is it law."
He emphasized that the resolution also does not change existing laws or restrictions on having guns in the judicial center, schools or businesses that are permitted by law to restrict firearms.
"This resolution doesn't change that," McKenzie said.
There was standing-room only available in the courtroom and officials reported some attendees started showing up an hour before the meeting started.
Prior to the vote, McKenzie requested a motion to limit discussions on the topic to two minutes from one person supporting the resolution and two minutes from one person opposing it. The fiscal court granted that motion, and only one person, Zachary Ebersole, representing Kentucky United-Johnson County, spoke publicly prior to the vote. One woman said she wanted to hear the resolution prior to commenting, but no opposition was presented at the meeting.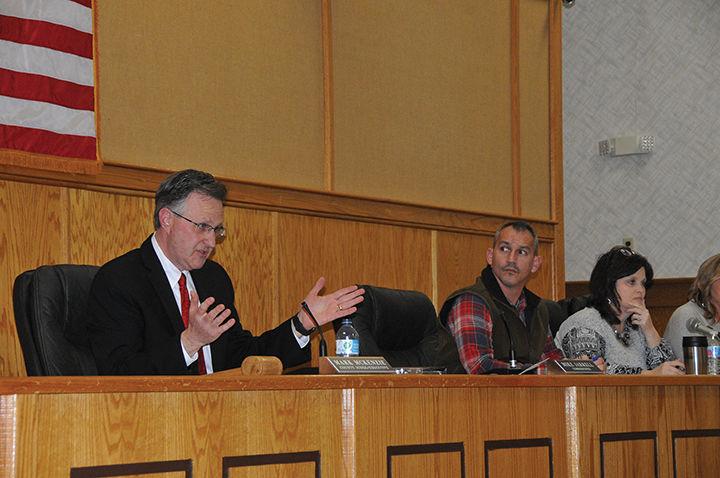 "It's the Second Amendment. It's been around for hundreds of years. There's no need for infringement. There's no need for all these bully, foolish laws. That's not going to help us. It's not going to help against criminals. Criminals are going to find a way, plain and simple, that's all there is to it. The only person you're hurting is us," Ebersole told the fiscal court.
The resolution states that the fiscal court is "concerned about the passage of any bill containing language which could be interpreted as infringing the rights" of county residents to keep and bear arms," and that the fiscal court expresses opposition to any law that would "unconstitutionally restrict the rights" of residents to have guns.
A loud applause erupted in the courtroom after the resolution was approved. A couple of people shouted, "Amen."
"How binding is this? I mean, can they still come in and say, 'Hey, we want every gun you've got?'" East Point resident Dan Daniels asked the fiscal court after the vote.
County Attorney Mike Endicott explained that the resolution has no force of law.
"This resolution is just a resolution," he said. "It doesn't have any powers at all. It doesn't have any enforcement power. It just says that we support the Second Amendment."
He explained that a 2012 law prevents local governments from approving any regulations regarding guns.
McKenzie said, however, that the resolution could help in the legislative process, as the resolutions passed in Johnson and other counties can show legislators that their constituents do not favor an infringement on the rights detailed in the Second Amendment.
Johnson County joins more than 70 local governments that have pledged to become "Second Amendment Sanctuary" counties.
Ebersole, the 29-year old owner of Appalachian Guns on Pickle Fork, said he drafted the resolution approved in Johnson County using resolutions approved by other local governments as a template.
As part of Kentucky United — Johnson County, he said he circulated a petition in this effort and received hundreds of signatures from current and former residents of the county. He said he got involved because he was concerned about proposed gun laws.
"There was a big opposition that originally arose in Virginia," he said. "They elected everybody Democrat and they immediately flung for gun control, and Kentucky got a Democratic government, and that scares everybody. So we're still a Republican House, Republican Senate, but he had a couple of people who were on his side and they introduced some Red Flag gun laws and a couple of legislations to restrict magazines and to restrict this and that, so I just happened to see Virginia was doing it on one of my Facebook groups, one of the gun groups I'm in, and I said, well, we need to get ahead of that curve, too."
The Red Flag gun law he mentioned has not yet been filed in the Kentucky General Assembly, but legislators heard testimony in support of it in November. The bill would allow residents to seek emergency orders that would temporarily remove guns from Kentucky residents who are deemed to be an immediate threat to themselves or others.
Kentucky legislators are considering several bills that have been filed related to firearms.
Senate Bill 32 was prefiled this session to make it illegal to unlawfully store a firearm and make it a crime to "recklessly allow" access to an unsecured firearm by a minor.
House Bill 45 was prefiled to require background checks for private gun sales, require reporting of firearm thefts and losses to law enforcement, require the surrender of guns for any person found not guilty by reason of insanity and, among other things, require the registration of handguns and assault weapons.
House Bill 76 was prefiled to make it illegal for a convicted domestic violence abuser to possess a firearm and, among other things, require such people to surrender their guns.
House Bill 192 was filed  to require registration of assault weapons and, among other things, make it illegal to possess and transfer unregistered large-capacity ammunition-feeding devices.
Ebersole praised the fiscal court for this vote.
"I'm super excited," he said. "It's great that we can come together. Democrat, Republican, it's not important. I mean, it is important, but at the same time, you need to pick a cause and be for it or against it and not ... partisan. I'm glad that Mark's a Democrat, and he was all for it. So, it's good that things like this can bring other parties, political, nonpolitical, bring everybody together for the greater good."