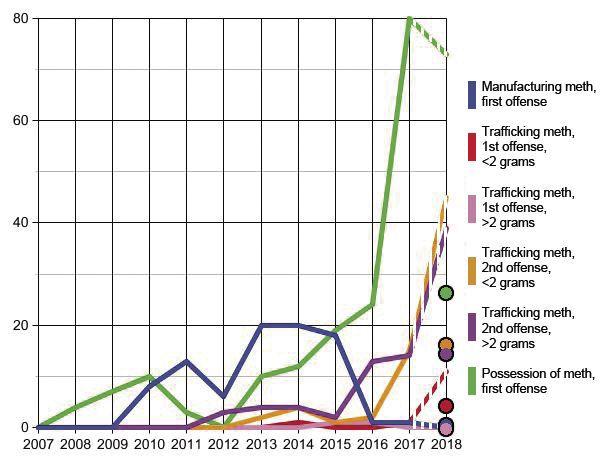 Numbers pulled from public records at the Johnson County Judicial Center show that though methamphetamine production is on the decline in Johnson County, possession and trafficking in meth are still very much on the rise. 
The figures were pulled for meth-related charges filed in both Johnson County District and Circuit Court. Some of the cases are redundant graduations of a felony case from the district to circuit level; many other circuit cases began with a presentment of evidence directly to a grand jury. Most of these charges were disposed with guilty pleas or convictions, while others were dismissed or amended down. 
The numbers for first-offense meth possession started with a handful of charges in 2008. They slowed down in 2012, but have skyrocketed since, peaking with 80 charges in 2017. As of early May, there have already been 26 such charges in 2018, meaning this year is on course for an estimated 73 cases — less than 2017's peak, but still nearly three times the rate of possession in any other year.
"We're completely eat up with it around here," said Paintsville Police Chief Mike Roe. "It's an epidemic."
From 2010 through 2014, the actual manufacture of meth in Johnson County was on the rise — but it has since tapered off dramatically. First-offense manufacturing peaked in 2013 and 2014 with 20 cases each year, compared to just one case in 2016, one in 2017, and zero so far in 2018.
Roe said he's seen this himself.
"A few years ago, you had manufacturing here. A lot of shake-and-bake," Roe said, referring to the relatively easy — and dangerous — method for making low-quality methamphetamine in small, portable labs. "Now, it's coming in from Detroit, Louisville, Huntington … everywhere." 
The tidal wave of possession cases tied to a decrease in local meth manufacture means that the drug is now, for the most part, being shipped in from elsewhere. This is corroborated by the sharp increases in meth trafficking cases, which first started cropping up in 2012, and have climbed dramatically since.  
First-offense trafficking meth cases in 2017 were the highest on record, with 14 cases of individuals trafficking less than two grams and 15 cases of individuals trafficking two grams or more. 
Already in 2018, those trafficking numbers have been tied or exceeded, with 14 cases of first-offense trafficking less than two grams and 16 cases of first-offense trafficking two grams or more. That puts 2018 on course to shatter previous records for trafficking busts.
Second-offense trafficking has been a much rarer charge, with at most one case each year. Compare that to 2018, which has already had four charges of second-offense trafficking, all of which were for two grams or more. 
"I would say trafficking is our top priority," Roe said. "Busting these dealers."
Those with any information that could assist law enforcement in investigating drug trafficking cases can supply tips anonymously. The Johnson County Sheriff's Office can be reached at, (606) 789-3411, and the Paintsville Police Department at, (606) 789-2603.