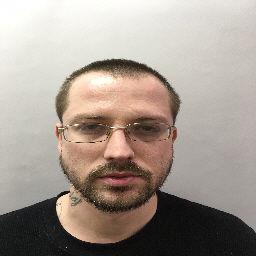 A prisoner escaped from the custody of the Martin County deputy jailer Monday after taking control of the jailer's vehicle, according to a statement from the Johnson County Sheriff's Office.
According to the statement, Mark Allen Crouch, of Lovely, was in transit with the jailer from Martin County to Big Sandy Regional Detention Center and cuffed with his hands in front of him. Crouch became combative near the intersection of Ky. 40 and Ky. 321 around the area of Premier Motors, the statement said, eventually forcing the jailer out of the vehicle and assuming control of the gray Ford Crown Victoria. 
The statement said Crouch then proceeded northbound on Ky. 321, heading towards U.S. 23. The vehicle is recognizable by decals on the side that read "Martin County Jailer," according to the statement. 
Both Johnson and Martin County Sheriff's offices are asking for information leading to the arrest of Crouch, who is described in the statement as being 6 feet and 2 inches tall, weighing approximately 205 pounds and having many tattoos. The statement said Crouch is to be considered dangerous, and requests that civilians do not approach, but call 911 if Crouch is spotted. According to the Kentucky State Police sex offender registry, Crouch is a move-in offender with a prior conviction for unlawful sexual conduct with a minor.
The case is under investigation by JCSO Deputy Tim Clark. According to JCSO deputy Kevin Pelphrey, as of presstime, no updates on the status of the case were available, but Crouch's location had been pinged from his phone in Ashland.
"From what (Martin County Sheriff John Kirk) told me," Pelphrey said. "(Crouch) is from Columbus, Ohio, so I'd bet a dollar to a donut he's working his way back to Columbus." 
The Martin County Sheriff's Office has also released a statement, warning that any individuals helping or aiding Crouch will be prosecuted, and that Crouch uses the alias of "Mark Mills." 
For more information or to report a sighting, contact the MCSO by phone at, (606) 298-3211, or, (606) 298-2828.