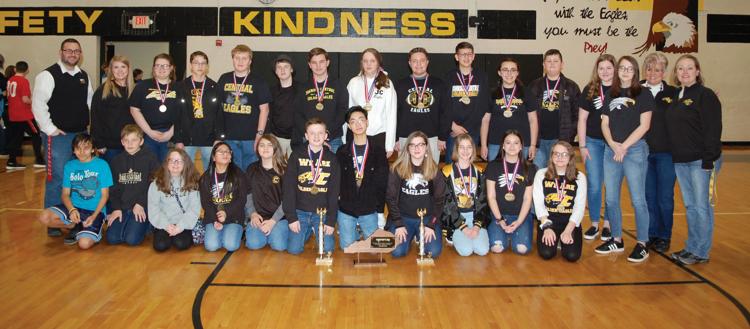 Feb. 1 marked the continuance of a now 25-year tradition for Johnson County Middle School's academic team, which finished first place overall in the Regional Governor's Cup Tournament ahead of rival schools from Johnson, Martin and Floyd counties. The victory marks an annual tradition at JCMS, which has now taken first overall every year since 1996.
JCMS students claimed a near-clean sweep of all competing categories Saturday, placing first in the team Quick Recall, team Future Problem Solving, and individual content tests ranging from Mathematics, General Science, Language Arts, Social Studies, and Arts and Humanities. The Golden
Eagles claimed 19 total medals, and took first place in eight of nine categories.
JCMS head coach Josh Collins said said his students are ready for the next level — the state championship.
"This is an exceptional group of young children," Collins said. "At the beginning of the year, I never thought that we would be as successful as we have been, following in the footsteps of Pam Burton. We're very proud, but they aren't finished. They're going to keep going and chasing after a 16th state championship."
Paintsville Middle School student Grace Blackburn finished first in individual Written Composition, ensuring that both Johnson County schools claimed first place in all events. Paintsville Middle School also claimed second in Future Problem Solving.
All medaling students will advance to the state tournament next month in Louisville, where JCMS will seek to add another state championship to the school's accomplishments.