Staff at Johnson Central High School and Flat Gap Elementary School came together Wednesday at the JCHS campus to take part in the Kentucky State Police's Safe Schools Active Shooter Survival Program's "level four" training, where staff sat in on a seminar and also took part in drills simulating what it would be like if they were caught off guard by a shooter in the halls of the school. 
According to Post 9 Squad Sgt. and Safe Schools Coordinator Jason Joseph, KSP troopers Sheldon Thomas, Jarrett Fields, Joe Weddington, Colt Stumbo and Jamie Rose were on-site to assist with the training. The program began with a seminar delivered by Joseph, which outlined likely scenarios and the responses that would be appropriate if a staff member found themselves in a situation where they heard gunfire while at the school.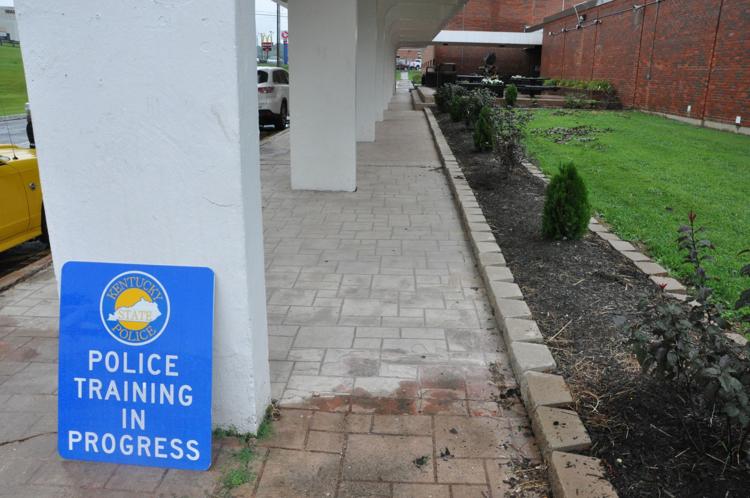 The block of training is "designed to give options for consideration when facing an active shooter," according to a statement on the KSP Safe Schools website. "Training will consist of classroom instruction along with the opportunity to take part in realistic scenarios to build confidence to survive an active shooting event."
The three steps were highly situational in their applications and included "Run (get out), hide (hide out), fight (take out)" and the tactics involved with each, which gave attendees an insight into the psychology of a shooter and what actions would best guarantee the safety of staff members and students as the threat progressed or moved to different areas of the school.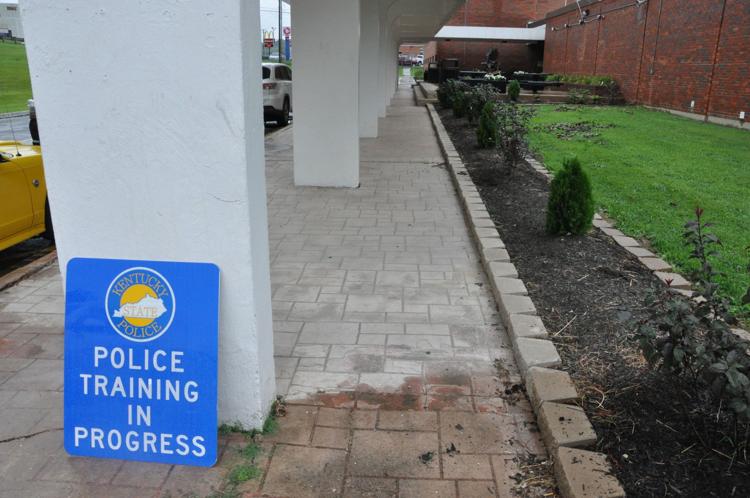 Joseph advised attendees that the first response to hearing "popping" sounds or suspected gunshots should be to run, or "get out." In this step of their response, staff was advised to warn others of the danger, have an escape route in mind, evacuate regardless of whether others agree to follow (the exception being children, whom Joseph advised should never be left behind), leave personal belongings behind, help others escape, prevent others from entering the area where the active shooter is, keep hands visible at all times, follow the instructions of any police officers, do not attempt to move wounded people and dial 911 as soon as it is safe to do so.
The second step of the seminar focused around a situation where a shooter might be between civilians and the only exit, or if the exit couldn't be easily reached. In this step, attendees were advised to hide out, remain out of the shooter's view, barricade doors, get into cover, silence cell phones and remain quiet. The seminar also detailed the differences between cover and concealment, such as the difference between thin desks (which a projectile could pierce) and tables and large kitchen appliances or brick walls, which could not be penetrated by commonly-used ammunition calibers.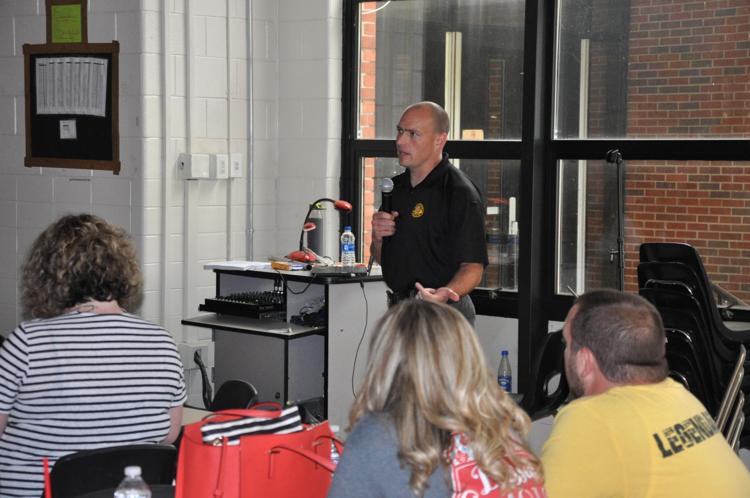 In the final step of the seminar, Joseph advised that, only when faced with no other option and only as a last resort when life is in imminent danger, staff should fight, or "take out," the shooter. Joseph reasoned that, whether active or inactive, those found cornered by a shooter still face the risk of being injured or worse. Joseph said, statistically, civilians stand a much higher chance of survival in these situations when actively confronting their assailant, but cautioned that second-guessing could lead to more casualties and advised anyone taking these measures to do so with "110-percent dedication," because any hesitation would allow more time for an assailant to cause harm to the would-be defender or those they defend. In this step, Joseph advised staff to use improvised weapons, if available, including keys, table legs, and anything else that could be used to hit an assailant with, whether thrown or swung, act quickly and effectively, to yell at the offender in a bid to capture his attention and facilitate the escape of others and to never give up if fighting was your only option. 
For the drills and action scenarios portion of the training, staff was asked to split into 10-person groups and travel to another part of the school, where another trooper reviewed information given during the seminar to those in attendance and then eased the participants into a low-alert level with distracting conversation, until he reached a code-word that signaled another trooper, hidden near the group to fire a rifle, loaded with blank ammunition, multiple times. Participants employed the first and second steps of their training here – running down a hallway, tucking into a classroom, barricading the door and turning off the lights before being debriefed by Joseph.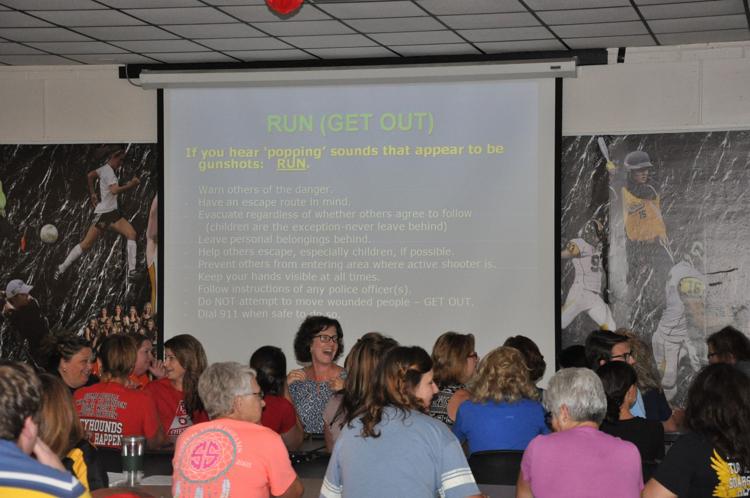 After the debriefing, participants moved to another room, where they discussed the effectiveness of their tactics and their reaction to the adrenaline rush of having a weapon fired near them without warning. In the final room, more discussion was held about the final step of the program before an "assailant," outfitted with pads and training gear entered the room and tested the attendees' response to being cornered and caught unaware in a tight space where escape or hiding was not an option. Weddington, who was speaking to staff members in the final room, praised JCHS and FES staff for their willingness to take action, stating that, in many of the approximately 40 schools that had participated in the training, several participants wouldn't know how to react in the situation where aggression was necessary, but that barely any of the staff at Johnson County Schools were intimidated, instead springing into action to defend their students.
Joseph said the training, or similar live-action scenario training, has been demonstrably effective in Kentucky schools, citing the January shooting that injured 18 at Marshall County High School, a school whose staff had been a recipient of similar training.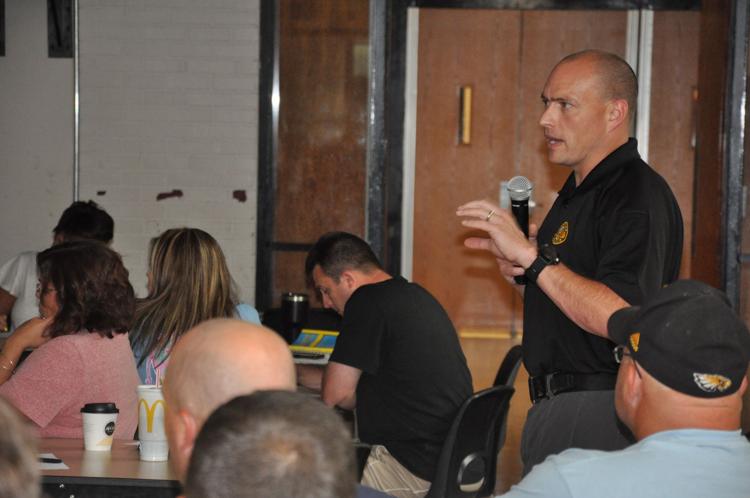 "I think the drills are very helpful," Joseph said. "Our agency worked the shooting that took place in Marshall County, so, we kind of know a little bit of how things went with it. What we saw out of that shooting was that the students and the faculty out there reacted to the shooting as they were trained. So, they actually had gone through a very similar training program as what we have … probably within two weeks of when that shooting took place. There were kids that had been shot that had been shot and actually ran out of the school, a mile or a mile and a half down the road, (first responders) were picking them up on the side of the road. That's just the stuff that you rehearse that really helps, if you're actually in that stressful situation, going through realistic training really makes a difference."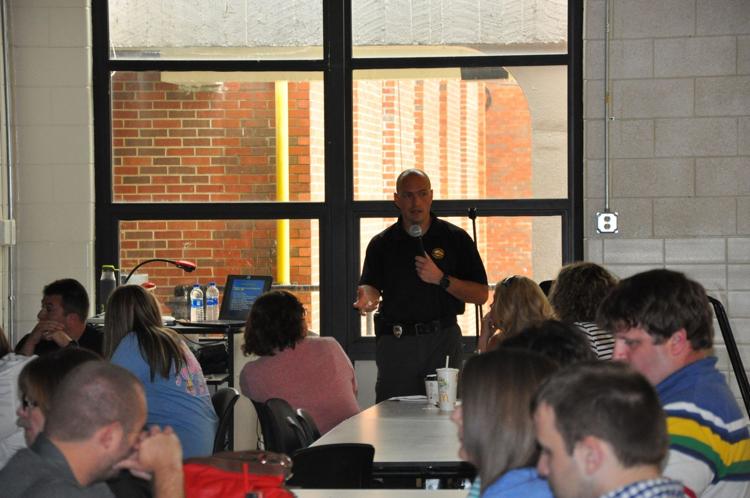 According to Johnson County Schools Superintendent Thom Cochran, this training will continue at the other schools in the district, including Highland Elementary, W.R. Castle Elementary, Central Elementary and Johnson County Middle School.