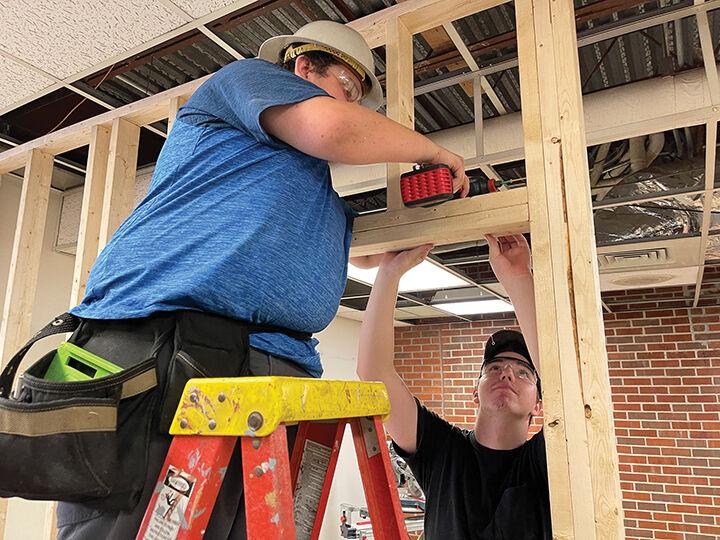 A report from the U.S. News and World Report that ranks high schools based on student engagement and performance within Advanced Placement courses gave Johnson Central High School a ranking of 172nd in Kentucky.
After that, Curriculum Director, Dual Credit Coordinator and English Teacher Amiee Webb began investigating this ranking and worked alongside Calculus instructor Shawn Butcher to break down the ranking and figure out why the school ranked that low, despite high student success and enrollment in AP courses.
Webb said that their findings could be confusing at first glance, until one begins to look at the way the school handles AP coursework and the function it serves within a school's ecosystem aimed at offering preparation for many different pathways for students, including career and technical education and dual credit college courses. According to Webb, although 9-percent of the total JCHS population is enrolled in AP classes, the school does not encourage students to take the AP exams at the end of the year -- because, in a district which the ranking itself says contains approximately 61-percent "economically disadvantaged" students, the costs of taking the exams can often outweigh the benefits. Webb said that students who complete an AP course and pass the exam are not guaranteed a college credit for that class, which means that AP course loads at the high school are seen less as a road to an exam and more as a preparatory pathway to get students engaged in more difficult work that more closely resembles college coursework, reducing the shock of that transition as a student graduates and moves to higher education.
"One thing that I wanted to add is that we have 14 AP classes offered, and I want to make sure that I stress that we love AP, we just don't press our kids to take the tests because we have 18 dual credit classes and those are going to be free or cheap guaranteed college credits," Webb said. "The AP classes serve a really good purpose, we try to stagger those to lead up to the dual credit courses, that way they're prepared for the college level work. For example, in English, which is what I've taught for all of my years, they come in, we encourage them to take Pre-AP English I, they take English Literature, AP Language and by that point, they have such a good foundation that the college class is really not that hard for them. The other big thing about that is that, in order to take college classes, most times you have to meet a benchmark, so once those kids have been through Pre-AP and two AP classes, those kids have met that benchmark."
According to Webb, this de-emphasis could easily explain the drop in the school's AP "scorecard," which placed the school at a 28.66 — with nine percent of the total senior population taking exams, four percent passing, a math proficiency rating of 25 percent, reading proficiency rating of 40 percent and a graduation rate of 96 percent. This compares to another unnamed school with a scorecard rating of 56.78, Webb said, fairly closely in all but one metric — tests taken and passed.
Mathematics and reading proficiency and graduation rate are nearly identical for the two schools, with 25 percent, 44 percent and 94 percent, respectively, but the scorecard rating is nearly double. At the compared school, 29 percent of the total population took AP exams and only 6 percent of the population passed, meaning that the school that was ranked higher actually had a pass rate of only 20 percent, compared to the 44.4 percent pass rate of JCHS's students.
Webb said that this result is a direct effect of the school's hesitance to encourage students to take the test, but that AP was only one part of the puzzle at JCHS, although between AP courses and dual credit courses, a student can be nearly at the college credit hours required for an Associate's degree before graduating high school, thanks to partnerships with Big Sandy Community and Technical College and Morehead State University. According to Webb, Butcher's calculations revealed that approximately 30 percent of the school's scorecard rating is based on taking AP exams, which the school doesn't require as part of the path toward entering dual credit courses.
Students are also offered a staggering amount of Career and Technical Education (CTE) courses at the high school, Webb said, which work toward directly preparing students for a transition to a career after high school instead of a secondary education path -- which Webb said isn't for every student. Webb also said that these pathways are worked toward with the same fervor and held in the same regard as the school works to be a jack of all trades and create students that are both prepared for and decided on their post-high school life path.
JCHS offers 30 different career majors with many partnering student organizations in a wide variety of areas including Animal Science, Horticulture, Ag Power, Structural and Tech Systems, Accounting, Management & Entrepreneurship, Marketing, Multimedia Publishing, Telemedia, Education, Allied Health, Pre-Nursing, Biomedical Sciences, Culinary, Information, Technology, Web Design, and Engineering -- with new flight simulation and aviation courses as well as a criminal justice pathway added just this year. Webb said she was particularly proud of the way the arts continue to be promoted at the school, given the decline often seen in arts programs throughout the nation — students can take courses in drama, broadcast journalism and even music theory at the high school.
According to Webb, the U.S. News World Report only tells a small part of a larger story that is unfolding at the high school and that story is one of student success in many, many metrics. One of those success stories unfolded during the district's summer school program as Webb highlighted two students who attended for the sake of credit recovery and got involved in the carpentry program -- which led to them improving their grades and completing their coursework at home so that they could take part in more hands on work while at school, namely building two new offices in the JCHS library alongside Carpentry instructor Terry Bowling.
"I can tell you, I've been here for 22 years, and this school has probably never been better and we have worked so hard to introduce all of these career pathways and we introduced criminal justice this year because, and this goes back to our pledge to our kids, when you look around Johnson County, you can be a teacher, a doctor, a lawyer and then it kind of starts chugging out on what you can be, you could be an engineer in the area, possibly, but then you have that prison up there and people are making really good money, but you have to have a criminal justice background," Webb said. "So, now, we're going to offer the criminal justice pathway and the fourth class in that is taught by a police officer and it's actually the fitness class designed to help them pass the Kentucky State Police fitness test. It's really neat, so we're just trying to look around at what we can give them so that if they want to stay here and make this a better place, they can."