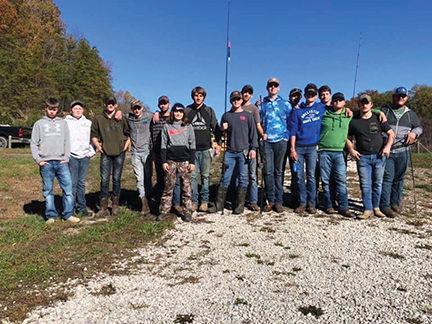 The Johnson Central High School Hunting and Fishing Club traveled to Wildcat Paylake last Wednesday to get in one last fishing trip before the colder seasons make it much harder to do so, according to Wildcat Paylake owner Johnny Kitchen.
"It was awful pretty that day," Kitchen said. "They were getting their fishing in, here with this bad weather that'd been going on, and it was so pretty out that day. It was like their last hurrah for the summer."
Kitchen said the largest fish caught was approximately 35 pounds, and that he enjoyed seeing the excitement on the kids' faces when they were catching them.
"Some of them had fished out there, I've seen three or four of them," Kitchen said. "I could tell a lot of them, they were pretty excited to catch fish … they caught a lot of fish, 25 or 30."
According to Kitchen, this was the last open fishing for the season and the paylake closed for the season after the JCHS students left.
"After they got done, we blew the water lines out and we kind of closed, but what we're doing is, we're doing appointments," Kitchen said. "You call us and we'll let you fish by appointment."
For more information, contact Wildcat Paylake by phone at, (606) 265-3629.