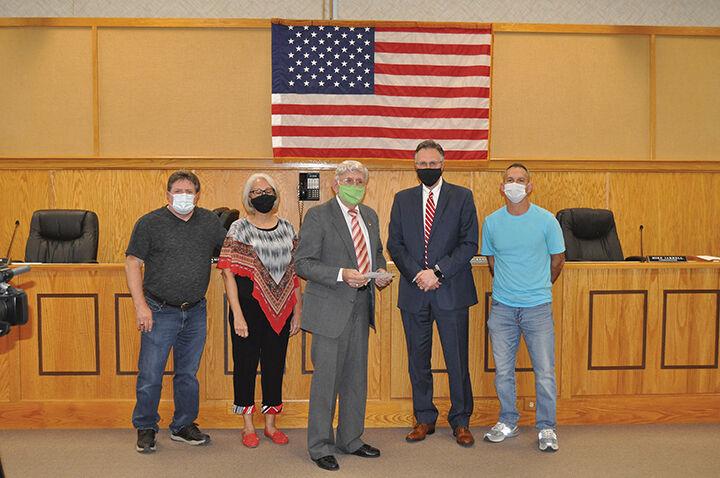 The Johnson County Fiscal Court presented a check for $500 to the Veterans Referral Center in Paintsville Monday, ahead of Veterans Day, Nov. 11, with the stated aim of helping to offset the cancellation of the center's yearly fundraiser due to COVID-19, according to Johnson County Judge-Executive Mark McKenzie.
"This has been an action taken by the court for several years, in providing support for our local Veteran's Referral Center," McKenzie said,  "We're thankful for being able to do that again this year, what a great organization. Gil Plant is here representing the Veterans Referral Center this evening and the Johnson County Fiscal Court tonight will make a contribution to that organization in the amount of $500."
McKenzie explained that, while the court has made this contribution for several years, he hoped it would be especially helpful this year, since the center was unable to host its yearly fundraiser at the Paintsville Recreation Center due to circumstances surrounding COVID-19.
"They're having their normal fundraiser at the Rec Center this year, because of the circumstances of COVID-19, but they, obviously, are still providing services everyday down there to veterans," McKenzie said.
McKenzie asked that anyone not familiar with the organization to make themselves aware of the multitude of services the center provides for veterans, both here in Johnson County and regionally.
"If you're not familiar with the organization, please get familiar with it, because they provide services not just to those in Johnson County, but also folks from all around the area and even out of the area as well," McKenzie said, before he and Johnson County Commissioners Kathy Adams, Tim Salyer and Mike Jarrell donned their masks and presented the check to Plant.
"I just wanted to say thank you, for the center, and let everyone know that the center is here to help veterans and anyone else who needs it," Plant said. "We just appreciate this more than I can say to you."
McKenzie said the fiscal court is appreciative of the Veterans Referral Center and that the JCFC was happy to be able to help.
For more information about the Veterans Referral Center, call, (606) 789-7587, or follow them on Facebook by searching for "Veterans Referral Center."