The Johnson County Schools Board of Education continued its monthly practice of recognizing staff for their contributions to the school system at its regular meeting Monday, this time honoring two retirees, one certified staff member and one classified staff member.
"Last month, we began honoring our retirees for the current school year," said Superintendent Thom Cochran. "Since that time, we've had two additional people, our family members and staff members who have decided to take that plunge, make us all jealous and go into retirement."
First up to receive the recognition was Sharon Blanton, a bus driver and employee of Central Elementary who is retiring after 21 years of service. She received a framed certificate and a paperweight in the shape of an apple, as well as the thanks of Cochran and the board members. 
"I'd like to say, that, other than my mom, Sharon taught me to vacuum a place better than anybody in the building," Cochran said. "She took me in when I was at Central Elementary as a student and guided me and was a big influence on my life. So, thank you, I know you influenced a whole lot of other students and you will be greatly missed."
Next up for the recognition was Chuck Wetzel, a vocational agriculture teacher and bus driver with 29 years of service to the district.
"One of my most memorable memories of Chuck," Cochran said. "In 2006, we had an incident  where a student who was at a state track meet and was graduating, and Mr. Wetzel being the problem solver that he is, used his pilot license, flew down and picked the student up in time for graduation."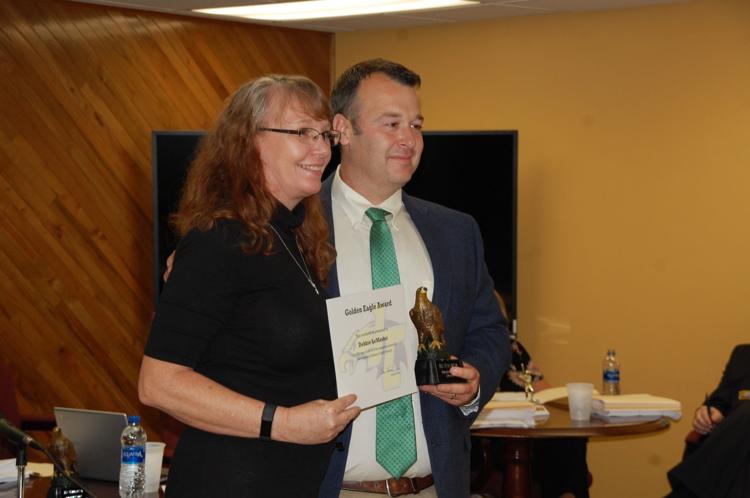 Moving on to the Golden Eagle Award recipients, Cochran began with certified employee, teacher and academic coach Debbie Lemaster, who Cochran said, "had even gone as far as to open the door to her own house to help struggling students." Cochran said Lemaster had provided a venue for students to showcase their talents via her position as an art teacher, including art fairs and writing. Cochran said one of Lemaster's students, Peyton Duncan, recently received international recognition as "the best writer in the world" in the senior division of the Future Problem Solving Program International competition.
"She strives to make sure that our school and district are always in the best light," Cochran said. "On top of all of that, (Lemaster) is the artist that ensures that the finished product of the award she is receiving tonight, the Golden Eagle Award, looks as good as it does. Words used to describe Lemaster are class act and phenomenal."
Cochran took a moment to address those in attendance, highlighting the fact that the student who Wetzel had once flown to graduation was Lemaster's daughter.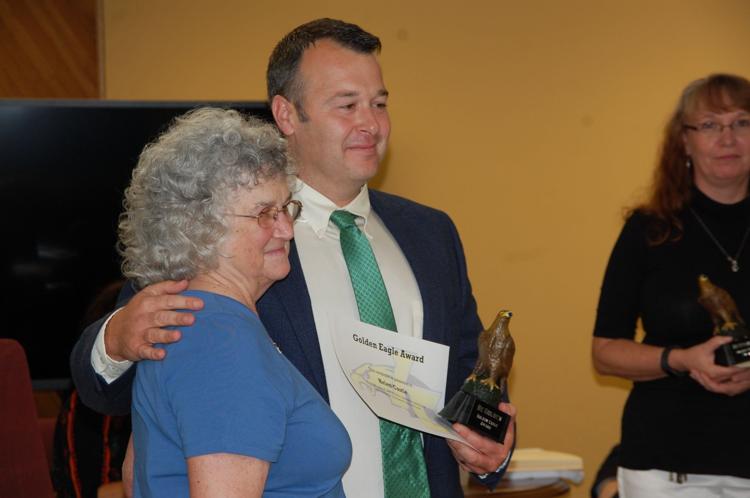 The final recipient of the award was classified employee Helen Castle.
"This classified recipient … has outlasted the last eight head principals at her school and is always the first one at school and brightens everyone's day through her kind words," Cochran said. "She has a way of making students know that adults at this school truly care about kids. She gives of her own spring and fall break time to be available as food and milk trucks are unloaded. Outside of her job responsibilities, she is always quick to help with sewing projects, altering cheerleading uniforms, basketball uniforms or even a dance costume. Over a 31-year career, (Castle) has helped sew stage curtains."
Cochran said that Castle began her career as a volunteer, transporting headstart students in the years before the school took on that responsibility.
"Because of her willingness to pitch in wherever needed, her ability to make a difference in kids' and coal workers' lives and the loyalty she has shown to the students and staff of W.R. Castle," Cochran continued. "Helen Castle is a well-deserving recipient of the Golden Eagle Award." 
The Johnson County Schools Board of Education meets on the third Monday of each month in the Administration Building on the Johnson Central High School and Johnson County Middle School campus. All meetings are open to the public.