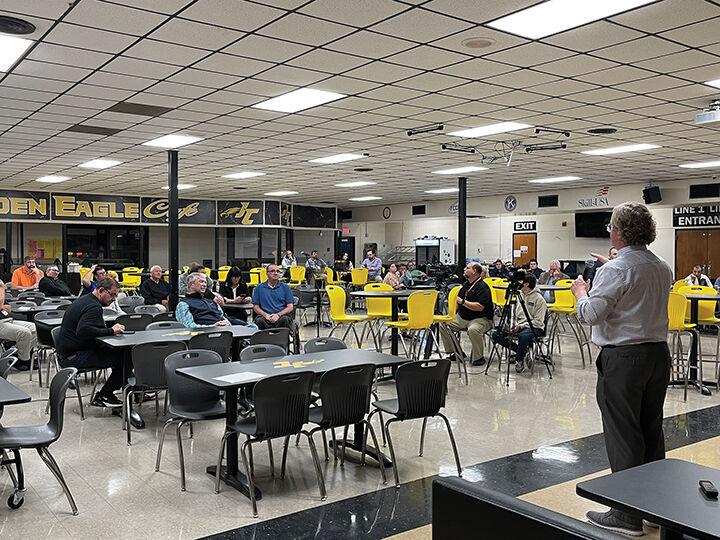 The Johnson County Schools Board of Education held a public forum during a special called meeting on Wednesday, Nov. 10, opening the floor for individuals from the community to express what they'd like to see included in the design of the district's new high school.
The public attendees, which included teachers, school faculty, students and community members, were also briefed on how the process would work and what sort of flexibility the Kentucky Department of Education allows in the planning of new facilities. The forum was also live-streamed by the school district to encourage wider participation.
Several ideas were offered up by those in attendance, including extended athletic facilities and dedicated spaces for all athletic teams, technological infrastructure, career and technical center improvements and layout, quality of life improvements, such as dedicated spaces for mental health programs and counselors and extended facilities for students and teachers alike, aimed at creating a more relaxing atmosphere for everyone at the new school.
JCBOE Chairman Bob Hutchison opened the meeting, welcoming the public and explaining the purpose of the forum.
"We want everybody leaving this facility tonight with all of the knowledge they possibly can have about the new high school and the direction and vision that we have for our new county high school. Our goal is to have the finest educational facilities for the students, because the students are the future of Johnson County, Eastern Kentucky and all of the Commonwealth," Hutchison continued. "Johnson County has done a great job of producing some outstanding graduates. As a matter of fact, I think that all of our graduates are outstanding."
Hutchison then introduced SCBA Principal Justin McElfresh, as well as his colleagues, Associate Principal Allison Commings and Architectural Technician Hunter Halfhill — who took suggestions, discussed them with the attendees and researched limitations where necessary, while gathering idea cards pertaining to each aspect of the planned facilities to be referenced throughout the building process.
"Thank you everyone, for being here tonight," McElfresh opened. "What you see here in front of you tonight are a number of different categories that we typically use as 'jumping-off points,' if you will, different things that we typically see in high schools that we have developed and designed across the Commonwealth."
Those categories included goals, site, image, organization, curriculum, 21E, building interior, classrooms, media center, cafeteria and kitchen, gymnasium, administrative area, special features, community use, security, technology, college and career readiness, athletics and an added category, per the suggestion of Johnson County Schools Superintendent Thom Cochran, an auditorium.
McElfresh opened the floor to the public, after a brief introduction and explanation of how their design philosophies are oriented.
"Every idea that you have will actually go on a card, and these cards will be placed on the board up front," McElfresh said. "As we go through the night, we'll continue to kind of develop this list as we move through the categories, and you'll be surprised, several months from now, when we actually open the doors to a new facility, we'll look back on this night, and I'll guarantee you, there will be cards up there that we'll all point to and say, 'I remember the first night that we met with the public to discuss the new facility, and that was on the board that night. This is a very good process that we have tried to develop, just to gather input. It's more about us listening to you all, and the ideas that you have, and not us bringing ideas to you. So, we'd like for you to really get involved tonight and really share your ideas."
Hutchison was the first to speak, asking about the standards surrounding KDE-approved gymnasium facilities.
"You mentioned gymnasiums and basketball tonight, so, is there a standardized size of gym, and we've got a big gym here, so can you talk about that small aspect," Hutchison asked.
"Yeah, so, typically, the KDE model program ... basically says that, for any size school, so, we have been looking at about an 825 student school, that would be 10th through 12th (grade) or a full-sized school would be 1,100 students, so, for each school in the Commonwealth of Kentucky, they expect it to have a certain number of classrooms and the gymnasium, or physical education component should be of a certain size, and that is typically, I think, around 12,000 square feet," McElfresh explained. "Within that 12,000 square feet, it's not just the gymnasium proper, but it would also include the support facilities, lockers, coaches offices, storage within that piece ... typically, KDE likes to see the seating capacity be about two times the student body capacity, but they will allow you to increase that. Some of the school districts we work with, I think, in part because of the multi-use nature of the gymnasium ... KDE will also includes a locally-identified program allowance that is basically some built in allowable space where you can shift that space towards different categories."
Further concerns from attendees related to the gymnasium included individual locker rooms for different sports teams that utilize the facility, secure storage places that can be locked, an independent classroom attached to the facility, an auxiliary gym and a separate staff wellness center where staff members could also look after their physical health, all of which were added to the board.
Hutchison and another attendee asked about the energy-efficiency of the facility, with Hutchison specifically referencing LEED (Leadership in Energy and Environmental Design) certification, a program from the United States Green Building Council that seeks to encourage the building of facilities that are not burdensome to the environment, and the possibility of utilizing geothermal heating sources, which McElfresh said was at the core of SCBA's design philosophy, adding that geothermal energy requires some surveying to be done beforehand, but that was a popular option at this time and one of the most environmentally friendly and efficient means to heat a large facility.
"This kind of goes back to the 21E, our core design philosophy, we will typically design everything as energy-efficient as we can and whether or not we pursue LEED is, kind of, icing on the cake, but we can definitely look at pursuing LEED accreditation if that is something that has interest," McElfresh said. "(Geothermal energy) is frequently used across the state of Kentucky, and it would be (efficient). Typically, we'll do some preliminary testing, to make sure that it makes sense, obviously. We'll do some preliminary drilling, to see if we're running into voids, or groundwater, a number of things that make it more challenging, but geothermal is a very popular option and probably the most energy-efficient HVAC system that we use in the state."
Many questions were likewise pointed at making maintenance and upkeep costs less burdensome, across the board, for the new facility, such as the idea of an auxiliary gym, with the idea being to preserve the floor of the main gym, which is a costly expense each year when they must be refinished due to the heavy use they typically see, but another topic that saw extensive discussion was the idea of providing facilities for in-house counseling and mental health support for students and staff alike, which many in attendance said were an issue brought to their attention throughout the COVID-19 pandemic, but one that they anticipated needing to address more closely moving forward, whether there are exacerbating circumstances like the pandemic or just the normal, day-to-day pressures that both groups face.
"It's been challenging for everybody over the last 18 months, and I think that the challenges that the teachers and staff have faced shouldn't go unnoticed," McElfresh said.
"I wanted to see a dedicated area for mental health therapy services, and maybe even a quiet room or a safe space where students can go if they're experiencing anxiety issues," Valerie Blair, Secretary to the Superintendent, added.
Marc Shepherd, the Freshman BARR (Building Assets, Reducing Risk) Principal for the district, added that he would like to see these types of facilities strategically and centrally located to increase access to students.
"If we had a counselor's suite ... if we had all of that built into one area, where everybody could actually be there together, a kid wouldn't have to come in and hunt for the appropriate person, and right next door is the next appropriate person," Shepherd added.
McElfresh said that these types of measures would absolutely be looked at and expounded upon to find the most efficient use of the space to provide this access.
Kevin Conley, AP Human Geography and Social Studies Instructor at the district, posed the question of how best to design the school's new sporting facilities to incorporate the widest possible range of sports, with the goal of attracting tournament hosting and large competitions in the name of driving local tourism and economic development due to the massive influx of people that are often attached to these sporting events.
"This goes a little bit toward community and athletics together, and I know that we're just dreaming big tonight, but every year, our athletic teams, they travel hundreds of miles to participate in tournaments and things like that, and I think we have a great opportunity through the new high school and facilities to increase tourism, and not only help Johnson Central, but help Johnson County and our surrounding areas as well, I don't see any reason that we can't look at, especially with our outdoor athletic facilities, having enough multiple-use faciltiies and multiple fields on the area that we have up there, to where we could not host our own tournaments, bring in other teams to this area, I know with Gatlinburg, Tennessee, and other areas like that, there's other draws to that area, but there's no reason we can't do that here, to help increase our community and our area around us, especially the tourism in this area," Conley said. "Especially with the fields and the auditorium and things like that, we now have the opportunity to shape it how we want to shape it."
These were only a few of the myriad issues tackled at the public forum, with others, such as accountability throughout the building process, highlighted majorly and discussed at length, and more proposals centered around career and technical education opportunities, layout of restroom facilities, strategic positioning, efforts to minimize traffic flow problems, arts programs (including the building of a recording studio attached to the proposed auditorium) and more discussed in great detail as well. Cochran added that he would like to see the new facility honor the history and roots of the school district's evolution throughout the years,
"I'd also like to make sure to keep our history alive," Cochran said. "I'd like to look at the idea of a dedicated space ... to bring back all of our old schools that came together to make Johnson Central High School. I think that would help keep our community draw as well."
Cochran also offered words of excitement and encouragement for the school system and the community at large and said that building this new school was a once-in-a-lifetime opportunity and a chance for Johnson Central High School to once again take a leading role in how education is handled in public school systems in Kentucky, and referred to this project as a "beacon of hope."
"I know our time is coming to a close, I think all of these things are very important and ... I view this as a beacon of hope for Johnson County and Eastern Kentucky and we want this, once completed, to be a model site, a site where everyone across the commonwealth wants to come and build a model of their facilities at," Cochran said. "This is our chance, for most of us, our once in a lifetime chance to build a new high school and, so, we have to make sure it's right. I appreciate everyone being here and giving their input and being supportive of what we want to do and it's just an exciting time. I don't know how else to explain it; I just feel giddy."
Hutchison built on and echoed Cochran's statements in closing out the forum.
"There are just so many things, and this beacon of hope is something that we want the young people to want to come to school and be a part of something. Our goal is to have programs for every student in this school, so that we can facilitate and help them, with a career path that they love and can be successful at. If you look around this cafeteria, you'll see all of these signs up, and we want to cater to each and every one of these groups, because each and every one of these groups are the building blocks of this school, the future and our community," Hutchison said. "We are going to be having the opportunity to build the finest facility and it's going to be in the central part of Johnson County, and, so, I think the promises we made tonight regarding tourism, utlizing the school for other activities and venues, that's going to be a given, in my opinion. This school is going to be our future, and we've got to keep that in mind. The students are what it's all about, if you don't keep the students first in mind, you've lost the insight and the vision. Everything that the board tries to do, we keep the students first and foremost. I want to thank all of you for coming out. Students, teachers, FFA, parents, all of you. You're friends of the Johnson County School System, and we want to enhance that friendship with you giving us input on how we can make this school system the best school system in the Commonwealth of Kentucky. As Mr. Cochran said, I love his words, a 'beacon of hope,' for the students, for the area, and we want people to come from miles around. They're already talking about our programs, our programs are in place, our faculty and our administrators are doing a fine job with the facility that we're in, that was built for 700 students and now we're at nearly 1,100 students. We are in a facility that we've been able to grow with the times, but we have no room to do anything, so we need this school — or the students, and for the future."
Hutchison then entertained a motion from the Board of Education members to adjourn from the meeting, which was approved.
Hutchison, Cochran and McElfresh made it a point throughout the forum to stress that this is a conversation that is ongoing and that they are open to input from the public at any point throughout the process, with Hutchison asking that anyone with anything to add reach out to Cochran and let him know. If you are interested in viewing the entirety of the public forum, an on-demand version of the live feed is available online by going to, www.johnson.k12.ky.us, and selecting Johnson Central High School, Athletics, and then JCHS Livestream. A direct link to the stream is available by navigating to, www.johnson.k12.ky.us/o/johnson-central-high-school/page/jchs-livestream?bfplayvid=321930.