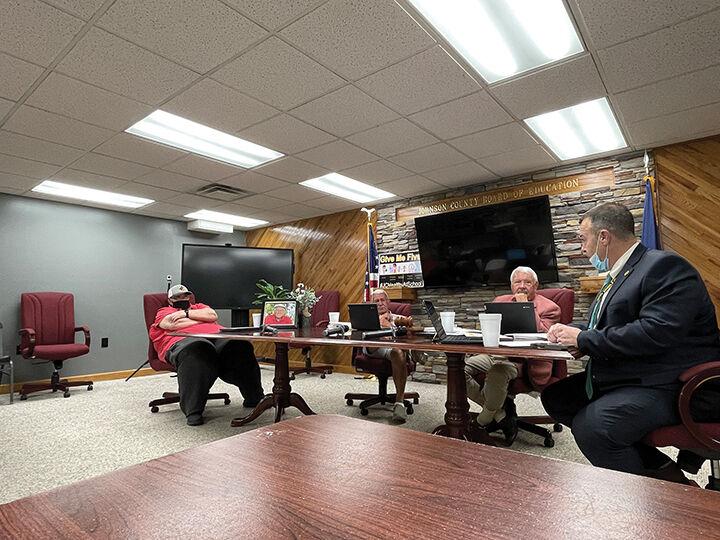 The Johnson County Board of Education appointed a new member for the District 4 position during its regular meeting on Apr. 26, filling the vacancy left by the late Jesse Salyer.
After entering into executive session to discuss the new appointee, the board returned and appointed Willard Burton, who was not in attendance, to the position.
The board had the late Salyer's portrait on display during the regular meeting, and members of the board spoke fondly of Salyer while also speaking to their confidence that Burton would serve the position with students' best interests in mind.
"I'd like to say on that, if I could, that it's unfortunate, as we sit and look at a picture of Jesse, who was just a phenomenal school man for many years," Superintendent Thom Cochran said. "I didn't know him that well, but he came on the board and he was just a wonderful addition and ball player and coach and he was a better person and a better man than any of those things. He'll be greatly missed -- I talked to his wife today and let her know that we were going to replace and she was okay with that and she understood."
Board member Melvin Vanhoose said that Salyer's late wife had told him that Salyer had looked forward to coming to board meetings each month, taking great pleasure in being involved with the school.
Cochran said he also knew Burton, and that he would be a good fit for the position.
"I know Willard Burton, too, and I think he will be a wonderful addition to our board as well," Cochran said. "I think he'll do a wonderful job and make decisions based on what's best for the students of Johnson County."
"That's all we can ask for," said board member Paul Greer.
The Johnson County Schools Board of Education meets on the third Monday of each month at the district's central administrative building on the Johnson Central High School and Johnson County Middle School campus at 5 p.m. and all meetings are open to the public.