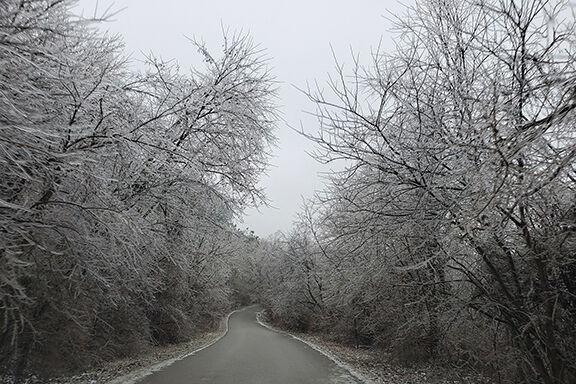 Two severe winter storms walloped Johnson County, as well as Eastern and central Kentucky, with ice and freezing temperatures over the past week, leaving the region reeling from power outages and hazardous conditions.
Johnson County received very little ice and snow accumulation from the first winter storm that came through Kentucky on Feb. 11. However, a second winter storm immediately followed, starting on Feb. 14, that caused massive damage to the county, as well as Eastern and central Kentucky. The Feb. 14 storm brought nearly an inch of ice accumulation across Johnson County, and local officials have estimated that nearly 75 percent of the county was damaged by the storm.
Johnson County Judge-Executive Mark McKenzie declared a local State of Emergency effective Feb. 14, declaring that all roads included in the county road maintenance system would be closed throughout the night on Feb. 14 to any non-essential traffic due to the threatening overnight forecast.
McKenzie urged the public to stay off of the highways in Johnson County and Eastern Kentucky as road crews worked to clear them.
"We need folks to not be on the highways because we have so many power lines down and trees down that it's a dangerous situation to be on the roads," McKenzie said. "We need people to stay at home if at all possible and to allow the road crews and utility crews to get the roads opened up and to get the services restored as quickly as possible. We want everybody to stay safe."
McKenzie described the damage as being overwhelming, but he said that restoration efforts are underway.
"It's a little overwhelming right now, but everybody's working together, communications are strong with all agencies and with all utility companies," McKenzie said. "We're starting to get some roads opened back up, but I don't want to encourage people to be on the roads. They really need to stay at home if at all possible. It just creates more hazard for everybody if there is a lot of activity on the roads."
According to Kentucky Power, there were nearly 58,000 customers without power across the company's service territory, including the counties of Boyd, Breathitt, Carter, Floyd, Greenup, Johnson, Knott, Lawrence, Leslie, Letcher, Lewis, Magoffin, Martin, Morgan, Perry, Pike and Rowan. Approximately 4,000 of those customers were from the first winter storm on Feb. 11.
Although customers without power were spread out over multiple counties in Kentucky Power's service territory, the majority of them were in Boyd, Carter, Johnson and Lawrence counties. As of midday Feb. 16, there were about 5,500 customers in Johnson County without power.
Kentucky Power said in a statement on Feb. 16 that about 1,600 line employees, foresters and assessors were in place to restore services to customers.
"Today's focus will be working on multiple transmission outages, which is the backbone of our system. From there, crews will also focus on wrapping up restoration from the previous storm, clearing hazardous situations and restoring essential services, such as hospitals and water systems, and conducting damage assessment so repairs can begin," according to the Feb. 16 statement. "Roads are blocked by trees and very icy in some areas so travel conditions will hamper today's efforts. Restoration will most definitely continue through the weekend. Customers should prepare for a multi-day outage. Because of the volume of damage and number of outages, estimated restoration times will not be available."
Kentucky Power urged customers not to go near any downed wires and to consider all wires live and dangerous even if they think they are phone or cable. Customers should report hazardous situations immediately by calling, 1-800-572-1113, or 911. Customers can report power outages or check the latest on restoration information on their mobile devices, by visiting, kentuckypower.com/outages, or by calling Kentucky Power's Customer Operations Center at, 1-800-572-1113.
On Feb. 11, Gov. Andy Beshear declared a State of Emergency when the first storm brought a wintry mix of ice and snow, as well as below-freezing temperatures.
"This winter storm already is causing some very dangerous conditions across much of the state, with iced-over roadways and downed power lines putting our people at risk," Beshear said in a statement on Feb. 11. "This declaration will free up funding and boost coordination across agencies as we respond to this weather crisis and work to keep all Kentuckians safe."
Beshear also ordered that all state office buildings would be closed on Feb. 16 due to hazardous road conditions.
"Transportation crews have been and will continue to aggressively treat roads as well as respond to downed trees while our emergency management teams and Kentucky National Guard soldiers continue to respond," Beshear said on Feb. 16. "To help those on the front lines and to prevent incidents, we need every Kentuckian who can to stay home and off these hazardous roads."
People are urged to use alternate sources of heat if possible, though they should be aware of the dangers of alternate heat sources and carbon monoxide poisoning. According to state officials, generators, camp stoves or charcoal grills should always be used outdoors and at least 20 feet away from windows. Never use a gas stovetop or oven to heat your home. Visit, www.cdc.gov/co/guidelines.htm, for more information.