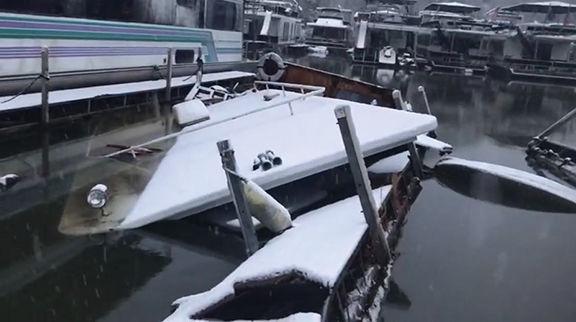 An abandoned houseboat sank on Tuesday, Jan. 7, at the marina on Paintsville Lake, causing significant damage to the dock around it.
According to Debra Blackburn, owner of the marina, "A boat sank, the dock has damage (and) we are already in the process of replacing the damage. That's pretty much the story."
According to Dwayne Fairchild, who lives on his houseboat at the marina, several families living on their boats have been displaced at this time.
"There were four couples and they won't say when we can go back," Fairchild said.
He also stated that the boat had been sinking slowly for quite some time. "It had been sinking for about two years," he said. "They had been pumping it out every time it rained."
According to David Jackson with the US Army Corps of Engineers on Tuesday, Jan. 14, the cleanup has been completed.
"It's been cleaned up," he said. "I just spoke the marina operator and they cleaned up and removed all of the boat and debris yesterday."
He explained that the repairs to the dock would be left up to Blackburn.
"It's a privately owned dock owned by her. She subleases from the state parks. We lease to the state parks and she subleases from them," Jackson said.
Unfortunately, high winds in the area on Saturday, Jan. 9 have caused additional damage to the dock.
"We received more damage from the wind Saturday night," said Blackburn. "We worked all day Friday and Saturday adding reinforcements to the dock trying to prevent further damage.
Blackburn cited safety concerns as the reason why the families who have been displaced by the incident are unable to return at this time.
"I don't want anyone getting hurt," she said.
Blackburn noted that the dock will be under construction for some time.
"I have a lot going on and will for a while. It's such a slow process," she said. "It will be under construction for a while."
Blackburn expects to have a timeline of when the dock will be fully repaired by next week.