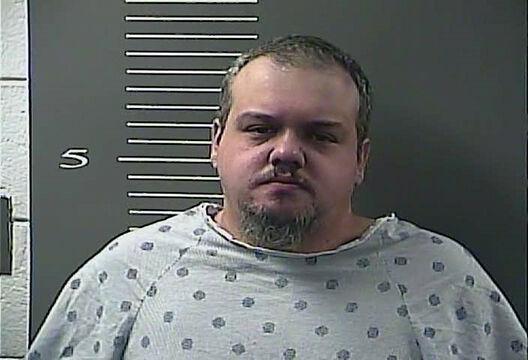 A Hagerhill man was arrested on charges including first degree assault, DUI and possession of drug paraphernalia on Monday, Nov. 9 after his vehicle collided with a vehicle carrying a pregnant woman and her mother, according to a Johnson County Sheriff's deputy.
JCSO Deputy Chadwick Penix wrote in the citation that he responded to a call of a two-vehicle collision and discovered a small white passenger car still smoking from the engine compartment upon his arrival. According to the citation, Penix checked the white car for passengers first before going to a maroon pickup that appeared to also have been involved in the crash.
The citation said Penix discovered Derrick T. Hammond, 36, of Hagerhill, in the driver's seat and unresponsive inside the maroon truck. According to Penix, Hammond's eyes were "wide open," but Hammond did not respond to verbal stimulus. After checking for a pulse, Penix said discovered a faint heartbeat and applied a sternal rub, which was enough to get Hammond to take some labored breaths but Hammond still did not respond verbally.
Penix said in the citation that when Paintsville Fire/EMS arrived, they administered four doses of Narcan to Hammond, who allegedly admitted to the EMS crew that he had used methamphetamine and heroin.
According to the citation, the driver of the passenger car was a woman who was 20 weeks pregnant and the woman's mother – the latter of which was transported to Pikeville Medical Center after "showing severe signs of pain in her stomach area, along with her chest, and having trouble breathing."
While searching Hammond's vehicle, police discovered a small bag of a leafy green substance, presumed to be marijuana, a set of scales, a glass pipe used for smoking the leafy substance and a small amount of small plastic bags, the citation said. JCSO Deputy Jason Arms followed the ambulance transporting Hammond to Paul B. Hall Regional Medical Center, where he read Hammond's implied consent and Hammond submitted to a blood test.
Hammond was arrested and charged with two counts of first-degree assault, first-offense aggravated DUI, possession of drug paraphernalia and possession of marijuana. Hammond is being held on a $25,000 bond set by Johnson District Judge John T. Chafin on Nov. 10. A preliminary hearing in Hammond's case is set for Nov. 18.