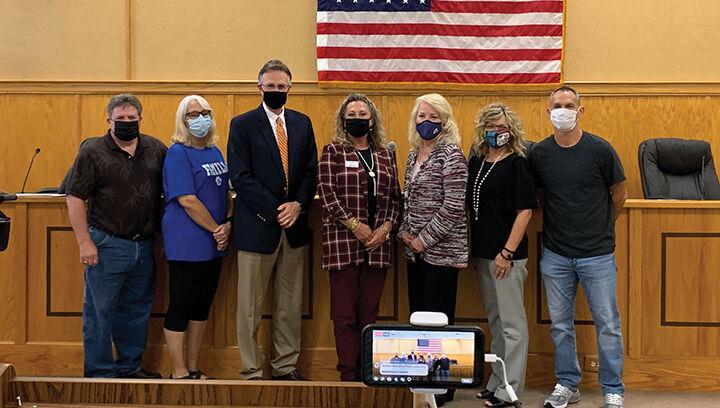 The Johnson County Fiscal Court turned over the floor during its regularly scheduled meeting on Sept. 14 to Dr. Sherry Zylka, president and CEO of Big Sandy Community and Technical College, who thanked court members for recently approved funding for their Skills U programs.
It was announced that the court donated $3,000 of coal severance funds to the community college to help pay for testing for individuals looking to obtain their GED.
Johnson County Judge-Executive Mark McKenzie first addressed Dr. Zylka and a group of representatives from the school, stating, "We appreciate them because that's a very valuable service and it really goes to what we're trying to accomplish as a community. One is, we're trying to accomplish a Work Ready certification in this community and this is obviously one of the criteria — having a certain level of educated workforce."
McKenzie said the fiscal court is focused on providing jobs.
"Also, it goes to our goal and our mission to try and provide quality jobs here in this community, and so obviously the more opportunities we can provide folks to seek higher education, should they choose to, really just goes to our overall quality of life and our overall mission for job creation and workforce development here in Johnson County," he said.
Zylka said she is thankful for the funding
"It is so needed to help people become what they should be," she said. "We just really believe in helping people get from where they are to where they want to be, and that's where Big Sandy's mission comes in. We're there to help people and get them where they're at and move them forward."
Zylka said it is important that people have the opportunity to stay here if they want.
"One thing I've come to learn about this region is that people don't want to leave if they don't have to, and so that's part of Big Sandy's role, to get them jobs in the end," she said. "I so hope that every person who takes advantage of the GED testing relief will come to Big Sandy and further their education. That's what we're here for. We're here to help to get them where they want to be, and as I tell people lately, we need to have faith in the moment and hope for a vision of the future. This (COVID-19) will pass at sometime, but it's really that faith and hope that I'm talking to people about right now."
According to their website, BSCTC'S Skills U programs provide free academic instruction aligned to college and career-readiness standards, as well as offer college and career preparation and coaching for a variety of individuals. Participants are able to prepare for the GED diploma, postsecondary education and training, and National Career Essential Skills Certificates. Through their GED Plus Program, participants are able to earn their GED plus a college credential in just four months, tuition free.
For more information on Skills U programs that BSCTC has to offer, visit their website at, bigsandy.kctcs.edu, or call, 855-GO-BSCTC.