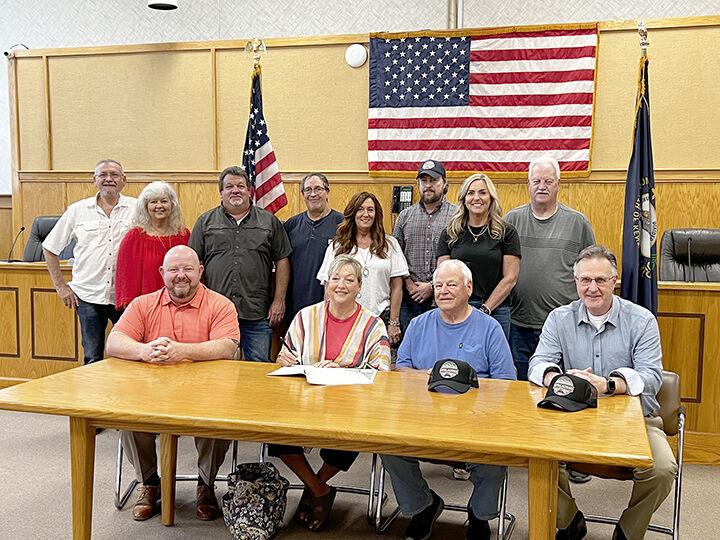 Thursday, Sep. 15, at the Johnson County Courthouse in Paintsville, private landowners met with local officials and members of the Johnson County Trailtown Committee to sign a lease agreement.
The lease agreement marks the first transaction of private landowners in the Kentucky Mountain Regional Recreation Authority's member counties to do so, as to allow for the development of official trails for the KMRRA First Frontier Appalachian Trails.
The trail system is intended to bridge 18 counties across Eastern Kentucky, in hopes of attracting tourists locally, statewide and abroad who will contribute to a large potential for further economic growth and development in the region.
"Through everyone's hard work so far, we've got to the point today where we have the first agreement signing with a private landowner, a very good moment for us. We expect there to be several more in the days to come and we hope to really build some momentum on this," said Scott Smith, executive director of First Frontier Appalachian Trails.
Johnson County Judge-Executive Mark McKenzie said this was very important for our community economically.
"Johnson County is just a small part of what we're doing here. There are 18 continuous counties in Eastern Kentucky that are in agreement that we have something that is absolutely a treasure. Our natural beauty, our people and our culture, and we just can't wait to share that with the rest of the world," said Lara Pack, KMRRA secretary and Johnson County representative.
Pack says by signing these leases, they are legitimizing these trails which see everyday use. The project, she said, aims to mark these trails so that they may be experienced by sight seers near and far.
Smith said it is important for private landowners with land on these trails to come forward with lease agreements to alleviate them from any liability involving the trails, so that the state takes responsibility for them. This would prevent private landowners from encountering trespassers from crossing into their property. Signing these lease agreements would protect these landowners, so the authority would assume the risk involved instead of the landowner.
"This could greatly contribute to economic growth," said Smith. "Anybody could put up a business along these trails, whether it be a campground, a store or cabins. Anything that could make an economic impact on the county."
This project has been in the works since 2012, though it has only been legislated for three years, said Pack.
"We are fully funded by the legislature through tourism and we have a rotating authority board consisting of nine counties of the 18 involved. We are all moving towards the same goal, where all the trails in these 18 counties will fall under the umbrella of the First Frontier Appalachian Trails. It is very much modeled after the Hatfield-McCoy trail. We aim for it to be financially modeled the same, as last year they netted near $40 million dollars," said Pack.
McKenzie said officials working on the trails are just getting warmed up, with more to come as the work continues to make trails official and create a tourism draw.
"Until we have these trails marked and these leases in place, so we can use these county or state roads to connect, we can not market it," said McKenzie.