Traffic stood still on the Ky. 40 and U.S. 460 corridor in Paintsville Saturday as the community, the Brother's Keepers Motorcycle Club, first responders from around the region and his fellow Firefighters honored the late Firefighter and Paramedic Brian Moore with the display of a flag and a funeral procession befitting Moore's legacy, often called larger than life by those who knew him.
The procession and flag display itself included more than 181 vehicles, including police escorts, fire engines, personal vehicles of volunteer firefighters, ambulances and civilian vehicles and took more than 13 minutes to pass under the flag displayed in honor of Moore on its way to Highland Memorial Park in Staffordsville, where Moore was laid to rest. The procession originated from Johnson Central High School, where funeral services were held in the gymnasium to accommodate the large number of attendees. Many of those gathered were slated to gather at the Paintsville Lake Marina for a "celebration of life."
Moore's casket was transported by Paintsville Fire and Rescue Engine 1, and engines from many regional fire departments were in attendance, including from departments as close as the Thelma and as far as Sandy Hook and Pikeville. The flag was held in place by engines from the Inez Fire Department and Prestonsburg Fire Department.
In a statement, the Inez Fire Department spoke of Moore's legacy and the amount of respect that is shared between first responders, regardless of their jurisdiction.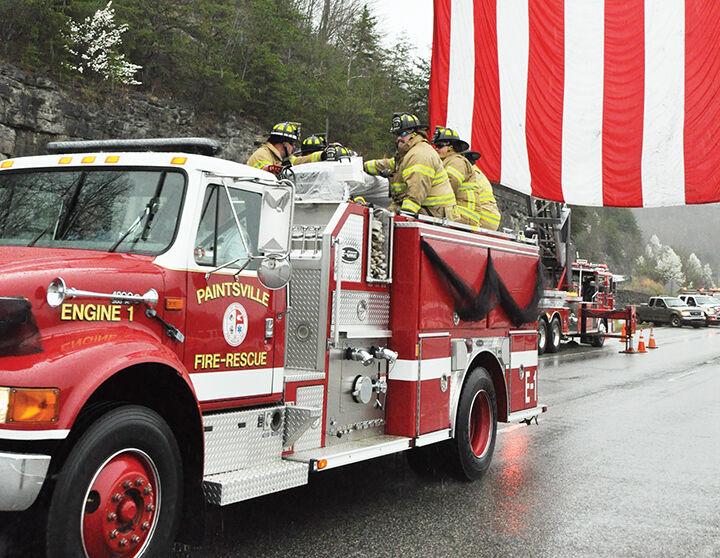 "Over the last few days, our department has had the honor and privilege to assist our fire family at Paintsville Fire Department with staffing a station and honoring our friend," the statement said. "In the fire service, we form a brotherhood with our fellow firefighters, no matter what jurisdiction or boundary line that may separate us. Firefighter and Paramedic Brian Moore's life was the definition of that brotherhood. As an instructor with State Fire Rescue Training for Area 11, many of our members got to know Brian through the years, as he passed on his love for the fire service. Please remember Brian's family, both at home and in his profession, for the coming days and weeks as he will be truly missed."