Christian Appalachian Project and Lowe's employees braved the cold together from Wednesday through Friday this week building a new porch and deck with wheelchair accessibility for a Wittensville man as part of Lowe's Give Back program and alongside the work CAP does everyday.
"… We're building him a ramp and giving him good, safe access in and out of the home," said CAP Elderly Housing Crew Leader Ronnie Griffith. "It's about a 48 foot ramp and then we re-did his porch, like I said, just giving him good, safe access."
Griffith said he was excited to see Lowe's joining in to give back to the community and was thankful for the Lowe's employees that came to help.
"We've got Lowe's helping us … we've got three long-term volunteers working with us, but it's just great to see (CAP) and Lowe's working together," Griffith said. "It's good to see a local business like Lowe's giving back to the community. We've been doing this for a long time and it's good now to see some other businesses stepping up and helping us."
Lowe's Store Manager Candy Bates said she had known Griffith for about 15 years and had always been appreciative of what he does for the community — leading to their cooperation on this project.
"I've known Ronnie now for about 15 years, and I always appreciate what he does for the community," Bates said. "So, for us, Lowe's has a program called 'Give Back Time,' and they give every employee eight hours to give back to the community. So, when I first took over at Paintsville, Ronnie and I got together and I said, 'Hey, I'd love to partner with you and give our employees an opportunity to use that eight hours of Give Back Time that the company gives us,' so, we came up with this project and worked out the dates and here we are, you know."
Bates said the project was a positive opportunity for both parties, as it not only lets those who work for the store an opportunity to see what it's like in their community but also allows the community at large to see that employees of Lowe's, though they work for a large corporation, are still community members that care about the wellbeing of their local populace.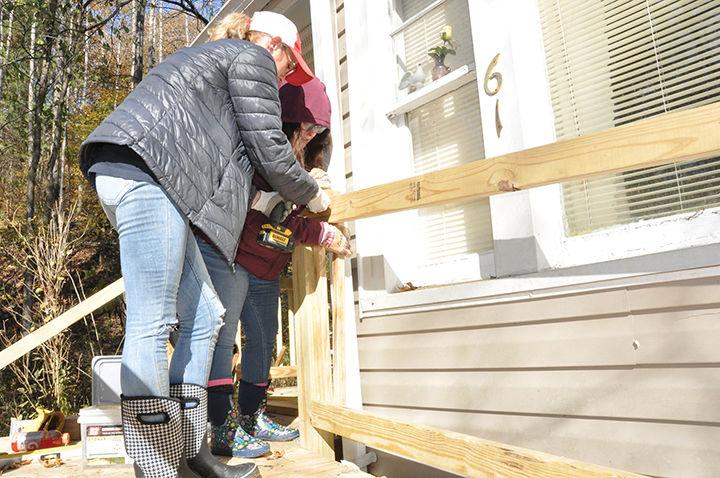 "The thing about it is, it does two things: One, it gets us out into the community to see some of how our people live, but it also allows the community to see us," Bates said. "I think sometimes (the community) sees Lowe's as the big corporation and they forget that we're local people, too. Our kids go to school here, we shop here, we work here, we all live here, so it's twofold."
The project was completed Friday, having rotated 17 total Lowe's employees through the project, according to Yates, and giving an elderly man the freedom to get where he needs to go without fear of injury.