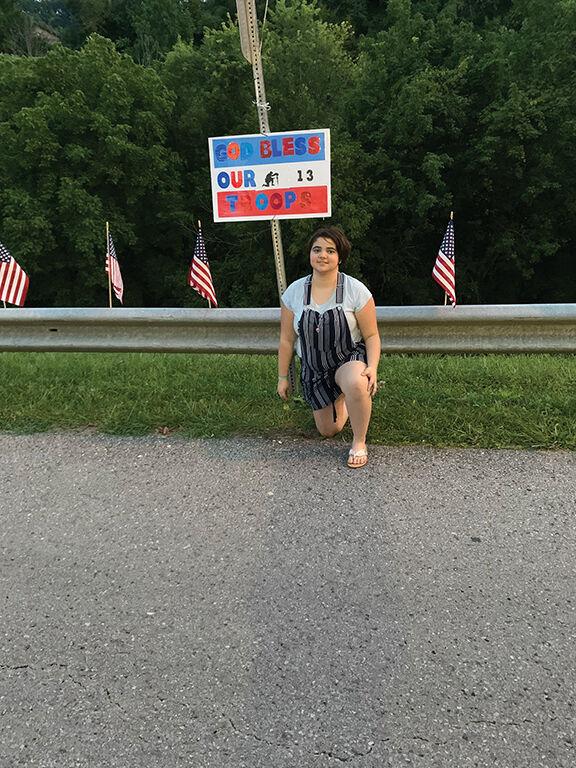 In honor of the 13 U.S. soldiers who lost their lives after the country's withdrawal from Afghanistan, and in remembrance of 9/11 and the many others who lost their lives in the events of that day and in the Middle East conflict that resulted from it, residents at Bristlebuck Manor (known locally as the High-rise), put together a memorial, spearheaded by Resident Council President Ronda Litteral.
Litteral said she was inspired to create the memorial due to coming from a family with a long military history and feeling like there was a need to let the veteran residents of the high-rise know that they were seen and appreciated as well.
"What inspired me to do this, is I come from a family with a long military history, my grandfather served in World War I, he served about 16 years in the Army, I have a brother that served eight years, I have a nephew that just recently went into the service, this year," Litteral said. "It just means a lot to me because my family members actually got to come home, some family's servicemen and women didn't. I hear stories and some of the residents here tell me stories from when they were in the service, and it brings tears to my eyes because I'm so proud of them and what they did for our country."
The memorial serves triple duty, honoring those lost in the war in the Middle East, the veterans living at Bristlebuck Manor, and the soldiers lost recently in an attack in Kabul, Afghanistan, including 11 Marines, one Navy member and one Army soldier. According to reports from the Wall Street Journal, more than 100 people were killed today, including more than 90 Afghans after two blasts from suicide bombs tore through crowds and was followed by gunmen, during the "final push" of the U.S.-led evacuation efforts in the country, marking the deadliest day for U.S. forces in the last decade.  
"I just wanted to do something, basically, out of respect for (our veteran residents), and for the troops that were killed, (our veteran residents) really appreciated it," Litteral said of the sign and flags placed on the grounds at the facility.
She believed doing things like making this memorial might help get more residents involved in future activities planned for the residents.
"So, I think in the future, when we have projects, I think they now might start taking part in them, knowing that someone cares enough about them to do something," Litteral said.
More events are planned in the future, including bands, cookouts, church services and more.