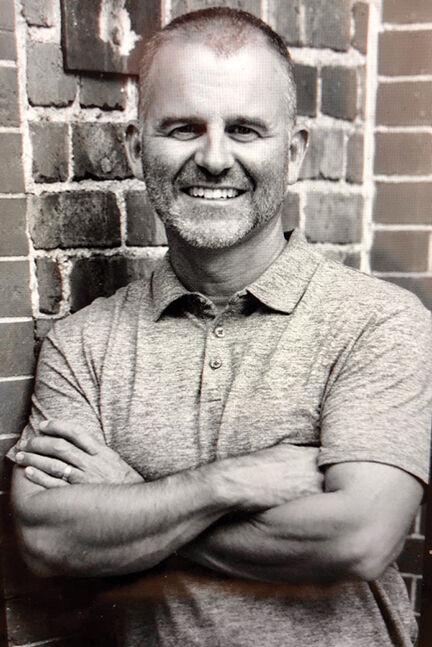 Brandon Tosti has lived what many would certainly consider a colorful life.
Now, he's compiled much of his life's adventurous story into a self-published book that is due to release soon, entitled "Who We Meet Along The Way."
The book chronicles Brandon's life from his upbringing in Paintsville to the present, with stops along the way including creating a non-profit organization to help youth sports teams in post-Hurricane Katrina New Orleans, standing alongside his family in battling cancer when his wife was diagnosed with Stage 1, Grade 3 breast cancer, to working as the manager of corporate partnerships for the City of Denver, Colorado.
Brandon's book covers a lot of ground, being a compilation of several posts made to social media throughout several years and edited to convey a cohesive narrative about the sometimes unexpected paths on which life might place us, including chapters focused on home, life advice for his children, family as a concept, his work with non-profits, his time spent alongside his wife during her battle with cancer (which she won), a daily column he challenged himself to write during Lent about the people he has met who have influenced him and helped him along his journey, and more.
"What happened with the book, is, I've used Facebook to basically inspire people, make them laugh, cry, maybe once or twice, or ten years, I've always just written on Facebook about my life. There's a little bit of work stories in there ... but it's about ... like I'll start with chapter one  —  Home, Hills and Hollers, this is what it's like to grow up in Eastern Kentucky, you know, little quips or anecdotes, for instance, the Dairy Queen with the highway right there five feet from the main, busy road, you would never do that in Chicago or Denver, like, that just doesn't happen," Brandon said, then pivoting into how that origin point influenced his family life. "The next chapter kind of goes into family, my mom, my dad, my sister, just some aunts or uncles or things of that nature, again, what does family mean to me, and I wrote a couple of different columns about my family."
The Lent Challenge was something Brandon spoke of proudly — during Lent, instead of giving something up, Brandon decided he would challenge himself to write a story each day about one of his friends.
"I'm Catholic, so, for Lent, you always give up something, right, you've got 40 days of Lent, so one year I said, 'I'm tired of giving up chocolate and potato chips, I'm going to do something different,' I told my wife, Beth ... 'I'm going to write a column about a different person in my life for 40 straight days," Brandon said. "You think, that's impressive, right, and I'm not saying that bragging  —  what I mean by that is, I have Attention Deficit Disorder, so I'm always hyper and excited and full of energy, so I didn't even think about it."
Brandon said his college roommate told him, after reading his Lent Challenge columns, that he needed to write professionally.
"The Lent Challenge people really started noticing, and I had multiple friends say, 'Dude, this is amazing, you just wrote every day, you make people laugh, cry, you inspire, you motivate them, and it's real, it's authentic, it's real life,' but that was my thank you note ... that was my thank you note to these scout leaders, teachers, coaches, friends, peers, bosses, everything," Brandon said, explaining that the columns were about the people that inspire him. "There's one column that's about single mothers, I was really impressed, because I know, when my kids were little, if Beth left for two days I was like, 'Oh, God,' and I'm calling in the army and the cavalry and here are these women that are my friends, and they do it every day."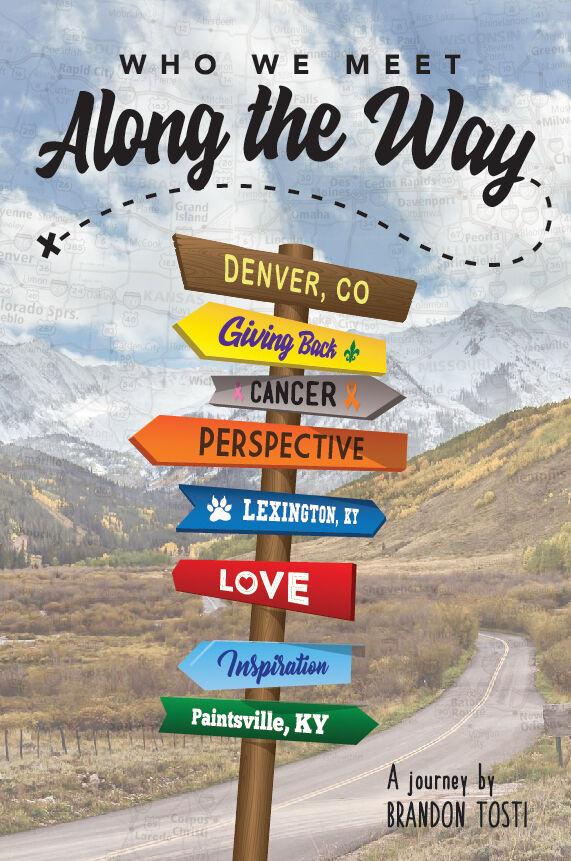 Another chapter, entitled The Big C, is a documentation of Beth's battle with cancer, which Brandon said he wrote as a means of therapy during the battle.
"My wife is almost seven years cancer-free, so I wrote everything, I wrote when we went to chemo visits, I wrote when we went to the doctor, I wrote from the day we got the phone call, and part of that is I was scared to death ..." Brandon said. "I wanted people to be able to look at Beth, and regardless of what type of cancer, at least you knew what was coming, as far as the acronyms, and the test results, and the emotion and all that stuff you've got to deal with, right, if I could help you go from a stress level of 100 to maybe 85, then I've helped you as a stranger or as a friend, and be an ally for you or a resource."
According to Brandon, he and Beth had a leg up on her battle with cancer because of one those outside influences he mentioned. Brandon said genetic testing showed Beth had a 50 percent chance of developing breast cancer. Armed with this knowledge, Brandon said, they were able to catch the cancer early in Stage 1, when the mass was only about one centimeter, and fight it effectively to reach a positive outcome.
The final chapter, Brandon said, is focused on an appreciation of time and what the seconds, minutes and hours that make up our lives truly mean.
"The last one is an appreciation of time, and so I just wrote about how important and how valuable the word 'time' is, and how we forget that, you know, minutes, seconds, hours, whatever, and we always wait until somebody's on their death bed to tell them what we feel about them," Brandon said. "If you want to chase a dream, dude, go get it. You're not guaranteed tomorrow, so why are you waiting?"
Brandon spoke of how he wanted to be an advocate for others who might struggle with attention deficits, and how he felt, when managed, that his disorder was a strength and his ADD is a big part of who he is, and managing that challenge has been a blessing alongside having that irregularity itself, which he said has made him creative and imaginative.
"Here's the other thing, once you put it out there, everyone is afraid to talk about their dreams, I feel like, because they're afraid of disappointment. This is medically based, so you know, the ADD mind is the exact opposite. I've read a lot about it, and my doctor told me that. The ADD mind is more about experiencing the life — I'm all about the rush.  I'm not worried about failure because I learn something, I gain something." Brandon said, using his time helping New Orleans schools in the wake of Hurricane Katrina as an example. "It makes no sense at all to start a non-profit to help a city 1,800 miles from here, no sense at all, because what smart businessman or businesswoman is going to give me $1,000 to go to New Orleans, they'd rather give it to me for here in Denver, which is fine, so we expanded our reach and we're helping schools here in Denver now ... but it's just like, I don't care, I'm stubborn and I'm driven. I'm definitely driven, that is one thing, you can call me a lot of things, and I might not be the strongest or the fastest, or the best looking, or this or that, or I don't have a ton of money, but you know what, let's go. You give me three, four of my teammates, the right people and a little bit of money, and we'll go make it happen or we'll die trying, one of the two. I don't mean that in a cocky way, but I mean that in an Eastern Kentucky, authentic, genuine way."
Brandon circled back around to his work coaching sports and growing up playing sports — the competitiveness he can't away and the hunger for success that drives him.
"I always tell people, I'm extremely competitive, but I'm not 'sore loser' competitive, and you wouldn't know it, but it's like muted competitiveness," Brandon said. "Inside, I'm dying. I want to win, but it's not even about winning, it's more about succeeding ... but, like, in youth basketball, I make sure that the kids know that we're going to win and lose, I never over-emphasize winning. I emphasize hustling to try to win, absolutely, and I hate when we lose, but I tell them, 'Hey, it's okay, you're going to lose in life, you're going to win and lose — it's about learning that lesson and then coming back hungry,' if you come back motivated and hungry, that's a good thing. Don't look at it as a failure, don't be afraid to feel things, because you pick things up along the way and it makes you stronger, it makes you fearless."
Networking, meeting new people and learning everything you can from them are things that Brandon said are invaluable and are, in many ways, the crux of his book.
"You can always learn something from everybody you meet, so, for me, networking has always been, I don't want to say second nature, I've had to work at it, but I became a student of the game, if you wanted to be an accountant, you go to school, you get your degree, you get an internship somewhere at an accounting firm, then you get a job somewhere ... Well, the sports industry is not that way, it's cutthroat and they know that they can cut me or you, and hire the next guy at $20,000 because everybody wants in," Brandon said.
Brandon said those people who we meet along the way, are resources into which people should invest.
"People are resources, and you're not using them, you're investing in them, that's the big difference. You buy stocks, you invest in stocks to make money, but you've got to invest in others for your own network, your own career," Brandon said. "I can't tell you how many college kids I've helped, because people helped me and stuck their neck out for me and I want to make sure I'm doing the same thing and returning the favor."
Who We Meet Along The Way will be released later this month, Brandon said, and will be available for purchase on Amazon and more details about the book and who Brandon Tosti is can be found online at, www.brandontostiauthor.com.