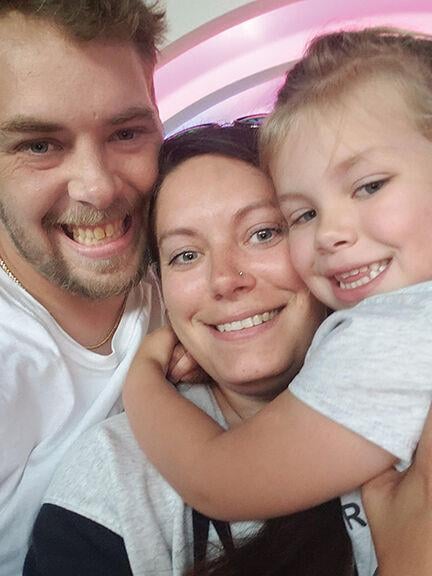 In a stark contrast to what might come to mind when someone from Eastern Kentucky hears the term "bootlegger," but with a decidedly vintage leaning, Paintsville native Blake Bundy and wife Chelsie, are bootleggers of the modern era, having built a successful business around the design and sale of bespoke, custom, vintage-styled collectible action figures from popular movie and video game franchises.
After attending online classes through Full Sail University for video game design and 3D modeling, Paintsville High School alumni and former basketball player Blake has turned that skill toward a very different market — designing, 3D printing and selling his own custom figures.
The venture that started in February of 2020 and has now grown to the point that he and wife Chelsie, a Johnson Central High School alumni and former cheerleader, have now shipped nearly 1,000 figures under the banner of Bobaluga Studios, LLC to locations around the United States and even to eight other countries.
Blake said that his skillset in 3D modeling allowed him to enter the market and fill a niche that other vintage action figure designers couldn't fill and that his time as a basketball player at PHS influenced greatly by giving him a fiercely competitive spirit.
"I graduated in 2008 from PHS and went on to graduate from Full Sail University with a bachelor's degree in game design, and that's where I learned 3D modeling," Blake said. "Going from video games to action figures wasn't the direct jump, video games helped me learn how to model and action figure collecting was kind of a hobby on the side, and I saw some other people making custom action figures and tried to get my hands on a couple, and they were very limited and hard to reach and I had a lot of trouble getting those. So, using my basketball experience and background, I became very competitive almost instantly and said, 'You know what, I think I could do one better than he could,' so I leveraged my expertise in video game design and learned how to model in 3D and use that to make an action figure, then got my 3D printer and took off."
Starting in February of 2020 with his "Mando" and "The Child" figures presented some unique challenges, Blake said, as the very next month saw shortages of many sanitary supplies that are necessary for action figure production, such as paper towels, alcohol and gloves, were in short supply at the time.
"We started in February of 2020, which was, obviously, right before the lockdowns and all of that stuff, and the three things we needed the most at that time were alcohol, paper towels and gloves, and, of course, when COVID hit, those things were almost unobtainable," Blake said. "So, in the beginning of our business, it was really tough making that adjustment and fighting through that, but, long story short, that's how I went from my interest in video games to making action figures."
According to Blake, the business is very much a collaboration between he and Chelsie, with plans to get help from their daughter Lillie as she is, at age four, learning the ins and outs of painting figures. Blake said that, in a strange twist of fate, Chelsie went to school for business management and that expertise has paired up well with his artistic pursuits in making Bobaluga Studios a success story as she handles the financials, business filings, taxes and other aspects of the business side of things.
"We're training Lillie to be a painter," Blake laughed. "Chelsie went to school and got a business degree, and learned how to run a business, do all of the paper work, she filed all of that stuff, she pays the taxes, she's the CEO, she's the one that's started businesses before and she runs everything. It's a family business, it's yin and yang ... it's just a perfect storm, she's the CEO and does all of that type of stuff and she's actually my painter, she does all the hand painting, I have painted a few of them and I can do them, but 99 percent of the ones that go out the door, she hand painted them from head to toe. She went from not being able to draw a stick figure to being able to, you know, being able to paint entire action figures in a weekend and it blew her away and it's blown me away. She's really pushed this."
Blake's love for action figure collecting started with his dad collecting Star Wars figures in the 90s, and he said he carried that love into his adulthood and now into his business.
"When I was a kid, my dad collected the '90s Star Wars action figures with me, and that really sparked it," Blake said. "When I was a teenager, I was more into basketball and girls than action figures at the time, and actions weren't so cool to me, but once I graduated and got a little older and had my own money, I got back into collecting action figures. The sense of what's cool and what isn't really gets thrown out of the window when you're an adult and you really just kind of start to look at your own interests."
The business has grown at a surprising rate, Blake said, and much of that is owed to the wide berth of figures that can be made referencing different pop culture series and the expandability and flexibility of his business model.
"Yeah, nine different countries and we're just now nearing our 1,000th action figure sold. Yeah, we're nearing our two-year mark and we've almost doubled our first year as far as how much we've grown and our profits and everything," Blake said. "It started out as a side job, but as COVID forced everybody to work from home, I've been able to transition to doing what was my full-time job and is now my part-time job from home, and centering on this as more of my primary focus. As far as sustaining ourselves, we've grown from one printer to two, to now four 3D printers and we're actually in the process of buying a newer model that's a larger size. As far as content, it's an endless stream ... there's endless TV shows, cartoons, movies, video games that are coming out.
"Anything from pop culture that arises, like the Tiger King, we jumped over and did a Joe Exotic figure when that show came out, we had a figure made of him within 48 hours. We sold ten of them, very exclusive figures, and they actually ended up being resold, like, there's one that is still on eBay that, at one time, was listed for more than $400," Blake continued. "So, as far as content, we started with Star Wars, and we can always branch out to anything, like I said, Tiger King, and Star Wars is constantly producing new things and everything from wrestling to basketball to Halo games, it's circling back around to video games at this point, we're making video game action figures, so we really do see this as being very self-sustainable for a long time and there's a lot of room for growth."
As far as the bootleg aspect of the business goes, licensing and copyright issues haven't ever really been an issue for anyone in the market as these figures often don't compete directly with official products and are seen as more of selling an individual art piece inspired by their namesakes, and don't use any of the official designs but are individually sculpted and designed from the ground up, Blake said, and Bobaluga Studios and other businesses in the segment generally avoid using copyrighted names.
"I can't speak for other bootleggers, but I know that some of the things they stuck to, as far as staying under the radar of the big mouse, was not using the licensed names for the characters. I'll use abbreviated names or slang names for them, and I'm not using the actual Star Wars figures, I'm not taking a figure of theirs that a sculptor worked on and they produced and shipped, so I'm not taking a figure and altering it and trying to resell that, my figures are 100-percent, from the ground up, my original artwork and my sculpts," Blake said. "So, as long as I don't use their names or their logos, like Darth Vader, I'm fine. It's seen as hand-made art, like when people make their own art to sell, like inventions or whether they're plaques or things to hang on the wall, it's the same story."
The segment doesn't go unnoticed by the main rights holders, Blake said, as he believes he has seen the work of he and other figure makers influence the licensed products released by the rights holders, such as Hasbro's issuance of a series of vintage-style action figures released by Hasbro for The Mandalorian.
"That's one the things about that radar, over the past couple of years, Star Wars has been going back and making retro action figures, they were following along with the movies ... right in the middle of two movies they were doing, they stopped and they did a Mandalorian line, and this was six months after me and four other people started making Mando vintage figures and they were selling them like crazy," Blake said. "So, our bootlegging that we did with The Mandalorian show that was such a hit, actually changed the course of what Kenner and Hasbro were doing with their figures. They reacted to the bootleg market and saw the demand for those figures and released their version of the figures that we were making, so we actually had an effect on the market and it was clear. There was no reason for them to switch to Mandalorian at that time, they were on a clear path with what they were doing and had already even announced that Return of the Jedi was next and stopped and switched gears and did The Mandalorian, so, that's one of the biggest things we've done, in my eyes, me and a few other people actually changed the market. Like, 'Oh, man, people actually like that vintage '70s and '80s look.'"
Beyond that, Bundy said that his figures had been featured on the biggest Star Wars collecting website, www.jedibusiness.com, who reviewed one of his figures.
"That was crazy," Blake laughed. "It was just nuts."
The future seems bright and Bobaluga Studios shows no signs of slowing down, Blake said, as a recent run of limited edition "Concept Vader" figures made from spare parts painted all black and paired with an iridescent vinyl cape, sourced and designed by Chelsie led to the business turning those spare parts into nearly $2,000 in a matter of 15 minutes.
Blake said that his Eastern Kentucky upbringing definitely influenced his passion for his hobbies and the depth at which he explored it and helped lead him toward this path.
"Yeah, just growing up in Eastern Kentucky, we didn't have a lot of outlets, so we had to really find ways to entertain ourselves and be productive in other ways and stay within our hobbies and there was definitely an attitude that I utilized there, and our passion for sports and competition definitely came into play," Blake said.
In the future, the studio is looking at producing Halo: Infinite inspired figures ahead of the release of the game in December, Blake said, alongside a new run of vintage-styled Michael Jordan figures currently in development. Anyone interested in following Blake and Chelsie's work can follow Bobaluga Studios on Instagram or visit their website at, www.bobalugastudios.com, to search for currently available products.
"We're anticipating concept art from the next Star Wars show and waiting on those to come out, and, in the meantime, just capitalizing on anything in pop culture," he said. "Halo's coming out in December, so I've got the figure lined up to release in late November to build on that hype ... I'm doing a vintage basketball Michael Jordan, so it's never-ending really. We've got a lot of things coming this year and even more planned later. We've had a couple of painters and we need another as we scale, so if there's anybody in Paintsville that can work a paintbrush, we'd be glad to hire you."