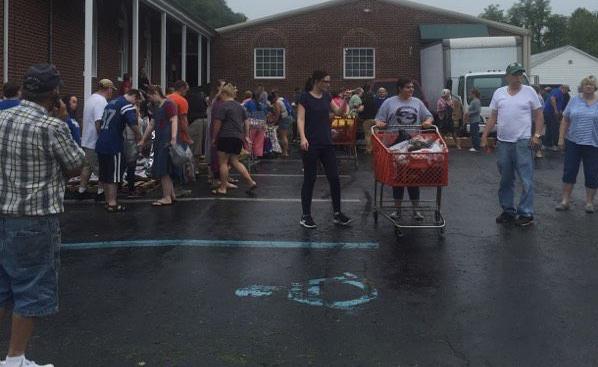 The 12 Baskets Food Pantry at the Paintsville First Church of God added an extra day to its usual distribution schedule to give away a truckload of fresh produce on Tuesday.
Pastor Dan Heaberlin said the pantry is usually only open on Tuesdays, but the produce arrived on Wednesday. The food was organized, bagged and given away with the help of HOPE, an American Legion Youth Group that operates from Paintsville's Veterans Center.
Heaberlin said the rain did not deter the dozens of people who turned out for the event.
"We had potatoes, tomatoes, apples, corn, cucumbers and six pallets of watermelon, and it was almost all gone," Heaberlin said. 
The 12 Baskets Food Pantry is organizing a celebration for its 15th anniversary in October, and has given away food valued at millions of dollars during that time.
The 12 Baskets Food Pantry ordinarily opens at 1 p.m. on Tuesdays. For more information, call the First Church of God at, (606) 789-3995.