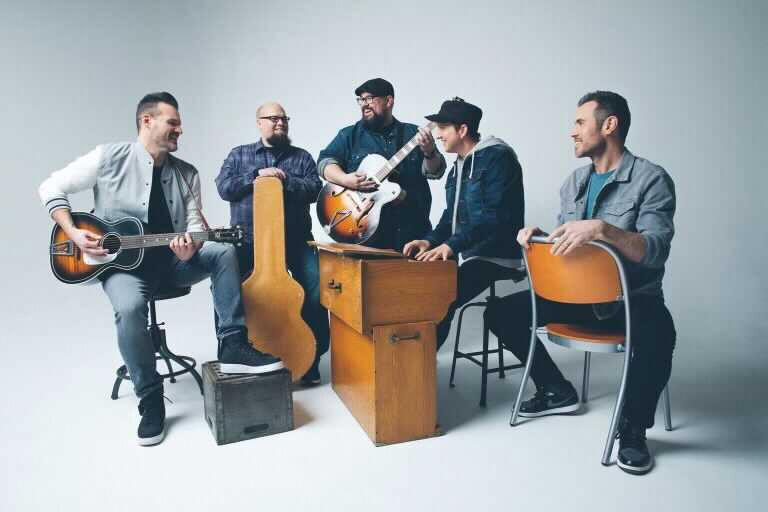 This year's Awaken Conference is set to take place in the Johnson Central High School gymnasium, as it has for several years now, on July 30 and will feature massive contemporary worship music acts such as Big Daddy Weave and Plumb.
Admission is free at the event, which Awaken Ministry President Ben Stephens said is aimed at providing an affordable space and event for people of Christian faith, regardless of denomination. Awaken is a 501(c)3 organization, and the event is made possible by sponsors, both private and from churches far and wide.
"You have worship, some music, and somebody will share a testimony of their life, some more music, and a message or gospel presentation to the crowd and we do a celebration at the end by having the two concerts," Stephens said. "Awaken is not connected to any particular denomination, it's not a church, it's not run by a church, our leadership that helps to put it together is multi-denominational, so, it's just about Jesus. That's all it's about."
Stephens said that the Awaken Conference raises funding in many different ways, including multiple churches, as well as businesses, private donors, and monthly donations and offerings that come together to make the event, which can cost anywhere from $30,000 to $40,000 per year -- which Stephens said was evidence of how God has blessed the ministry and those who work toward making it a reality each year.
This is the 11th year of the conference, which Stephens said was born of his passion for helping young people find their faith and from his time as a Pastor himself. Stephens said the idea for the conference was sprung from a trip to Tennessee to see a similar event which cost his church more than $1,000 to take seven youths -- and led Stephens to ask why it wouldn't be possible to host a similar event in Johnson County, as well as make it more affordable.
"That was kind of what birthed the idea and, while we were down there at that event, the president of my youth group, a young man, did a devotional for our group and it was out of Romans 13:11, where it says it's now high-time to awaken from our slumber, and my wife said, 'That's what we need to call it, we need to call it Awaken,'" Stephens said, adding that his work as a teacher and youth pastor was what made him feel called to create this event as a space for young people to be brought into the faith's fold. "I was a youth pastor for ten years, and I'm also a teacher at the high school. Teenagers are in my wheelhouse, it's where a lot of my passion lies, to help young people see their potential and know hope and know hope and know that there's purpose for them, so that played a big role in getting it started."
There was also a gap in the types of worship and Christian music available in our area, Stephens said, as he was left without that access after relocating from his former home in Richmond, where there were several Christian radio stations and he could hear a variety of musical genres which were faith-based, to Johnson County, where that access was limited mainly to gospel hymns and bluegrass, which Stephens said he also enjoys, but felt like young people might be more inclined to enjoy music that was more modern.
"They didn't have a whole lot of access, especially at that time, cellphones weren't like they are now, you didn't have things like Pandora ... they didn't have access to this different type of Christian music, and I love hymns and I love gospel and that stuff, but I also grew up, as a teenager, in contemporary Christian music and it played a huge role in my own life and I wanted to be able to present that to them and, honestly, use it as a hook to bring them in so they could hear about Jesus," Stephens said.
This is the second time Big Daddy Weave has performed at the conference, and the first time the group performed there was when the necessity was born to move the conference into a bigger space as the parking lot at the Paintsville Rec Center was not conducive to the crowd of 1,200 people that the group performed to then.
"We did it the first couple of years and really had no idea what we were doing and we started to see a little bit of growth and then, it was actually the first year that we brought Big Daddy Weave in at the recreation center, we went from having like 450 people to having like 1,200 people," Stephens said. "What I was seeing though, was churches coming together, and that's another goal of the ministry, is to see churches get past their denominations and focus on one goal ... We were seeing people respond to it, I was having kids who don't go to church and aren't interested in church asking me, 'When's Awaken this year,' and, 'Who's going to be at Awaken this year,' and they're starting to be exposed to this more positive music with a healthy message and hope-filled message."
Stephens said the ultimate goal would continue to be trying to bring young people to Jesus, and that they've seen many people make that decision there at the conference, and he wanted to continue that and for local churches to take part in the event so that they can continue to support these people, new in their faith, after Awaken is over.
"You know, there's no Awaken church on Sunday morning for them to go to, so, we're going to try and plug them in to these local churches that are participating so that we can see these kids and adults grow," Stephens said. "We've baptized people on the football field, we've baptized people on the basketball floor of the gym, we bring in a baptistry for that, so when people make their decision, we don't want to just leave you hanging. We want to give you the tools and the resources so that you can grow and you can have questions answered and you can have a family to be a part of."
Stephens said that, ultimately, the conference has borne much fruit and that helps him and the rest of the ministry continue their work.
"We've seen fruit and we've seen a lot of good things happen and people love it and it's something that's unique to our area, there's no other areas in our region that are doing things like this, especially for free," Stephens said. "If you're going to go watch Big Daddy Weave in concert somewhere, you're probably going to pay anywhere from $25 to $45 to go watch them."
The Awaken Conference is set to begin on July 30. For more information, visit, www.awakenky.com, or visit Big Daddy Weave, Plumb and Awaken's social media channels to learn more.