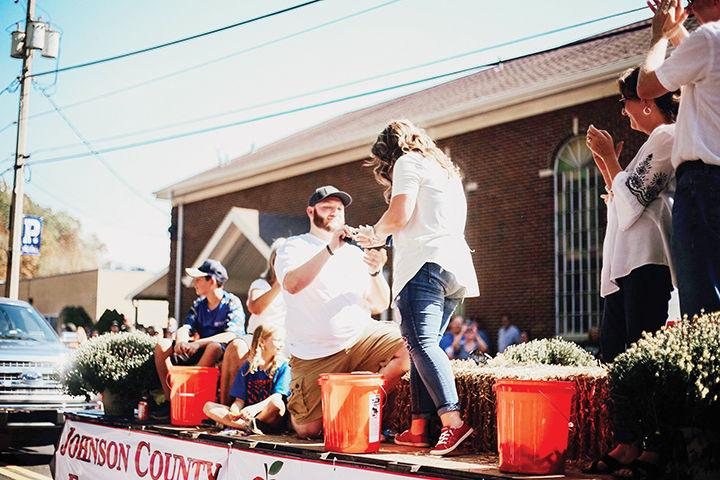 The Kentucky Apple Festival celebrated its 57th year over the weekend of Oct. 4-5. The tradition is meaningful for a lot of people, both near and far, but this year's festival was much more than an opportunity to connect with community, eat good food, take delight in free music, enjoy the parade and various other traditions for which the festival has become known. For one happy couple, this year's Kentucky Apple Festival was a celebration of love and commitment.
During the parade on Saturday, Kendra Colvin, of Staffordsville, and Bobby Weighman, of Paintsville, both 27, were given the opportunity to ride on the Johnson County Fiscal Court parade float. It was on the float in the midst of the parade that Weighman decided to propose to his longtime girlfriend.
Weighman's connection to the fiscal court lies in his relationship with Johnson County Judge-Executive Mark McKenzie.
According to Weighman, he met McKenzie and his wife Alicia roughly six years ago while he was working at a former restaurant in Paintsville.
"They took me into their family with open arms and have been the family that I have always needed and wanted. They couldn't legally adopt me since I was above 18, but you couldn't tell the difference with the way they've treated me."
As far as choosing the parade float for the proposal-of-a-lifetime, Weighman said it was a fairly spur-of-the-moment idea.
"I knew I wanted to do it while both of our families were there, and that's harder said than done," he said.
"So I pondered for awhile ... I sat down and started watching Netflix and it hit me out of nowhere.
"Everyone watches the parade and my parents (the McKenzies) have like an open house all weekend so majority of the people that I wanted there were already going to be there," he said.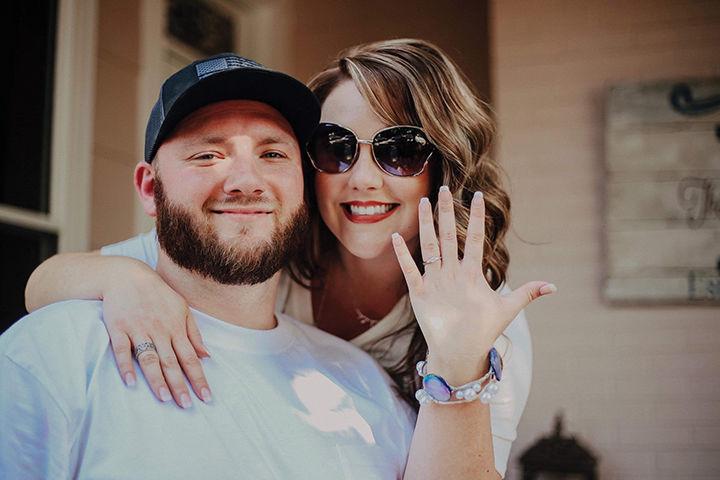 Weighman had already planned on being with his now fiancé on the Fiscal Court float throwing candy during the parade.
"Then the idea came to me to do it on the float during the parade in front of Mom and Dad's house."
Weighman wasn't certain if it would be appropriate to propose to Colvin on the Fiscal Court float, but said that the McKenzie's "were all for it".
Once the float stopped in front of the judge-executive's residence on third street, with "at least 100 people in front of the house and on the porch", Weighman reached into his pocket and pulled out the box containing the ring.
"I whisper to her 'let's stand up and take a picture,' because everyone is  in the yard with their phones out."
"As she stands up and looks out at our families, I get down on one knee and ask her 'will you marry me?'"
"She pauses and just stares at me. I'm like 'Oh crap, she's either stunned or I'm about to get off this float and do a walk of shame'," he said. "She then says 'Yes,' and everyone starts screaming, hooping, hollering and clapping from both sides of the street. Tears were rolling down people's faces. Happy tears of course.
"It was one of those moments where time just stood still and I will always remember that moment."
When asked what it was that made Weighman realize that Colvin was the woman with whom he wanted to spend his life, he gushed.
"She's an amazing cook, let me tell you," he said while laughing. "I love everything about her. Her smile, the way she looks at me when I'm doing something dumb but funny, the way her hair lays on her shoulders, the way she laughs at all my corny dad jokes, the way she gets me to simmer down when I'm in a rough mood... and also the way she is with my family. The way she is with my little sister means the world to me."
Colvin herself shared a similar sentiment.
"Bobby brings out things about myself that I never knew existed. He pushes me to be a better person, looking at life in a whole new perspective," she said. "Our relationship has been a roller coaster over the past two and a half years. We've been through the highs and lows that in ways some couples probably never have gone through. But it's made our relationship stronger and there's no one else I would rather continue this ride with."  
As for the proposal, Colvin was certainly surprised.
"I was completely in shock. Actually, I still am. Apple Day is like a national holiday for me, so for him to mix the happiest day of my life into my favorite time of the year was just perfect. Bobby doesn't like much attention brought to himself, so for him to do something out of his comfort zone made for a huge surprise. It makes me appreciate it so much more."
The wedding date has been set for next fall.