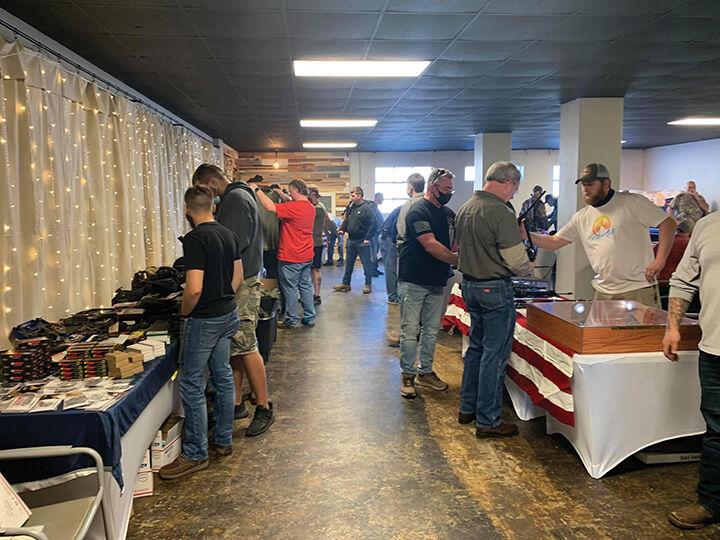 Appalachian Guns LLC owner Zac Ebersole said the company's first Johnson County Gun Show, held Nov. 7, was a success, resulting in more than $3,000 raised for local nonprofits and an "amazing" turnout has ensured that the company will proceed to plan next year's event.
The event was held at the Oil Springs Cultural Arts and Recreation Center (OSCAR) and proceeds from the event benefitted that organization, Oil Springs Fire and Rescue and the Veteran's Referral Center in Paintsville.
"To say it was a good event is an understatement," Ebersole said. "All in all, we raised over $3,000 to be split between the 3 local nonprofit organizations. We are over the moon with the support from each organization and the money we raised for them was just icing on the cake."
Ebersole said that that doesn't mean there isn't room for improvement.
"While the show was a huge success, we saw some flaws in our plans that will be resolved for the next one," he said. "We had an amazing turnout. The community came through for us and showed up in big numbers. We knew being a first time show it wouldn't be massive and perfect on our first try, but I'm so proud."
According to Ebersole, hosting an event like this was challenging during the COVID-19 pandemic that has permeated and affected every facet of our society.
"When COVID hit, I saw most all the regular shows canceled. Then I saw our local festival get canceled and knew that was another big blow for our struggling community," Ebersole said. "I couldn't help but think of the local fire department, and the local Veterans Center and how they're missing out on their major fundraiser for the year.
"COVID-19 presented many challenges, but they were all things we were comfortable in finding a solution to still make it work because we knew the difference it would make for our community," Ebersole continued. "When Johnson County went into the red, we had to make sure each and every person who attended the Gun Show knew the risk it was to be there, and so every single person in attendance signed a waiver, was offered a mask, and hand sanitizer. A solid 80-percent of the folks already had masks and were accepting of wearing them if it meant that the show could go on."
Ebersole said that the event didn't just draw interaction from people living in Johnson County, but that some attendees of the event were from as far as 250 miles away.
"I had people come from half a mile away and people come from 250 miles away and camp out at Paintsville Lake in their camper for a weekend outing," he said. "To say we had good interaction doesn't cut it. Everyone, I mean, everyone, was excited. The initial wave of people was nerve racking with all the folks pouring in but it was amazing to see our community come out and support local charities to see some guns."
Ebersole said that, during that nerve-wracking time, it didn't dawn on him just how well the event was going. That happened later in the evening.
When it was 7pm, Becky and I were the only ones left in the building I had a moment of, 'Wow, this was amazing, it went off without any major hiccups and we made more than $3000 for charity today. This is exactly what I wanted and I can't believe it fell together so absolutely perfectly," he said.
Ebersole said the event, sponsored by businesses including Jimmy Lee's Barber Shop, 606 Hemp, Mountain Vapors, Phillip Blair Attorney at Law, Kuriosity Korner, East Kentucky Signs and Apparel and Battle Born Clothing, will see a follow-up next year.