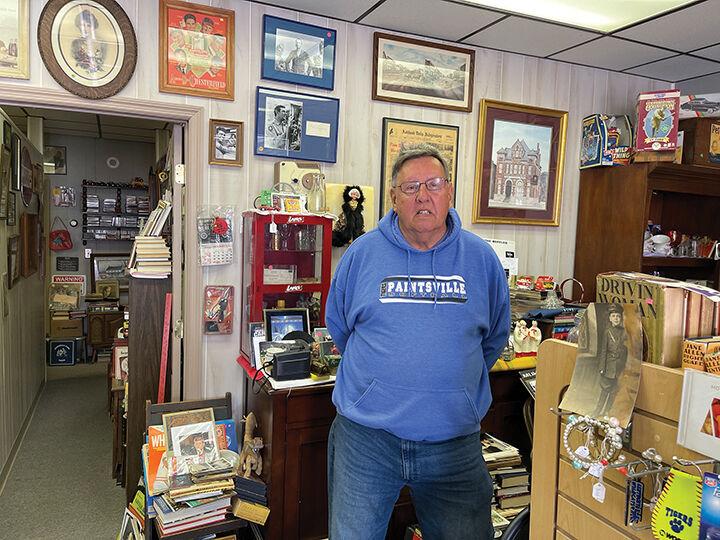 In many places, if you have several businesses occupying the same two-block radius of a city, you'd be within reason to expect a bit of competition. That isn't the case in Paintsville, however, where five antiques stores located on Main Street and the adjacent streets have banded together to promote themselves and the city.
The five stores, Treasures on Main, Peddler's Home Decor and More, Tuesdays and Thursdays, Our House and Good Old Days Antiques and Collectibles have planted their flag on this joint venture by purchasing a sign on U.S. 23 to highlight a tourist activity and, in the process, branding themselves as Paintsville's Downtown Antiques District.
The sign was a nominal fee, said Our House owner and operator Mary Jarvis, but it was more about the intent and declaring themselves an entity and signaling their cooperation to try and help the city bring in more business -- something Jarvis and other store owners and management personnel said already happens regularly, as their combined clientele brings in visitors from surrounding states to shop for every item imaginable.
"We have pretty much banded together," Jarvis said. "We've got this kind of system going that, this one ships to there and this one sends to there and then we get it right on down the street. We kind of try to know what's in each other's stores, every one of us has something different. I would like to have about five more of us. We've kind of lucked out to be unique in that the five counties around us don't have any antiques stores -- we're getting more and more people that are coming and spending the day and visiting us."
Mischelle Hackworth, who runs Treasures on Main, said that getting a sign was a step toward remedying an issue that downtown Paintsville has faced — a lack of awareness.
"As far as the sign, we need that. People don't even know we're here," Hackworth said. "The problem is, I see people in here all the time, and I'll ask them where they're from, they'll say, 'Oil Springs, and I didn't even know you were here,' and I'm thinking, 'Really, I've been here for 11 years,' and it shocks me every time. I'm thinking, 'I don't know what else I can do, I sponsor things, I do things in the community and I know the other stores have to,' but it's almost like people have forgotten that downtown exists. I think something needs to be done, attention needs to be brought to it."
Hackworth echoed the sentiment that a lot of out-of-town visitors stopped in and signed her guest book -- a testament to the dark horse that antiques shopping is for tourism to Paintsville.
"We all need to come together and we do. They come here and I send them that way, because I want them to go to each store. It's not about competition, it's about people being here, that's what it's about," Hackworth said, explaining that, whether they know it or not, everyone loves antiques and collectibles and it brings people together. "I wish there was ten more down here ... everybody likes antiques, I don't care what age you are.
"That book right over there will show you — tons of out-of-town people, tons. They'll say that they Googled us to see what was around," Hackworth continued. "A lot of people just want to go and get off the beaten path, and that's what this is. It's a work in progress, of course. It's just one of those things."
Nann Robinson, a local artist and vendor who was working the counter at her friend's shop, Peddler's Home Decor and More, and busy painting a custom copy of an original painting for a customer, said that the antiques district brings together people from all over the county -- many vendors set up shop in these stores with their own booths and cooperation is always the name of the game and it benefits everyone involved.
"I have a booth here, but the owner is my friend and I'm helping her while she's out of town," Robinson said, as she worked on her painting. "It's true that most of our vendors, and we've probably got a couple from Floyd County, but most of them are from right here and it doesn't just help downtown, it helps Johnson County. There are people with buildings full of stuff and when I sell something big, I'll call them and I'll say, you've got room down here and they'll bring it down. People can pay over the phone, and they'll call looking for something and, most of the time, we can source it."
Sam Sumpter, Mary's fiance, spoke to the power of the antiques stores to bring in tourists.
"One thing that's helped us, and we've been doing this for years, we know people everywhere .. and our name is out there enough that we have all kinds of people come from different areas to come in to see us," Sam said, adding that their clientele reaches even into surrounding states.
Randy Keeton, the owner of Good Old Days Antiques and Collectibles, said he, too, recognized the potential of antiques stores to bring in people, evidenced by the high amount of customers completing the circuit through the stores that day.
"I wouldn't care if we had eight or 10 (stores) ... I just think it's good because you get all these people from London, Hazard, Pikeville, all those people, they come because they know if I'm not open, there's plenty of other places to go to," Keeton said. "It's been busy today."
Each store focuses on different products, with Keeton having a plethora of vinyl records, 8-tracks, historical pieces from Paintsville and even The Paintsville Herald and numerous baseball cards, Treasures on Main having a huge assortment of items from many different vendors, lots of furniture available from Peddler's and Our House (Mary and Sam purchase estates and can furnish entire houses in one fell swoop and Sam collects antique and new toys such as hot wheels) — so, according to each of the store owners, if you can't find it in one store, you can almost guarantee it's within walking distance.
Beyond that, these shop owners are a living resource for all things Paintsville history, with photos and newspaper clippings and knowledge abounding about the history of the city and the influential people who have lived here throughout its life.