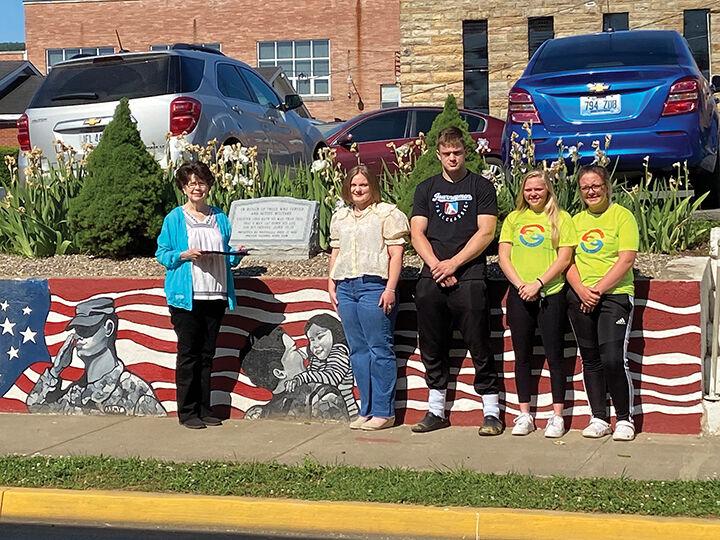 Ahead of Memorial Day last week, the American Legion Youth Group United For HOPE and the artist who painted a mural on College Street in Paintsville were recognized for their efforts in maintaining and painting the mural, respectively, with the Golden Heart Award from the Johnson County Extension Office's Family and Consumer Sciences Council.
Johnson County Extension Office FCS Agent Brenda Cockerham said she was excited to announce the award and present it to the group and the artist.
"The Family and Consumer Sciences Council and the Johnson County Extension Homemakers want to make an announcement. We are ever striving to encourage others to clean up, fix up, beautify, and improve their environments," Cockerham said. "These two groups who work together, were thrilled to learn of the valiant efforts of our youth recently in some downtown beautification projects."
Cockerham said the awards were presented two years after the murals were initially painted and subsequently fell into a state of disrepair, as these types of retaining walls are prone to do.
"Two years ago, a young unsung hero and artist named Peyton Duncan, worked tirelessly to paint a deteriorated retaining wall at the city parking lot with a beautiful tribute to all veterans. This prominent space faces College Street and is viewed by all who pass by. Retaining walls are notorious for allowing water to seep through their porous surfaces consistently causing damage to the wall," Cockerham said, explaining the situation that United for HOPE worked to correct. "This one did not disappoint; in two short years, the beautiful mural became damaged by the water seeping through the back side of it causing a need for repair. Along came ALYG, a veterans youth group who volunteered to repair and repaint, along with some needed landscaping support."
The original artist of the work, Peyton Duncan, alongside the United for HOPE members Abbigail Daniels, Zoey Saylor, Alyssa Poston, Levid Rodriguez, McKenzie Daniels and Kaylee Jarrell were presented with a certificate for their efforts.
According to United for HOPE organizers, husband and wife Mark and Stephanie Rodriguez, this project came perfectly in alignment with the mission of the youth group, which takes on many projects like these (HOPE is an acronym that stands for Helping Other People Excel) and completes, on average, more than 1,000 hours of community service in the area and others each year.
"It stands for Helping Other People Excel, and when we first started it, they said, 'Well, we're going out here and doing things for other people,' so, we're helping them get a little bit ahead on life and give them a little bit more pride in what they're doing, and then, in return, we're learning something, and that's kind of how it stuck," Mark said. "These kids like doing community service and there are a lot of incentives, but as far as that, I've always learned that it's good to work them to their capacity, but to let them know in the end that they're appreciated by giving them rewards."
Mark said that these sorts of projects, now two years old, can definitely help teach these kids determination and to stick to their missions — even when things fall back or don't necessarily go their way.
"Not only do they learn something, in the grand scheme of things, but they also learn that sometimes, things don't go your way, so you have to adjust to it," Mark said. "It's not a give-up scenario, and in order to get the awards, you have to actually earn it, it's merit-based. This is the fourth year all of our youth will be earning the Presidential Award, the group will earn it again ... by the time this year is over, they'll have about 4,700 hours of community service over the course of that time."
The group is also focused on teaching leadership, Mark said, as the youth members actually vote and decide upon their own projects and an action plan, which is then presented to the adults to help refine it and put it into play.
"Our point base is based on grades and what they do. Some of them are required to set up projects, they have to manage it and everything that goes with it and then, they present it to me and I'll either approve it or say, there's some things you need to look at," Mark said. "Then they go out and complete them as a group, so they're actually learning life skills. We do a lot of traveling and helping with other veterans organizations and food banks and stuff like that."
There is strength in the diversity of the group, Stephanie said, because they get kids involved that are into sports, more artistic kids, and many different types.
"To see that, because for example, you might have one that is maybe more the leadership kind of guy and they listen to him, then you might have one that has a little bit more brain power, and somebody is more artistic or whatever, and they all help and contribute to one another," Stephanie said. "They know one another and they trust one another and that's one of the things that I love most about this group.
"It's important because a lot of kids might feel like outcasts, and they know that they can come here with whatever they might like, whatever they don't like, it can all come, it doesn't matter," Mark continued. "Our idea is, if you come in here, you may have had a different view out there, but now you're in here and you're part of something you need to pick up this view while you're here, because that's why you came, and that's to go out there and do some service. That's it."
Stephanie capped off Mark's sentence saying, "We don't judge, we love them all."