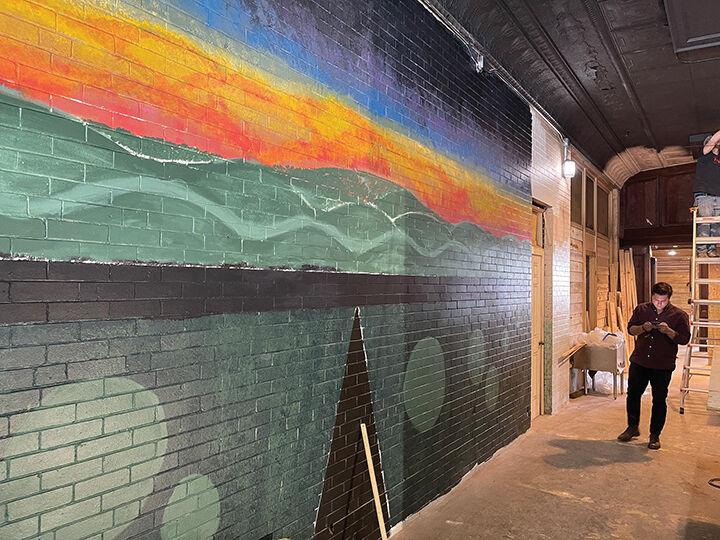 Alley on Main is a project that has been in the works for four years, according to owner Jordan Pelfrey, who said he is excited to unveil the many musical acts scheduled for the late summer and fall season of 2021, after shifting gears from planning a restaurant to becoming a dedicated events venue.
Pelfrey said that he thought the venue would be a boon for regional tourism and the venue was receiving a huge amount of support from the City of Paintsville for the upcoming Alleyfest, a music festival with a jam packed roster of singer songwriters and country up and comers.
"The whole area could use this, I think, and we are getting a lot of support from (Paintsville Mayor Bill Mike Runyon) and the city, and they're going to close College Street during the festival so we can expand the festival out into the parking lot here and put vendors on the street," Pelfrey said, adding that there would also be a VIP balcony above the parking lot for the outdoor events.
Four years of work toward becoming a restaurant switched gears early this year, Pelfrey said, after he had moved away and lived in St. Louis, Missouri, and Chicago, Illinois and saw the potential of dedicated music and events venues and thought the need was greater for a venue of this variety in the area than another restaurant.
"We originally were working toward it being a restaurant, but we didn't think that was a big need," Pelfrey said. "After I lived in St. Louis and Chicago, I thought it would be a good idea to make it a music venue. When I lived there, every corner has a place like this, and I just thought that Paintsville, with its history in music and all of the talent that's come out of here — I just thought this was something we needed."
The venue will still be open on Tuesdays and Wednesdays for lunch orders, but the shows will be on Fridays and Saturdays, with the possibility of open mic nights and trivia nights on Thursdays that aren't already booked for shows.
Those shows, right now, Pelfrey said, included Donnie Bowling and Wicked Peace, Nicholas Jamerson, Sierra Ferrell, Logan Halstead, Luke Trimble, Shovelin Stone, comedian Donnie Baker, 49 Winchester, the Kentucky Headhunters and more — with even more events in the works that aren't ready to be announced. Alleyfest itself, Pelfrey said, there are 17 acts booked.
Pelfrey said he is excited about the possibilities and added that he has invested in approximately $30,000 worth of sound and video equipment that will create a unique experience in the venue. The stage, Pelfrey said, will be viewable on TV screens atop the bar, so even if a patron steps away to grab a drink, they won't miss what's happening on stage.
"According to the contractor, he told us we should be wrapping up the construction in the next two or three weeks — we're almost done and the painting should get wrapped up soon," Pelfrey said. "We're excited to finally get it going."
Pelfrey echoed many others' sentiments that the COVID-19 pandemic actually worked as a boon to Alley on Main, because the downtown allowed them to think about their direction and to plan out the future and to acquire the parking lot adjacent to the building to allow for outdoor events.
"I didn't really think there was a lot of value unless I could buy or rent that parking lot, so I'm actually glad we got delayed and COVID kind of worked out to our benefit," Pelfrey said.
Alley on Main will feature a full-service bar and a full-service kitchen and will be open for booking special events on days where live music isn't booked, including private parties, with an opening day of Aug. 6 planned -- which might contain a surprise guest.
Pelfrey said that using the original ceiling was important to him in preserving the history of the building, which was once the Arcade Theater, the first theater in Paintsville — which has been largely forgotten by history, as even the original, ornate ceiling was covered by a drop-down ceiling. According to the year on the front of the building, this is the 100-year anniversary of the building, a fitting time to revitalize it and restore its original purpose of bringing entertainment to the city of Paintsville.
"We kind of wanted to restore some of the lost history, it used to have drop-down ceilings and no one even knew this original ceiling existed, so we took those out and we're leaning in to that," Pelfrey said.
Pelfrey said he just wanted to ask the local community to come out and support this endeavor and that the venue's websites and social media pages are up and running.
"Our website's up and you can see all of our information and all of the acts we have coming up, most everything is going to be a ticketed event, so you can see all of that and the prices," Pelfrey said. "We'd love for everyone to come out and support us and help us get this thing off the ground. The schedule for Alleyfest is up on Facebook and we have an Instagram and more."
For more information on the progress of the building, or to view line ups and upcoming events, visit, www.alleyonmainky.com, or follow Alley on Main by searching for the venue on Facebook and Instagram, @alley_on_main.