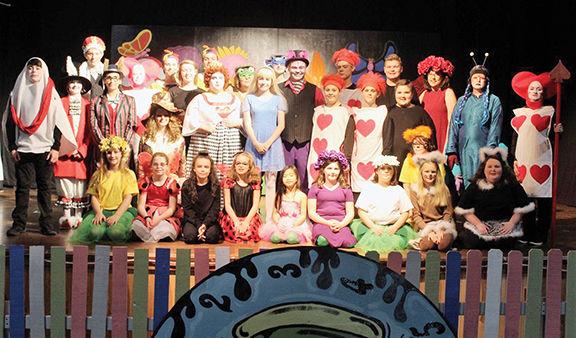 The Main Street Players, a local community theatre based in Paintsville, gave public performances of 'Alice @ Wonderland', a modern retelling of the Lewis Carroll classic 'Alice in Wonderland', at the Historic Sipp Theatre throughout last month.
"Everything is volunteer. No one gets paid," said Catherine Castle, the mother of an actress in the group.
Castle explained that the community theatre is free for anyone at least seven years of age to audition and join and that the group gives performances in the spring and fall each year.
 "They also make appearances in all community parades and such," she said.
Tarasen Daniels, who played the roles of Fish Newsie and Lily in 'Alice @ Wonderland', spoke of the performance, saying,"(It was) about a girl named Alice who gets trapped in a storm and falls down a rabbit hole that leads to wonderland and learns that there's more to life than what's on your phone, and you shouldn't be scared of what you don't understand."
Paige Meadows, who had three roles in the show, said, "(the show was) modern retelling of the traditional story by Lewis Carroll. Where Alice is a texting, tweeting and Google-ing girl in the modern digital era, yet she finds herself in the traditional classic Wonderland."
Meadows continued," I played the role of Rose, one of the talking flowers of Wonderland as well as student directing. The experience was one of the best I've had with Main Street Players. I've done shows with them since MSP got started in September of 2012. I got to go from being just an actress and helping out backstage to actually directing and helping to build the show alongside Director Jeremiah Parsons, as well as our costume designer Rachel Crider and (the person) everyone in the theater basically calls our second mom, as she's always at every rehearsal and is a part of the board, Myssi Cope."
Regarding what the acting group means to her, Meadows said, "It's really great to see these kids and teens, each of who are all so amazing and talented and come from different backgrounds, come together. They all are so supportive of each other. It's really like one big family.
"I think this show really showed what Main Street Players is all about," Meadows continued. "While the main focus of MSP is to be an educational experience and helping to teach kids about the arts and theater, we mostly strive to be an inclusive environment where everyone can be themselves and have a creative outlet. As the student director I wanted to make sure the cast could put in there own touches so that they could express themselves and it turned out to be an amazing show. By far the best one I've worked on."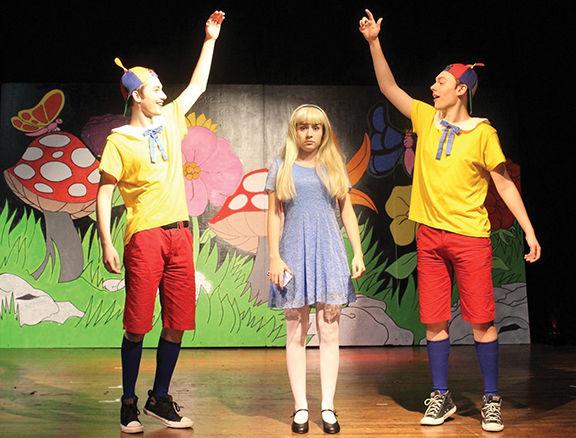 Daniels echoed this sentiment, stating, "Being able to do the show meant a lot to me. I love 'Alice in Wonderland' and being able to do a modern version of it made me very happy."
For Jason Kretzer, who played the role of the Cheshire Cat, the performance was special for a different reason.
 "My oldest daughter Amelia, who played the Queen of Hearts the first weekend, is a senior (in high school) and I had performed in a few shows (with her) when she was younger but nothing recently," he said. "I figured this was the last time we would get a chance to perform together, as she will be going off to college next year.  So, it was a special way for us to do something we both love together one more time."
Kretzer continued, "It was (also a) special experience because my middle daughter, Suzy, who played the White Rabbit, was also in this show with us and it was the first show she and I had ever been in together."
According to the actors, auditions and information regarding the shows are announced on the Main Street Players Facebook page.
The next show, to be performed in the spring, will be announced soon.