U.S. Rep. Hal Rogers conducted tours of local advanced manufacturing endeavors during a visit to Paintsville Monday, praising both for their contributions to helping stimulate a recovering economy and workforce in the region.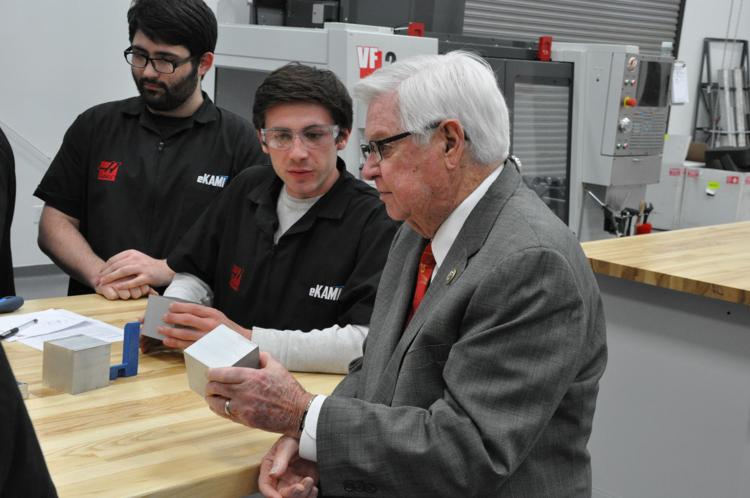 Rogers' first stop in Johnson County was at the Haas eKentucky Advanced Manufacturing Institute, where director Kathy Walker introduced him to the current class of students learning computer-guided machining.
Walker said the demand for skilled machinists is staggering, and eKAMI's first class of 12 graduates all had employers speaking for them before they graduated. She introduced Rogers to Justin Cornett, one of those graduates from Pike County, who is now employed by Lockheed Martin. 
Two other graduates of the program were also retained for apprenticeships, including Paintsville native Buford Owens. Owens said the 16-week class is rigorous, but worth the effort. Owens said being a capable CNC machinist involves not only learning to use the complex equipment, but computer skills and advanced mathematics, including trigonometry.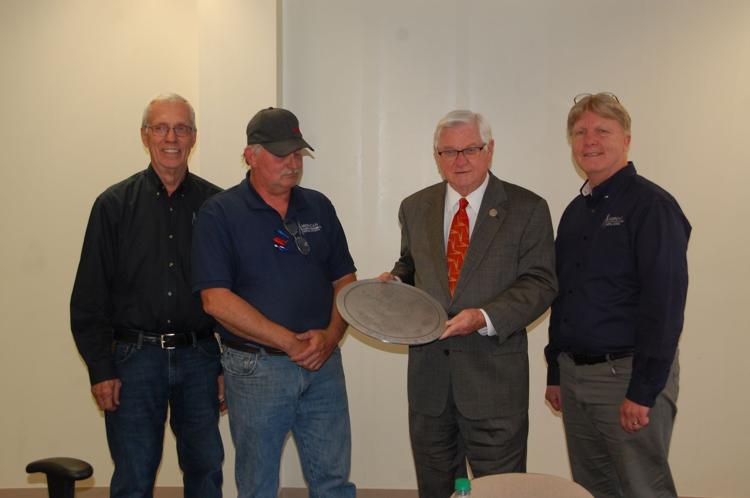 Rogers then made his way to American Metal Works, Inc., a small company operating on the Big Sandy Technical and Community College campus, where they both provide training for students and laid off coal miners in addition to operating a business that manufactures parts for several large corporations in varying order sizes, ranging from small batches to thousands of parts.
AMW founders James Glass and Denny Rohrer spoke with Rogers at length about their efforts as a start-up company, the unique opportunities partnering with the college has afforded them and even had talks with the congressman about networking opportunities, which ended with Rogers stating he would make efforts to reach out and establish contact between larger contractors and smaller, local subcontractors such as AMW. Rogers praised the company and the ingenuity of men who have worked in the coal industry. 
"Well, this is a perfect match, this kind of a company on the campus of a community college," Rogers said. "It's surrounded by the campus and, you know, the main goal of the community college is to bring about jobs and job training, so it fits that extremely well … it's our meager effort to help push this type of expansion into our area, to create those jobs to replace the jobs we've lost.
"We've got a treasure that's unknown in the U.S., or anywhere else. We've got a great treasure of talent that's sitting idle in these hills," Rogers continued. "They're very trained and capable people with machinery and the like, which I think gives us a big edge and an advantage in this new world."
Rogers said that eKAMI and AMW are both excellent steps in the right direction for bringing in new industry to the area, but expressed the need for an improved infrastructure to help facilitate the area becoming an attractive option for prospective new businesses. In addition to the need for improved infrastructure, Rogers said that locals interested in helping the area recover should become active in organizations such as Shaping Our Appalachian Region (SOAR) and band together to attack the issue as a collective.
"They can be a part of SOAR, because that's the overall Eastern Kentucky effort that we put together with the governor to promote new jobs through tourism, agriculture, broadband and so on," Rogers said. "They need to be a part of that organization and attend the meetings, give us ideas, help us dig our own answers. Then, we need to be sure that our elected officials are onboard with recruiting these types of businesses. That's it."
Rogers said that he was planning a symposium for October that would bring in large contractors such as Boeing and Lockheed Martin to meet and greet with prospective subcontractors and see their products firsthand, meet the people of Eastern Kentucky face-to-face and hopefully establish business connections. 
"This type of thing is perfectly suited for our region, and the laid-off miners, weren't really miners, they were equipment operators and manufacturers of gizmos and stuff," Rogers said. "They're very talented at that, they're skilled, they're available and there's a work ethic that's unmatched. We could be in the driver's seat with the talent we have here, that want to stay at home. It's sort of in our nature, I guess, we know how to tinker and fix, adjust. We're problem-solvers, and (these men) have experience in extremely difficult circumstances with mining."